My beloved Dad is my Guardian Angel - Angel Stories
By: Rita Henry
Location: Madras, Tamil Nadu India
We are three girls to my Mom. Our beloved Dad lost his life in a road accident on July 30, 1996. My elder sis got married in Sept. 14 1999 and I got married in May 9, 2001. I had my first Ectopic Tubal Abortion during August 29, 2001 and the doctors removed my one side Felopian tube to save my life. During October 2001 I conceived again and everthing was normal until May 4 2002. On May 4th 2002 at 3.30 am I suddenly woke up from my sleep and found that my belly is not normal. I felt as if I am carrying a stone in my belly. Immediately we rushed to the Doc and again they told me not to continue with this child since it is still born. (dead inside my uterus). I don't know what to do. Until this time, I am believing Docs and not Jesus or Mary. I cried when I am alone. I just prayed to my Dad and I feel the peace. Finally I delievered a male still born baby and proceeded to my home empty handed. Again during December 2002, I conceived. I am in deep emotional dilemma both physically and mentally. Everyone scolded me for conceiving so early. Now I had faith in Jesus and Mary. Daily I said my novenas and everyday night I prayed to my Dad. Finally the date has arrived and I got myself admitted in the hospital. Only myself and my hubby. My Mom's suffering my Typhoid at that time. My nephew is in hospital due to some ill health. No one with me except my husband. Finally on Sept. 4, 2003 I delievered a beautiful male baby in an urgent ceaserian section.No one there. I cried a lot due to the severe pain during this ceasearian. In the meantime I had some peace prevailing over me and I had some sleep. I saw my beloved Dad walking beside my bed neatly dressed and having a look at my son. He told me everything will be ok and my Mom and Nephew will also be OK. He touched me and my son. I felt the chillness and then slowly he walked out of the ward. I just woke up and told my husband and then to my utter astonishment, I found my pain has gone and the same day both my Mom and my Nephew were discharged and came home.

I believe my Dad is my Angel.
---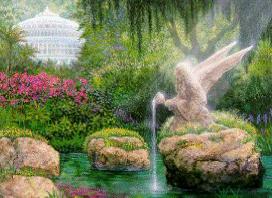 Some may never see with earthly eyes these heavenly beings or know that they exist. Many are unaware of the numerous ways they have protected and guided us. We would like to share with you the stories of people who take pleasure in expressing how real angels are.
---
More Saints
---
---
---
---
---
---
---
---
---
---
---
---
---
---
---
---
---