The Great Angel - Angel Stories
By: K. G.
Location: London, United Kingdom
I kept getting the name 'Carpathius' calling in my head. I went to a christian hypnotic therapist to investigate further. She took me down. Down 10 steps and into a dark vault. I unlocked the door at the other end of this chasm. I unlocked another door in my mind at the other end and found myself in a garden. I could hear the sound of trickling water and went to look into the fountain. As I looked into the water I saw a white reflection in it. I turned around, and there he was. The Great Angel. No sooner had I noticed he was there, I felt physically lifted. He was as big as the Statue of Liberty. Before I knew what was happenning I felt myself raised up by his hands. We were way above the clouds. The feeling of the Spirit of God was running through me. I was told I needed to learn to use my hands to touch people. I hope this message touches you. Next thing I knew, I was in clouds again, then standing back at the fountain. I turned around and walked back the way I came making sure I locked the doors behind me. Time seemed to last forever, and yet I had not been anywhere but seated. I was Told I can call his name any time I like and he will be there for me.

I know this is true.

Sometimes I can sense his presence.
---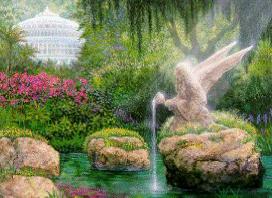 Some may never see with earthly eyes these heavenly beings or know that they exist. Many are unaware of the numerous ways they have protected and guided us. We would like to share with you the stories of people who take pleasure in expressing how real angels are.
---
More Saints
---
---
---
---
---
---
---
---
---
---
---
---
---
---
---
---
---
---