Angels walk among us too. - Angel Stories
By: Chaz Kraiza
Location: Lafayette, LA USA
It was made known to me that I am blessed with a multitude of spiritual gifts. But when it was made known to me I was only taught to do things in my own name and not Gods.


I lived that life style until finally it just clicked one day that I could not continue to do this. It was almost an addiction to go back to being able to use them in my own ways and give no one praise. Finally, one Sunday I decided to end all of it.


So I threw away many many things worth a lot of money to rid myself of the energy left from that old life style. I was passing by a Catholic Church and decided to go on the basis of "why not? What do I have to lose at this point?"


I liked it... slightly. So I chose to go with some friends to another one. The feeling of greatness in the other church was amazing! Finally I went to St John's where they still do the burnings of incense and resin and in the precesion I saw two foot prints where no one stood.


I could sense the small prints belonged to a MAMOTH being! I almost told the friends next to me to move over to make room for the magnificent beast I knew that stood before us. I saw the foot prints again when the precesion left. The message that day spoke about the Seraphim and the Seraphim popped up in each of our lives continously. I am positive I was blessed to have been in just the mear precence of such a great divine being.


I almost began lapsing into my old addictions when last night something very beautiful happened. I work at a convience store and two people who I had never served before came in. I noticed the cross around the mans neck and complimented him for it.


With that he took it off of his neck and gave it to me saying "It's yours." I was stunned. I was at a lose for words to the point that I tried to say something but nothing would come out until finally I could only say "thank you..."


The man deserved so much more than that but I couldn't grip anything better to say! The woman with him had a very familiar look in her eyes. I had never met the woman but I knew the look however I just could not place it. The look left her and went to the man.


The woman went and got two soda's and the man pulled from his pocket a red drop marble. He said remember that a only a drop of blood that God shed for you. At this point I was trying so hard not to burst into tears.


The woman came up and the look in her eyes was not there but still in the man. I rang them up and the looked left the man and entered the woman who told me, "Don't worry! You have God no matter what! Never forget God is always with you."


With that she winked and left. I turned around to do something quickly and adorned myself with the gift of the cross I had just recieved. I wanted to thank the people and looked outside but I could not see them.


I believe now more than ever that God is telling me that it is ok to use my gifts but to walk with him along the way and don't hide the gifts from people anymore. For weeks God told me the light has nothing to fear so just be true!


I believe in demon possession but last night I began believing in being possesed by the Angels. I prayed to God that he may bless his messengers and thanked him for sending them.
---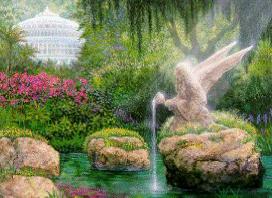 Some may never see with earthly eyes these heavenly beings or know that they exist. Many are unaware of the numerous ways they have protected and guided us. We would like to share with you the stories of people who take pleasure in expressing how real angels are.
---
More Saints
---
---
---
---
---
---
---
---
---
---
---
---
---
---
---
---