Saved by an angel - Angel Stories
By: Kevin Coyne
It started with a early attempt at a whitewater rafting trip with a friend in early spring. My friend & I planned to go white water rafting. I went over to my friends to get going on our day adventure. My friend was still asleep & after multiple attempts to trying to ring his doorbell, call him, tap on his window I almost gave up on our trip. In fact, I remember a sense of being watched & a feeling that I should just abort my efforts. I sat in my car for a bit & tried again a couple of moments my friend came to the door & we got packed up. Note: since it was the first trip of the season we inspected the rafts. Finally, we where off after a calamity of efforts trying to get organized. On our way to the launch area there is a huge hill that you go down. On the way down we got a flat tire. We rode down to the bottom of the hill on the rim & rubber of the blown tire since the only safe place to pull over was the launch site at the bottom of the hill. Once we got there we inspected the tire & assessed our options & considered whether to abort our trip. I remember feeling & I mean feeling an energy that suggested that our trip was not meant to be. But, being a manly man & my friend not being affected by the inconvenience we decided to move forward with our trip & we coordinated a pick-up after our trip at the launch site. Finally, we went to inflate the rafts & neither of them where inflating.


We inspected them both & found a hole in each raft that & debris inside the raft. Mice had gnawed a hole in the rafts & built a nest while in winter storage. How did we miss this on our pre-inspection they where pretty conspicuous. My friend new the guy who managed the launch area, the repair/rental store at the launch site. My friend summoned his help. He said, no prob I can have those patched in 30 mins & you can be on your way. So, the guy went to get the materials to fix the raft & after 15 mins he came back saying his materials to fix our rafts where missing. He had no clue where they where & how weird it was. I felt the energy all around me saying this trip is not meant to be. It almost felt at moments as if time was being interrupted like events artificially being altered. I wanted to scream to my friend this is not meant to be this not meant to be. But, I was too concerned about all the effort expended already & his enthusiasm to go to say anything. Anyway, the guy who ran the place said, he I have a couple of demo rafts you can borrow no big deal. I really felt like saying this is not a good idea this does not seem right going down the river on equipment we are not familiar with. But, I did not. The guy went to retrieve the rafts. He came back 20 mins later saying, I can not find those rafts I do not know where they are. They should be here this is so weird. Maybe I loaned them to somebody else earlier & forgot? He went back for another 10-15 mins determined to find them. He came back & sorry I can't find them. While the guy was looking for the rafts the second time I was telling my friend hey this is not important. Let's just call it a day. The guy came back still without the rafts. I told my friend this is not to be. So, we put on the spare & started to drive home. I felt a sense of immediate relief & reflect about how weird I felt during all the misfortune of our trip.


On the way home I told my friend, Hey, I felt weird like something was interrupting our trip on purpose. My friend said, that he felt it too but, was too skeptical to say anything. We both agreed that it was the best thing not to go & we both felt something of a spiritual/divine nature.


The next weekend we went on your trip the river was running at 20% less than the previous weekend. A rapid that has always behaved in a benign nature nearly drown us on that wkd. After we recovered we both said, "We would have died on the same rapid had we gone the previous weekend".


I am convinced a guardian angel helped us that weekend. And, too many times in my life I have felt that same feeling & haphazardly either ignored it or acted upon it. Now, that I have had a reckoning & experience that is beyond a doubt I will always listen to my guardian angel.
---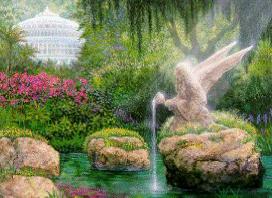 Some may never see with earthly eyes these heavenly beings or know that they exist. Many are unaware of the numerous ways they have protected and guided us. We would like to share with you the stories of people who take pleasure in expressing how real angels are.
---
More Saints
---
---
---
---
---
---
---
---
---
---
---
---
---
---
---
---
---
---