A Lesson - Angel Stories
By: Rey Aranas
Location: Surprise City, Arizona, USA
This happened in the summer of 1971 in my home country, the Philippines. It was Sunday morning and I was all dressed up formally for church which was just in front of our house. When I opened the door I saw that our front lawn was so full of fallen black plum (a native fruit tree) fruits. Looking up, I saw hundreds of birds feasting on our plum tree. I decided right away that I did not want to share the fruits with the birds. Totally forgetting where I was supposed to go to, I removed my shirt, my socks and my shoes and climbed our tree. The best fruits were on top and that's where I went. I could see the roof of our two-storey house. Then I saw just in front of me a bunch of fruits that looked so delicious. I tried to reach out for it when all of a sudden I heard a loud crack. I knew the branch I was standing broke. In an instant I was falling down and the words I could utter was, "I'm dead!" I was very sure I would die because directly below me was our newly erected pointed bamboo fence. It felt like I was in a slow motion because it felt like I was falling slowly. Midway, I distinctly felt a cold blow of air on my left cheek pushing me far away. I fell into a canal ditch several feet away from the fence. I was so surprised because I felt NO PAIN. I stood up and walked unscathed and no broken bones. With mouth open, I stared at the branch where I was standing - it was hanging on a pointed edge of our bamboo fence.


The first and only thing that came to my mind until today was that I was saved by my guardian angel. It was meant as a lesson to me, a high school kid: Sunday, it is the Lord's Day. Keep it holy!
---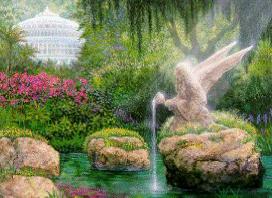 Some may never see with earthly eyes these heavenly beings or know that they exist. Many are unaware of the numerous ways they have protected and guided us. We would like to share with you the stories of people who take pleasure in expressing how real angels are.
---
More Saints
---
---
---
---
---
---
---
---
---
---
---
---
---
---
---
---
---
---