Car Trouble and Angels to Assist - Angel Stories
By: Suzie
Location: California USA
A little over 20 years ago, I was involved in a prison ministry for awhile. The leader of the ministry has recently lost his wife to lupus. He had teenage daughters and the younger of the two, Lori, was entering Junior High School in the Fall. He asked me if I would take her shopping for school clothes, as he didn't know the first thing about fashion.


We live in a remote desert town, so we had to drive two and a half hours to a city with a mall. It was a productive day, and we heading home in the late evening. In the middle of the Mojave desert, the car started to overheat. I pulled over to let it cool down. (This was obviously before cell phones, so we couldn't call anyone.) I had some water in the trunk, and I thought the radiator had cooled enough to put some in.


I didn't know this until later, but my aunt was alerted by the Holy Spirit to pray for us at the time we pulled over--around 10 pm. She had a vision of me pulled over to the side of the road, and looking in the trunk. She prayed that God would send angels to help us.


While I was outside of the car, a southbound car (we were pointed north) passed us, slowed down, made a U turn, and pulled up behind us. I jumped back in the car quickly and locked the doors!! A overweight with long hair, tattoos, and a sleeveless T-shirt came up to my window. He asked us if we needed any help. I said no, we were fine...I was just waiting for the car to cool off and I would put some water in it. He asked again if I was sure we didn't need any help. Although he was extremely polite, I was frightened of him because he was a stranger (and, well, he also looked a little scary), so I said no, we were fine. He returned to his car and drove away. I didn't notice the other passenger, but Lori said there was an elderly woman with him.


The weird thing is he just drove north. We waited for the car to turn around and head south in the original direction. We never saw the car pass by us again. It was like we were their destination!


Through a series of short drives, cool offs, and short drives, we made to the next town and called my dad, who came and got us. When I returned home, I learned about my aunt's vision and prayer for us. There is no doubt that we were offered help by an angel.


My dear aunt, obviously a very spiritual woman passed away on Christmas morning, 2006, just 3 weeks ago. I believe with all my heart she is now engaged in an intercessory prayer ministry full time now as a saint in heaven.
---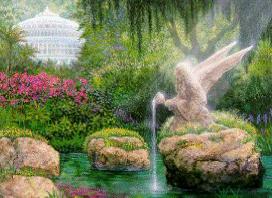 Some may never see with earthly eyes these heavenly beings or know that they exist. Many are unaware of the numerous ways they have protected and guided us. We would like to share with you the stories of people who take pleasure in expressing how real angels are.
---
More Saints
---
---
---
---
---
---
---
---
---
---
---
---
---
---
---
---
---
---