Ball of Light - Angel Stories
By: A Smith
Location: Bermuda
First know that I have only told one other person that I can remember. I may have tried to tell my husband but he interrupted me and I lost my nerve.


It happened some years ago during my first marriage. I had just miscarried my first child. It happened while I was carrying laundry to be put on the line. So once I returned home from my grandmother\'s where I had been mentally recuperating upon leaving the hospital, eventually washing day arrived again. Once again I carried laundry out to the wash line. As was pinning them up, a ball of light appeared in front of me. It seemed as bright as the sun yet it didn't hurt my eyes to look at it. I remeber that the sun was behind me and the ball of light was too high for it to have been a refection of sunlight. What convinces me most that it was something otherworldly was how it made me feel. I started to cry. All the guilt I felt at thinking that it was something I had done to cause me to lose my child disappeared and I knew that everything was OK. That I was going to be fine. Even now thinking about it so many years later makes me wonder about so many things that we have yet to fully understand. I have come to realise though that what is meant to be, will be and ultimately there is nothing to fear for love exists on levels we have yet to know about.
---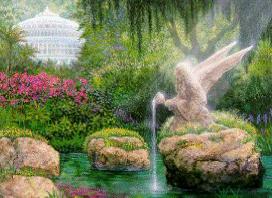 Some may never see with earthly eyes these heavenly beings or know that they exist. Many are unaware of the numerous ways they have protected and guided us. We would like to share with you the stories of people who take pleasure in expressing how real angels are.
---
More Saints
---
---
---
---
---
---
---
---
---
---
---
---
---
---
---
---