My Guardian Angel Encounter - Angel Stories
By: Doris Van Wiltenburg
The year was 2005. I was working
at a Catholic Hopspital. I loved my
job. I was working in Admitting.
I lived near a Catholic Store.
I would always go in there to buy
religious articles.
I made it a point to have several laminated
holy cards with the praying hands on the front of it. On the back it had
the Serenity Prayer. "God grant me the
serenity to accept the things I cannot
change. The courage to change the
things I can. And the wisdom to know
the difference.
I always kept several of the prayer
cards in the pocket of my Blazer.
I purchased so many of the prayer
cards: One day the manager of the store waited on me and asked me why I purchased so many of them. I told her
what I used them for, and she told me to go back and get the same amount that I had bought. She matched whatever I bought. I thanked her, kindly.
Getting to the story about my Guardian Angel.
First of all, I was born on
October 2nd, the feast of the Guardian Angel. (Mine has helped me many times. I chose one of the times, which might have turned out fatal, had not
my Guardian Angel intervened.
I was scheduled to have a LtTKA,on Monday morning. For those of you who
don't know Medical Terminology, the
surgery was a Left Total Knee Arthroplasty. (Knee Replacement)
I was always in excruciating pain. Even a bedsheet would hurt my knee. I worked, but it was getting
to the point, where I almost needed to be in a wheel chair.
I met my daughter for dinner at my favorite restaurant. We had a nice
long visit and then, each headed home.
On the way home, I fell asleep at the wheel. I drifted into the oncoming traffic......All I remember, is that A car was coming Head-On towards me.
I swirved to the right, hit the car that was coming Right At me. I hit two other cars that were in the correct lane. IT REALLY WOKE ME UP!
When the police came, they had
asked me if I was alright. Actually, thanks to my Guardian Angel, I was
relatively okay. I had some bruises on me but it could have been a fatal accident.......if not for my Guardian Angel. Thank God and thanks to my
Guardian Angel.
Blessed be my God Forever!
---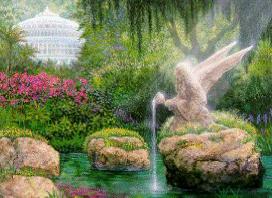 Some may never see with earthly eyes these heavenly beings or know that they exist. Many are unaware of the numerous ways they have protected and guided us. We would like to share with you the stories of people who take pleasure in expressing how real angels are.
---
More Saints
---
---
---
---
---
---
---
---
---
---
---
---
---
---
---
---
---
---