Vietnam War Miracle - Angel Stories
By: Sidney Mathious
I was in Thailand stationed at a B-52 base loading munitions onboard these huge aircraft part of the time and working in a pre-load area the rest of the time loading bombs on bays which would go into the bomb bay of the aircraft.

I was on duty in the preload area rolling 750 pound bombs down a flatbed trailer so the driver of the bomb loader could pick them up and carry them to the bay for loading. There was wood chocks at the end of the trailer which is designed to stop the bomb. The one on the side where the heaviest part of the bomb hits was loose and the bomb I was rolling down the trailer hit it knocked it off. When the chock flew off the trailer the bomb itself began to go over the edge as well. I was trying to hold it by the fins to keep it from going over while yelling loudly to get the attention of the four other guys who was working with me.

I knew that this bomb was armed with both a nose and tail fuse and designed to explode after a certain number of resolutions in air. I could not get the attention of the other four guys who was busy installing a bomb in the bay due to a problem they were having and wasn't watching me. They could not hear me over the noise of the air cooled engine on the bomb loader.

I was holding the bomb as long as I could and knew that the weight of this bomb was too much for me. It was sliding down further noise first and I said: "Lord, I have done all I can and it's up to you now" as I released it and stood there as it slid nose down onto the concrete and watching the gears in the nose fuse fly out as the fuse casing cracked like an egg shell.

The other guys turned around after getting the last bomb installed and was shocked at what had happened and I was standing there looking at them and then back at the bomb and thanking God for intervening on our behalf. As always my Guardian Angel was working on my behalf. This experience left me thinking of what had in store for me after this war.
---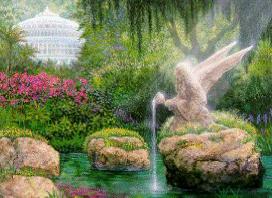 Some may never see with earthly eyes these heavenly beings or know that they exist. Many are unaware of the numerous ways they have protected and guided us. We would like to share with you the stories of people who take pleasure in expressing how real angels are.
---
More Saints
---
---
---
---
---
---
---
---
---
---
---
---
---
---
---
---