My angels for a validation - Angel Stories
By: Claudia Dominguez P.
About 13 years ago my husband and I were driving home on the Freeway from the City, we seen a vehicle on the left side of the road it was an old white 70's Station Wagon with two back flat tires.
I urgently asked my husband to turn around to go back and help the driver. We immediately turned around and arrived to the location of the Station Wagon. When we approached the Wagon it had so much stuff, stuffed in it I assumed these two people were moving somewhere I was thinking they looked like elderly folks who did not have much. We parked our car behind the wagon and out came an elder man white hair and white beard also`. He asked my husband to help him, so he started as I waited in our car watching them begin to lift the Wagon, when my husband came over to ask me to go into their Wagon to accompany the older man's wife. I was scared the wagon looked like it had all kinds of junk inside it. Afraid I approached the vehicle to see an older Caucasian woman with angel white hair. As I introduced myself so did she, I have now forgotten her name, but as I sat in the driver's seat she told me not to be scared, that she was only and old lady and that she is blind, she assured me that everything is going to be fine. She continued to tell me that I was expecting and that my child would be all my heart desires because I deserve what I wish for she described my future baby as in a white color complexion, with bright blue eyes as the color of the sky, I was in awe when she told me that, because I had no clue I was pregnant. I turned to look at their gas line meter, they had no gas in their vehicle, I grew worried, and I told my husband to offer whatever we had left of money so they could fill up. When my husband was done helping the elderly man fix the two flat tires, it looked like they had no money also. I wished her well in her trip with her husband she continued to tell me they were going to Fresno, Ca. to move in with their son, she continued to tell me her son had no clue they were on their way. I offered my cell phone so she may call him so he knows they are on their way, she accepted handed me a personal phonebook to find him and dial, all I got was an answering machine, I left a message for her. My husband was done helping the tires were as good as new, my husband continued to offer our money to the older man, he refused to take any, and on the other hand they offered us money. The older man had a wallet full of hundred dollar bills; we refused to take any of it knowing we would need it to finish off our bills. However, we were given a card with the son's phone number and a business number to call to make sure they made it to Fresno. We made that call two days later the son's phone number was right the parents had passed on, the company on the card no one ever heard of it. Could this of been a sign for me or sign for the son? This situation was so real I was there, her touch was real, I will believe in it till I die.
I did get tested, I turned out pregnant, and I did have a beautiful blessed light colored baby with blue eyes like the color of the blue sky at its purest. People in my life wanted bad for me at that time, just out of jealousy, by the way I dislike the word "jealous," it is then I realize there are angels who appear right in front of us.

---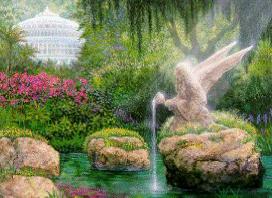 Some may never see with earthly eyes these heavenly beings or know that they exist. Many are unaware of the numerous ways they have protected and guided us. We would like to share with you the stories of people who take pleasure in expressing how real angels are.
---
More Saints
---
---
---
---
---
---
---
---
---
---
---
---
---
---
---
---
---
---