Angels by the road - Angel Stories
By: Holly B
When I was a very little girl (I don't know how old) I was going somewhere with my Mom one night, it was dark out and I was sitting in my car seat in the back and I remember watching shadows cross the seat in front of me, we had been driving for awhile I don't know how long, and then I saw Angels in a big open space on the side of the road it was light all around them and light came from them, they wore long gowns in colors I cannot describe because we don't have colors like them here on earth, they had long flowy gowns and long wavy hair, their faces were neither like a mans or woman's, they were all holding hands and skipping/running toward the road but although they were close to the road they never got to it, my Mother says that I said there was a rainbow but I don't remember, I looked at them as long as I could, although in reality it would only take a couple seconds to drive past but for me time slowed down almost to a stop.
I still remember it to this day even though I was just a baby or little kid.
I told my Mother about it but she didn't see anything.
---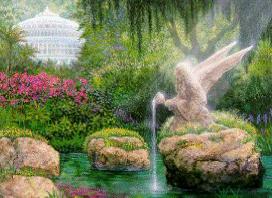 Some may never see with earthly eyes these heavenly beings or know that they exist. Many are unaware of the numerous ways they have protected and guided us. We would like to share with you the stories of people who take pleasure in expressing how real angels are.
---
More Saints
---
---
---
---
---
---
---
---
---
---
---
---
---
---
---
---
---
---