my dead baby is an angel - Angel Stories
By: Marina Montoya
I am 36 yeras old, mother of three girls, but I always say four, for I committed an abortion when I was 23, feeling unable to cope with maternity asi it was given to me at that time. I have often lamented the death of my first baby and shared my grief with others, I have written songs and poetries to my dead baby since the first day she went to heaven, up till now, even to her sisters, I have told them they have a brother or sister in heaven that died in my womb.
In this month of august 2013, one night, I couldnt sleep, I was praying and, although I know God has forgiven me, crying thinking that my whole life, my marriage and everything I have now is this way because that baby died. I was feeling so miserable, so sad.
Then I saw an angel, very happy, flying above me. It was small, it was a girl, she was radiant with hapiness and love. She said; Mum I am fine, I am with God, here in heaven there is no pain, no suffering, so dont suffer for me. She said; thank you, mum, for always remembering me, it makes me so happy to know you always love me. Be happy, for ever, I love you too.
---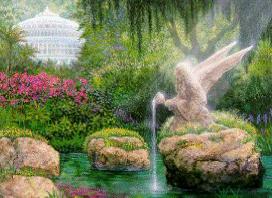 Some may never see with earthly eyes these heavenly beings or know that they exist. Many are unaware of the numerous ways they have protected and guided us. We would like to share with you the stories of people who take pleasure in expressing how real angels are.
---
More Saints
---
---
---
---
---
---
---
---
---
---
---
---
---
---
---
---
---
---