Astroboffins conclude Moon was formed by primordial impact with another planet!
---
Earth collided with another planet to form the Moon, latest evidence shows.
Scientists think they have confirmed an important hypothesis regarding the formation of the Moon. Scientists say they now have evidence that boosts the notion that Earth was struck by another planet during its formation, creating the Moon.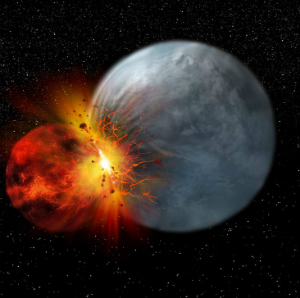 Earth was allegedly struck by a smaller planet which formed the Moon.
LOS ANGELES, CA (Catholic Online) - The solar system was formed about 4.6 billion years ago, about this timeframe there is no scientific dispute. However, evidence suggests the Moon is slightly younger than the Earth, by at least a few hundred million years. This discrepancy has been popularly resolved by the notion that a second planet collided with Earth as Earth was forming and with hundreds of millions of years for a timeframe, this is entirely possible.
However, this has been difficult to simulate in models. Scientists have needed more evidence to confirm they hypothesis.
French scientists working at the Observatory de la Cote d'Azur, Nice, France built a new model which uses dating of the Earth and a measurement of the mass added to Earth as a result of the primordial impact.
Measurements of the interior of the Earth have provided the vital, final clues to show that the impact theory is the most correct. The model accurately accounts for the formation of the moon as late as 100 million years after the formation of the solar system.
The hypothesis, known as the Giant Impact Hypothesis, says that a planet the size of Mars struck the Earth millions of years after Earth formed. That impact cast material back into space, but most of it coalesced into a new Earth and what would become the Moon.
Chemical analysis of both the Earth and Moon have long suggested a common origin for the two bodies.
The conclusion is that the Moon formed around 100 million years after the Earth.
---
Copyright 2018 - Distributed by THE CALIFORNIA NETWORK
Pope Francis Prayer Intentions for FEBRUARY 2018
Say 'No' to Corruption.
That those who have material, political or spiritual power may resist any lure of corruption.
---
---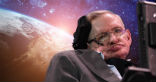 Famed physicist Stephen Hawking has died peacefully in Cambridge, age 76. The physicist was famous for his groundbreaking work in the field ... continue reading
---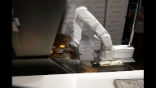 A burger-flipping robot has started work in California, likely to be the first of many millions to come. The machines will reduce the need ... continue reading
---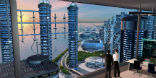 Just ten years ago the first smartphone was introduced by Apple. For the first two years, they were expensive novelties. Then, the android ... continue reading
---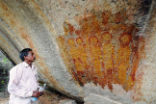 The evidence is mounting that we are not alone in the universe and that we may have been, and could still be, regularly visited by ... continue reading
---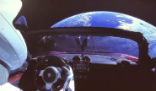 Faith, the Olympics, and spaceflight all unite the world. Even when we compete, even when we celebrate our diversity, these three things ... continue reading
---