There's a show going on, right above your head. Here's what to look for.
Much of the excitement in the sky this week has come from fans of the Perseid meteor shower. Some observers have reported as many as 75 of the extra-bright meteors per hour under dark sky conditions and even in cities like Las Vegas, watchers have reported fireballs in the sky. As the meteor shower winds down over the next couple days, there are some other noteworthy things to see in the sky this year. Best of all, you don't need a telescope to catch these sights.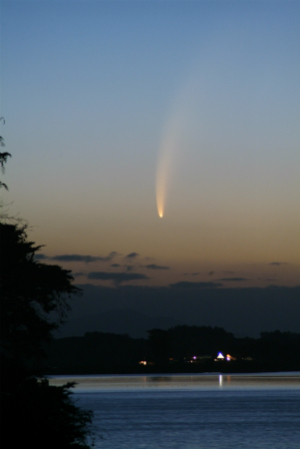 Comet ISON may be visible in the daytime. This is an image of Comet McNaught, which was briefly visible in the morning sky.
Highlights
By Marshall Connolly, Catholic Online (NEWS CONSORTIUM)
Catholic Online (www.catholic.org)
8/13/2013 (2 years ago)
Published in Technology
Keywords: Astronomy, sky, sights, telescope, viewing, observing, solar eclipse, lunar eclipse, 2013, Comet ISON, satellites
---
LOS ANGELES, CA (Catholic Online) - Few people realize it, but a lot of things happen in the nighttime skies above our homes. Most of us spend so little time outside that we are lucky to see even a single shooting star. However, shooting stars and other amazing sights are quite common, if you just pay attention.

Realistically, it's hard for most people to do that. Skywatching requires the patience of a saint, and a bit of luck. Although one can usually see shooting stars on every night of the year, waiting around for them isn't something people are usually willing to do.

Add the fact that light pollution washes out most of what happens in the sky above, and we end up with millions of people who live and work without any notion of the busyness above their heads.

Yet, going out on a clear, dark night, far from city lights, and one can see within minutes after sunset, the myriad of activity above.

For example, for the first hour or so after sunset, and again before sunrise, satellites that pass overhead can be seen, appearing as stars moving steadily against the canopy of the sky. Sometimes, their solar panels catch the Sun's rays just right, and they brighten to a brilliance so great that even city lights cannot drown them from view.

For satellites on a west to east path, observers can watch them dim, then wink out, as they pass into the Earth's shadow, hundreds of miles above the ground.

In addition to satellites, the International Space Station, Hubble Space Telescope, discarded rocket boosters, and more can be seen. Apps which you can install on your smartphone or various webpages can tell you what each point of light happens to be. No matter what time of day, visible or not, these many objects are constantly circulating above our heads, passing in stately review each night.


In addition to satellites, the skies are often filled with less exotic fare, but no less interesting. Military aircraft, odd civilian aircraft, and in a few locations for now, unmanned drones can be spotted.
Of course, most skywatchers are interested in celestial phenomenons that are not of human origin. Fortunately, the universe is rich with these as well.
The next interesting show may be the penumbral lunar eclipse of the night of October 18. For observers in the Americas, Europe, Africa, and most of Asia, the Moon will pass through the outer ring of Earth's shadow in space. The Moon will darken to an orange-red color, but it will not darken completely as in a normal lunar eclipse. The Moon is missing the darkest portion of the Earth's shadow.
Still, it's an interesting thing to observe. Notably, the ancient Greeks were able to discern the round (spherical) shape of the Earth by observing the Earth's shadow passing in front of the Moon. It is likely that ancient skywatchers observed this too. Modern folk like to think Christopher Columbus and the people of his time believed the Earth was flat. This is an utter and complete myth. That the world was a sphere was common knowledge even in ancient, pre-Christian times.
If watching the Moon redden behind the Earth's shadow doesn't interest you, then perhaps a solar eclipse will. During a solar eclipse the Moon passes in front of the Sun and anyone in the shadow will see a solar eclipse.
Most of those lucky enough to witness this event will see a partial eclipse, as the Moon clips the edge of the solar disk, partially darkening the sky as on a cloudy day in most places. However, for a lucky group living in a swath running along the eastern coast of the U.S., and over to central Africa, the eclipse will be annular to total.
The eclipse is a rare, hybrid-eclipse where in some places the moon will pass before the sun and leave a bright ring around its edge, which is known as an annular eclipse, from the Latin word, annulus, for ring.
The eclipse will be total in other places, with the Moon completely covering the Sun and darkening the sky for a few minutes.
Throughout the month of December another spectacular sight will grace the evening skies. Looking to the west at sunset, skywatchers will notice a brilliant point of light, one that is already shining at sunset. It's not a star, nor airplane, but Venus.
Venus is the brightest planet in the nighttime sky and has been mistaken variously for an airplane, or even a UFO. In December, Venus will be high in the southwestern sky, and extraordinarily brilliant.
The planet is bright because it will be relatively close to Earth and is covered entirely in clouds, which reflect much of the sunlight that strikes it. Through a telescope, observers will notice that Venus also has phases like the Moon. High in the sky and bright as can be, Venus will be a brilliant object of fascination throughout the coming fall.
Venus will not reach such brilliance in Earthly skies again until 2021.
Of course, bright planets and eclipses are attention getting, but even they are common sights compared to what comes next. A spectacular sky show is set to happen at the end of November and may last into January of next year -and it's a once in a lifetime event.
The passing of Comet ISON will dazzle skywatchers unlike any other sight described here.
The ball of ice and dust is already closing in on the Sun and has started brightening and casting off a signature tail of debris. Although it remains invisible in all but the largest professional telescopes, by November the comet is expected to brighten to naked-eye visibility.
Moreover, predictions suggest the comet could brighten so much as to become visible in the daytime.
Comet ISON will be bright because it is on its first, and only pass by the Sun, and it will pass particularly close. It is also close enough to Earth to be readily visible. All these factors combine to create a once-in-a-century comet.
ISON will be visible around November 23 or 24, and will remains visible, assuming it survives its close passage (less than a million miles) over the surface of the Sun.
ISON may brighten enough to rival the full moon in brightness and could even be visible in broad daylight. If so, it will prove to be a unique event, rarely matched in the annals of history.
There's a lot going on in the skies above you, you have only to take the time to watch. With each season, the stars rise and set earlier, the Moon rises later each night and goes through its phases like clockwork. The Sun rises and sets in a slightly different position and at a slightly different time each day. Planets traverse the sky, and sometimes appear to move backwards over the course of many nights.
The skies above are filled with wonder and best of all, there's no telescope required to appreciate them.
---
Copyright 2016 - Distributed by THE CALIFORNIA NETWORK
Pope Francis Prayer Intentions for May 2016
Universal:
Respect for Women: That in every country of the world, women may be honored and respected and that their essential contribution to society may be highly esteemed.
Evangelization:
Holy Rosary: That families, communities, and groups may pray the Holy Rosary for evangelization and peace.

By Kenya Sinclair (CALIFORNIA NETWORK)
A new app just signed a contract with a homeland security agency to help identify national threats to security - but is it accurate? LOS ANGELES, CA (Catholic Online) - Faception is a new facial recognition app that can identify everyone from terrorists to poker ... continue reading
---

By Marshall Connolly (CALIFORNIA NETWORK)
Facebook has announced they will retrain employees responsible for curating their news content. The social networking giant has been accused of censoring news and content with a conservative slant in favor of liberal content. LOS ANGELES, CA (California Network) - ... continue reading
---

By Marshall Connolly (CALIFORNIA NETWORK)
All healthy, well adjusted people want to work. It's hardwired into our DNA to build, to produce, to gather, grow and trade. Without this impulse, our species could never have built civilization. But what happens when an essential part of our being becomes obsolete? ... continue reading
---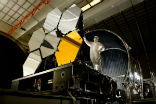 By Marshall Connolly (CALIFORNIA NETWORK)
Scientists have announced the discovery of three planets in the habitable zone of a star just 39 light years away. Such planets have the potential to host life, making them targets for future study. LOS ANGELES, CA (California Network) - Are scientists about to ... continue reading
---

By Marshall Connolly (CALIFORNIA NETWORK)
Earlier this year, a robot beat a master player at the ancient game of Go. Now, robots are beating humans at soccer. Armies of engineers are working around the world to develop artificial intelligence and robots that can do what humans do, only better. They're making ... continue reading
---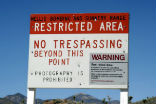 By Marshall Connolly (CALIFORNIA NETWORK)
UFO watchers have spotted a mysterious mushroom-shaped cloud over Area 51. The cause of the cloud remains unknown, but it is evidently connected to a fire at the secret military base. Viewers were unable to obtain direct footage of whatever caused the inferno, due to ... continue reading
---

By Kenya Sinclair (CALIFORNIA NETWORK)
After Microsoft's failure with AI teen "Tay," it should come as no surprise that more and more researchers are agreeing artificial intelligence requires a delicate balance between helpful tech and murderous exterminators. LOS ANGELES, CA (Catholic Online) - According ... continue reading
---

By Marshall Connolly (CALIFORNIA NETWORK)
Fast food workers, say goodbye to that grimy job with surly guests and overbearing managers. Your fight for $15 is over. No, you didn't win, someone has invented a machine that makes hamburgers better and faster than you do. LOS ANGELES, CA (California Network) - ... continue reading
---

By Kenya Sinclair (CALIFORNIA NETWORK)
Ian Burkhart underwent experimental brain surgery to help scientists pioneer technology aimed at reanimating paralyzed limbs - and it worked! LOS ANGELES, CA (Catholic Online) - Six years ago, Burkhart severed his spine when he went for a swim and was slammed into a ... continue reading
---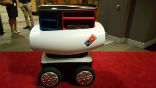 By Marshall Connolly (CALIFORNIA NETWORK)
Robots will soon begin to deliver your mail, pizza, and other parcels within the next few years. Plans are being developed around the globe to test, then roll out automated delivery systems for everything from packages, to mail to pizza. The rising demand for delivered ... continue reading
---
All Technology News