Fr. Paul Schenck on Edith Stein: Daughter of Israel, Daughter of the Church
---
In calling the phenomenon of anti-Semitism catastrophe she predicted just what the Jewish people would come to call it, Shoah, a Hebrew word encompassing disaster, calamity, catastrophe
August 9 is the Memorial of St. Teresia Benedicta a Cruce, Edith Stein, Catholic feminist, philosopher and martyr of Auschwitz. In this sketch, Fr. Paul Chaim Benedicta Schenck, Jewish born priest and Chair of the National Pro-Life Center (Washington, DC), examines the meaning of her Jewish identity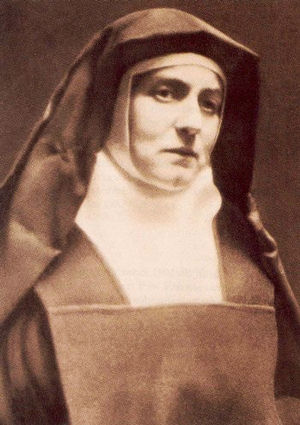 St. Teresia Benedicta a Cruce, Edith Stein, Catholic feminist, philosopher and martyr of Auschwitz: Throughout her life, Edith never renounced or denounced her Jewish identity. Rather, as demonstrated in her memoir, her participation in Jewish customs at home, her letter to the Pope and in her correspondences, she spoke of her Jewish roots as intrinsic to her self-identification, to her views and even to aspects of her vocation
P>WASHINGTON, DC (Catholic Online) - (Editor in Chief Note: August 9 is the Memorial of St. Teresia Benedicta a Cruce, Edith Stein, Catholic feminist, philosopher and martyr of Auschwitz. In this sketch, Fr. Paul Chaim Benedicta Schenck, Jewish born priest and Chair of the National Pro-Life Center (Washington, DC), examines the meaning of her Jewish identity.)
Edith Stein wrote her forward to her autobiography, Life in a Jewish Family, in the month of September, 1933, six months after Hitler assumed power and the first concentration camp, Dachau, was opened. In a prescient observation, a most prophetic one, she invokes the word that would decades later come to convey, in a compact, yet massively potent way, the calamity that befell the Jews of Europe.
In an almost passing phrase, she reflects, "In one of those conversations by which one seeks to arrive at an understanding of a sudden catastrophe [katastrophe] that has befallen one, a Jewish friend of mine expressed her anguish, 'If only I knew how Hitler came by his terrible hatred of the Jews.'" (1)
In calling the phenomenon of anti-Semitism catastrophe she predicted just what the Jewish people would come to call it, Shoah, a Hebrew word encompassing disaster, calamity, catastrophe. (2)  Though millions of non-Jews suffered and died at Nazi hands, the Jews embraced the Shoah in a unique way.
It was visited upon them because of their identity as Jews, and its memory became a part of their identity. Edith would share that realization in the fullest sense, being persecuted, hunted and ultimately murdered in the gas chambers of Auschwitz. That she did so as a Catholic, a cloistered nun destined to become a saint, makes her Jewish identity compelling.
Edith's Jewish identity played a significant formative role in her life, her pursuit of philosophy, her conversion and in aspects of her Religious life. She explains, "I would like to give, simply, a straightforward account of my own experience of Jewish life." She does this particularly to counter the anti-Jewish propaganda of "the new dictators", and the "racial hatred" spawned by it.(3)
It was important to Edith that the characteristics of her Jewish family show that Jews shared all the common human traits of their non-Jewish neighbors, and were conscientious citizens who loved their families, their country and practiced a religion with high moral and ethical aspirations.
In a letter she wrote to Pope Pius XI in the Spring of 1933 in which she begs for the Church to protest Hitler's persecution of the Jews in Germany, she wrote, "As a child of the Jewish people who, by the grace of God, for the past eleven years has also been a child of the Catholic Church, I dare to speak to the Father of Christianity about that which oppresses millions of Germans." (4) 
By defining herself as both "a child of the Jewish people" and "a child of the Catholic Church" she simultaneously embraces both a Jewish and Catholic identity, something not ordinarily understood by Catholics. Conversion is more often seen as a renunciation of one's former religious beliefs and practices, and therefore a turning away from that identity and taking on a new identity as a Christian, a Catholic.
Edith did not understand her identity as mutually exclusive. This is important to understand if we are to get an appreciation of the influence of her Jewish experience on her formation as a philosopher, a Catholic and a religious.
Though Edith was raised in a religiously observant (albeit liberal, or reformed) family, she herself was not a deeply religious Jew. She lost her faith in God at fourteen, when she deliberately stopped praying. Though she never spoke of herself as an atheist, she said she found God irrelevant to the challenges of life.
She eventually pursued philosophy, and became a student and then assistant to Edmund Husserl, the founder of the school of phenomenology, which seeks to determine the true meaning of things by examining the person's perception of them.
It is important to note that several of Edith's mentors and peers, including Husserl (whom she always referred to as "the master") were baptized Jews. This meant that Edith would be exposed to a Christianity that was not inimical to Jewish identity.
Throughout her life, Edith never renounced or denounced her Jewish identity. Rather, as demonstrated in her memoir, her participation in Jewish customs at home, her letter to the Pope and in her correspondences, she spoke of her Jewish roots as intrinsic to her self-identification, to her views and even to aspects of her vocation. In a letter to Mother Petra Bruning, OSU, written from the Cologne Carmel, she intimates that part of her mission as a Carmelite was redemptive toward the Jews.
She wrote, "I keep thinking of Queen Esther who was taken from among her people precisely that she might represent them before the king. I am a very poor and powerless little Esther, but the King who chose me is infinitely great and merciful. That is such a great comfort." (5)  This reveals that she saw even her Religious life as containing a mission on behalf of her Jewish people.
Edith's ultimate martyrdom resulted directly from her Jewish identity. In her canonization homily, Blessed Pope John Paul II said, "Because she was Jewish, Edith Stein was taken with her sister Rosa and many other Catholic Jews from the Netherlands to the concentration camp in Auschwitz, where she died with them in the gas chambers." (6)
In her last testament, drafted long before her martyrdom would be realized, she wrote, "I joyfully accept in advance the death God had appointed for me, in perfect submission to his most holy will. May the Lord accept my life and death for the honor and glory of his name, for the needs of his holy Church - especially for the preservation, sanctification and final perfecting of our holy Order and in particular for the Carmels of Cologne and Echt - for the Jewish people, that the Lord may be received by his own and his kingdom come in glory, for the deliverance of Germany and peace throughout the world, and finally, for all my relatives living and dead and all whom God has given me: May none of them be lost." (7) 
This shows that her identification with the Jews is at the very core of her being.
In his introduction to her biography by Waltraud Herbstrith, Jan Nota wrote of Edith's "deep sense of Jewishness and her love and commitment to Judaism" which caused him to conclude, "Christ was a Jew, and Edith Stein felt proud to belong to his people."  From her birth on Yom Kippur to her death in Auschwitz, Edith Stein, Saint Teresa Benedicta a Cruce, retained a deep sense of her Jewish identity and that identity endures.
-----
Footnotes:
1. Stein, Edith. Life in a Jewish Family: an autobiography. (Washington, DC: ICS Publications, 1986), 23.
2. Baltsan, Hayim. Webster's New World Hebrew Dictionary. (Cleveland, OH: Wiley Publishing, 1992), 402.
3. Stein, Edith, and Josephine Koeppel. Self-portrait in letters, 1916-1942. (Washington, D.C.: ICS Publications, 1993), 24.
4. Stein, Edith. Letter to Pope Pius XI, translated by John Sullivan, OCD.
5. Stein, Edith, and Josephine Koeppel. Self-portrait in letters, 1916-1942. (Washington, D.C.: ICS Publications, 1993), 291.
6. Pope John Paul II, "Homily for the Canonization of Edith Stein Sunday, 11 October 1998",
7. Herbstrith, Waltraud. Edith Stein, a biography. (San Francisco: Harper & Row, 1985), 168-169
 8 Herbstrith, Edith Stein, 11
-----
Fr. Paul Chaim Benedicta Schenck, a Priest of the Diocese of Harrisburg, PA., is the founding Director of the National Pro-Life Center (NPLC) http://nationalprolifecenter.org/web/ on Capitol Hill in Washington, DC. The Center gives the Justices of the Supreme Court, their high level staff, members of the federal judiciary, members of the US Senate and other public policy makers the information, education and inspiration they need to better form their consciences so they will make better decisions. He is a Hero and Champion of the great human rights movement of our age, the Pro-Life cause, and a contributing writer for Catholic Online.
---
Copyright 2018 - Distributed by THE CALIFORNIA NETWORK
Pope Francis Prayer Intentions for APRIL 2018
For those who have Responsibility in Economic Matters.
That economists may have the courage to reject any economy of exclusion and know how to open new paths.
---
---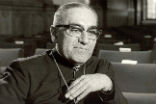 In his role as Vicar General, Monsignor Ricardo Urioste was one of the closest collaborators of Oscar Romero, the archbishop of San ... continue reading
---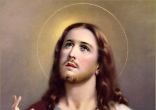 Sister Consolata di Santo, one of the first religious sisters to work in the hospital developed by St. Padre Pio, died March 2 at age 101, ... continue reading
---

Billy the Kid, a notorious bank and stage-coach robber of the Wild West, met his match in the most unlikely of people when he met Sister ... continue reading
---

For over four centuries, a historical and iconic miraculous statue of Jesus Christ carrying his Cross has become an emblem of passion, ... continue reading
---

A holy relic of St. Francis Xavier is touring Canada from St. John's to Victoria. LOS ANGELES, CA (California Network) - The forearm ... continue reading
---