Ave Maria: Growing into Total Consecration to Mary
---
St. Maximilian Kolbe was right when he exhorted us, 'Never be afraid of loving the Blessed Virgin too much. You can never love her more than Jesus did'
In the end, like so many of my devout Catholic brothers and sisters, I found that St. Maximilian Kolbe was right when he exhorted us, "Never be afraid of loving the Blessed Virgin too much. You can never love her more than Jesus did."  It is through her that he came into the world, and it is through her that he will reign in the world.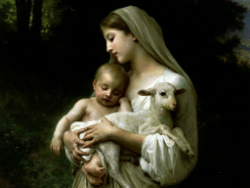 NASHVILLE, TN (Catholic Online) - The first time I heard about consecration to Jesus through Mary I was as an infant Catholic, newly welcomed into full communion with the Church. While reading a book on Mother Teresa I remember it was said that she had given herself completely to the Blessed Mother. Because Mary was a stumbling block to Catholicism for me as a Protestant, I had a hard time with this concept, both as a non-Catholic and then as a new Catholic.
As a searching non-Catholic I asked God to PLEASE not be offended by my praying the Rosary for the first time. After completing it, I was very relieved to "get it." Although I was happy to have been obedient, it had been a difficult leap of faith.
Even after being received into full communion, although I completely accepted the Church's authority on Mary, I treated the teachings a little like a dog warily circling a wild animal. I wanted to take hold of them, but I was afraid. My desire was well-meaning - to focus my devotion and consecration completely on Christ - but obviously (and sadly) ignorant of how Christ-centric devotion to the Mother of God really is.
The Blessed Mother Draws Us
Later, in a Lenten Confession, my confessor mentioned as part of the conversational counseling that deepening devotion to Mary is a mark of a growing Catholic. Again, this nagged at me somewhat, because as much as I loved the Church and being Catholic, it was a difficult issue. I continued to think about it, but without much progress on the matter. I wanted to make progress, but was reticent, maybe even comfortably so. I didn't want to offend Mary; I even loved her. I just preferred to remain at arms length.
I finally just asked her to help me. My feelings steadily grew warmer toward Marian devotion, and I took the huge step of facilitating a Bible and Catechism study on the subject which opened me up more to her, intellectually, as Mother and Queen. It was still not a close relationship, but I was OK with that. While I vowed to more faithfully add the Rosary to my daily prayer discipline, consecration to Mary was not something I thought I would ever be able to undertake, anyway.
In part, I was still very attached to the knowledge that I could offer up my sufferings for any circumstance or person I wanted. It seemed irresponsible to offer whatever meager merits I might be granted for people I didn't know if I didn't first attempt to care for those whom I loved, knew, and whose needs I nominally understood! 
Our Lady of Fatima Calls Us
In our parish, our Legion of Mary chapter facilitates a traveling statue of Our Lady of Fatima. I was somewhat curious about it, but not enough to ask to keep her. Soon after the Bible study, however, she seemed to follow me home. The president of our Legion of Mary called to ask me for the phone number of the current host, and somewhere in the conversation I was designated the next hostess. I am still unsure how that happened, except that Mary herself was certainly involved.
Included with the statue was literature on the children, the apparitions, the prophecies and message of Fatima. I devoured it all in one afternoon, obtained a scapular thereafter, and began offering a portion of my duties and sufferings in reparation to the Immaculate Heart of Mary. I felt very drawn to this practice, since I was guilty of a sort of apathy where the Blessed Mother was concerned, especially as a Protestant.
Through Fatima, I understood at a depth I had never before apprehended, how very MUCH Jesus loves and respects His Mother. It is a completely transcendent love that spans all of time and history. I sensed He wanted to share it with me, and was personally directing, inviting, almost pleading with me to "Behold [my] Mother." Yet for all my forward movement, I stopped short of the Consecration. It just seemed so...well, TOTAL.
It wasn't until I was offered the opportunity to review some literature on St. Louis de Montfort's Consecration to Mary that Jesus made it known to me very clearly that He was calling me through His Mother, and the final pieces of the Marian puzzle came together for me.
I was stunned to read that Pope John Paul II once experienced similar difficulties with his own devotion to Mary, but had later gone on to choose consecration to her as a way of life, as had Mother Teresa. What did they know that I did not? I wondered.
The material I was reviewing recommended St. Louis de Montfort's True Devotion to Mary. Because it was not included, I located it online, and read it as I traveled to the coast for vacation. I discovered why, having lived a mere sixteen years as a priest, his writings have been historically instrumental in the conversion of souls to deep Marian devotion, and I joyfully took the final leap into the arms of my waiting Mother.
Bearing Marian Fruit
In most of our prayers we ask God for those things we need. In the consecration, we instead place ourselves and all we have and are into Mary's hands, to facilitate whatever needs to be done, to embellish it all, and to offer it all to Jesus on our behalf. We trust her as completely as Jesus trusted her as a newborn infant, completely dependent on her for everything.
Mother Teresa's "birthday" into heaven is also my birthday. In the novena leading up to that day I assented to and completed my consecration to Mary, and I experienced a spiritual breakthrough the likes of which I have never before experienced as a Christian. In the consecration to Mary, we ask for nothing, but receive everything.
One of the lessons of the Church Fathers and particularly of Fatima is that the whole world's ills can, and someday will, be remedied by Jesus through Mary and the special power of her Rosary. Mary's humility was so complete, and establishing Jesus' identity was so important, that she remained largely hidden until these last days, in which Jesus has begun to reveal her role in history and redemption more fully. It is through her that he came into the world, and it is through her that he will reign in the world.
In the end, like so many of my devout Catholic brothers and sisters, I found that St. Maximilian Kolbe was right when he exhorted us, "Never be afraid of loving the Blessed Virgin too much. You can never love her more than Jesus did." 
-----
Sonja Corbitt is a Catholic speaker, Scripture study author, and a contributing writer for Catholic Online. Visit pursuingthesummit.com for information about Sonja's apostolate or to order her 10-week, DVD-driven Bible study, Soul of the World, The Heart as God's Dwelling Place.
---
Copyright 2018 - Distributed by THE CALIFORNIA NETWORK
Pope Francis Prayer Intentions for FEBRUARY 2018
Say 'No' to Corruption.
That those who have material, political or spiritual power may resist any lure of corruption.
---
---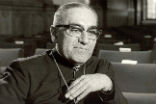 In his role as Vicar General, Monsignor Ricardo Urioste was one of the closest collaborators of Oscar Romero, the archbishop of San ... continue reading
---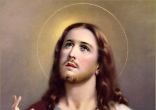 Sister Consolata di Santo, one of the first religious sisters to work in the hospital developed by St. Padre Pio, died March 2 at age 101, ... continue reading
---

Billy the Kid, a notorious bank and stage-coach robber of the Wild West, met his match in the most unlikely of people when he met Sister ... continue reading
---

For over four centuries, a historical and iconic miraculous statue of Jesus Christ carrying his Cross has become an emblem of passion, ... continue reading
---

A holy relic of St. Francis Xavier is touring Canada from St. John's to Victoria. LOS ANGELES, CA (California Network) - The forearm ... continue reading
---