Living in a 'Mary Moment'
---
Mary is a model of true humility and a needed antidote to an age of arrogance.
CHESAPEAKE, Va. (Catholic Online) - Several years ago I was an invited guest at a celebration of the life and ministry of a significant evangelical Protestant leader.
It was a "black tie" affair, accompanied with all the fanfare. Held in a posh ballroom in Southern California, it was a nice opportunity for my wife and me to experience this kind of an event and to pay tribute to this man who had touched our own lives in many ways.
I was one of only a handful of Catholics who attended the event and I was honored to be there to pay tribute to this man.
At the end of the evening, Reverend Jack Hayford, a giant of evangelical Protestantism, and a man of great integrity, gave the concluding tribute, address and prayer to conclude the nights' festivities.
Most of the evening was filled with accolades, music, stellar performances, multi-media presentations and the consumption of the finest of food fare. There was nothing inappropriate about it all. It was all well intended and everyone enjoyed the evening.
For my wife and me it was doubly unusual.
We were in a grand, lavish ballroom, surrounded mostly by Christians of a different tradition and "culture" than our own as Catholics. We did not fit in. That was not that unusual. Over many years I have been the "Catholic guy" in collaborative efforts with evangelical Protestants and other Christians. It is a unique distinctive of my own vocation. It flows from a long term commitment to integrate my faith, my life and my convictions by living in the "real" world. Hopefully it is also a response to my hope that my small efforts can make a meaningful contribution to the common good.
However, I was truly surprised at the final fare that ended this lavish event. It was better than any of the food courses because it satisfied a deeper human hunger, a hole in the soul. Pastor Hayford's message, (to the surprise of some), was that we are living in, what he called a "Mary Moment."
With genuine affection and deep insight he broke open the meaning of the life and mission of the mother of the Lord as a model for all in that room and beyond who would follow her Son in the Third Christian Millennium.
I was delighted because I agree.
Through an inspiring exegesis of the biblical text often called the "Magnificat", and using the few other references to Mary in the biblical texts, he offered the life of the Mother of the Lord as a model for all Christians and encouraged all those present to follow the path of simplicity, humility and obedience.
He emphasized the particular words spoken by Mary at the Wedding Feast of Cana when, after imploring her Son to perform His first public miracle (ah, the powerful intercession of a mother!) she directed those who were serving to: "Do whatever He tells you."
With characteristic evangelical fervor and a heart of compassion he suggested to all of us that as we approached the Third Christian Millennium, we were living in a "Mary Moment."
Over the years since that event, we have crossed over what John Paul II called the "threshold of hope" and we have entered the Third Millennium.
Truly understanding, and living, the implications of what that good preacher called this "Mary Moment," could help us all. Mary is a model of true humility and a needed antidote to an age of arrogance.
There is a lot of misunderstanding, fear and sincere disagreement concerning so much of what has evolved over two thousand years of Christian history as it relates to this little Virgin of Nazareth. Some of the practices of piety that have evolved around efforts to honor her in my own tradition are subjects of great tension with other Christians.
Yet we all believe that she was chosen to bear the Word of Life. Perhaps we can begin by acknowledging that the heart (and fruit) of true "Marian" piety in any Christian's life should be the rare and priceless virtue of humility. It was this virtue that so characterized her response of faith to the invitation of the Holy Spirit in her own life. When understood in this sense, this kind of "Marian" piety is not only piety but prophecy.
Those who live surrendered lives of poured out love, like Mother Theresa of Calcutta, are esteemed these days by all who have the eyes to see precisely because of the way that they personify the Love that they profess.
They make that love real in the flesh.
In conforming their lives to love they are not arrogant, rather they are prophetic. In that sense they are also "incarnational". They "en-flesh" the gospel, the "good news" and show forth the Love of Jesus Christ in ways that transform other peoples lives. Ultimately, one person at a time, they literally change the world around them.
A great hero of the Christian faith, Francis of Assisi once captured the spirit of these kinds of folks (of which he was one!) in these words of wisdom: "I preach the gospel at all times ...and sometimes I use words."
Catholics, Orthodox, and many other Christians especially honor Mary as the "Mother of the Lord". She is the woman singularly chosen in the eternal plan of God to be called "mother" by Jesus and to bear God Incarnate in her womb for nine months.
That womb of that mother was a "temple of glory", an "ark of the Covenant" and a new "tent of meeting" where heaven touched earth! Though Christians profess that within her womb was resident the uncreated "Word" from the Father, in a real sense every child in the womb is a created word of love and should be received as a gift from heaven.
She was also a real mother who was privileged to, (along with Joseph), raise the One who lived within her for nine months after He was born. In her presence and with her human influence, the biblical texts tell us He "grew in wisdom and stature" in His Sacred humanity.
For these reasons alone, is it any wonder that Christians for 2000 years have been captivated by the implications of her life?
Perhaps in continued reaction to perceived excesses in focus on her in the past, there has been a tendency to downplay the role of Mary in the plan of salvation that is the heart of the Christian revelation. This is unfortunate on many fronts.
The vocation or call of Mary was no "ordinary" vocation. The late great Bishop Sheen (the first "televangelist") once put it this way: "if you were God and you could choose your mother, how good would you choose her?" This was an effort by the Bishop to respond to the assertion in some Christian circles (perhaps in reaction against what has been perceived as an "overemphasis by Catholics on the importance of Mary) that she was not significant at all.
The good bishop was correct. She was chosen from among all women. She was "highly favored" or "full of grace", the scriptures tell us the Angel proclaimed upon that visit that changed her life (and our own) she was "blessed among women."
But in another way, her life was very ordinary. Perhaps that is why we fail to look more closely. We have a difficult time grasping the truth that the ordinary can be extraordinary. This little ordinary woman, virgin and mother has inspired the greatest and holiest Saints throughout Christian history.
For example, when one probes the lives of Augustine of Hippo, Bernard of Clairveaux, Therese of Liseux, the late Theresa of Calcutta and so many others within the Christian tradition, including Martin Luther, one finds a common love for and devotion to Mary.
Were they in error? Or are we perhaps missing something?
Is this truly a "Mary moment"?
This article is adapted from a chapter of "The Prayer of Mary: Living the Surrendered Life" by Deacon Keith Fournier

---
Copyright 2018 - Distributed by THE CALIFORNIA NETWORK
Pope Francis Prayer Intentions for APRIL 2018
For those who have Responsibility in Economic Matters.
That economists may have the courage to reject any economy of exclusion and know how to open new paths.
---
---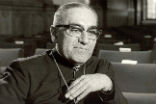 In his role as Vicar General, Monsignor Ricardo Urioste was one of the closest collaborators of Oscar Romero, the archbishop of San ... continue reading
---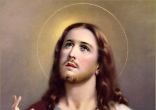 Sister Consolata di Santo, one of the first religious sisters to work in the hospital developed by St. Padre Pio, died March 2 at age 101, ... continue reading
---

Billy the Kid, a notorious bank and stage-coach robber of the Wild West, met his match in the most unlikely of people when he met Sister ... continue reading
---

For over four centuries, a historical and iconic miraculous statue of Jesus Christ carrying his Cross has become an emblem of passion, ... continue reading
---

A holy relic of St. Francis Xavier is touring Canada from St. John's to Victoria. LOS ANGELES, CA (California Network) - The forearm ... continue reading
---