World War III could start ANY DAY now, as tensions escalate around the globe
---
Pope Francis warns war has already begun.
I know not with what weapons World War III will be fought, but World War IV will be fought with sticks and stones. -Albert Einstein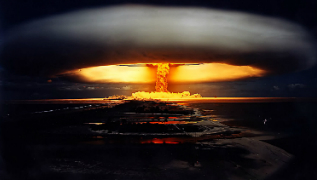 The world is closer to war than at any time in the past few decades.
LOS ANGELES, CA (California Network) -- At no time in world history except for a few tense occasions during the Cold War, has the planet been so close to global catastrophe. There are multiple hotspots around the world, and the Trump administration appears hawkish.
There are four hotspots. The first is in Syria where Bashir al Assad has used chemical weapons against civilians and in defiance of the United Nations. Next, there is an ongoing proxy war in Yemen, with the United States and Saudi Arabia fighting Iran. In the South China sea, the Philippines is sending troops to secure islands claimed by China. And in North Korea, Kim Jong Un is developing a ballistic missile that can hit the United States.
The problem is that none of the nations involved in these myriad crises appear ready to back down or negotiate peace.
 Historically, the 20th century's two great wars were unanticipated. In both cases, nations built their arsenals amid a climate of peace. Global conflict was virtually unthinkable on the nights of June 27, 1914, and August 31, 1941. But within the space of hours, the world found itself plunged into war.
Pope Francis has warned that World War III has already started, in a piecemeal fashion. A year ago, he warned that so many people were being killed in low-intensity conflicts around the world, it was simply another form of war.
If war does erupt, it will come suddenly and with little warning. It can be sparked by a miscalculation or an accident. It could also come about by deliberate engineering as leaders seek war for their own ends. Wars tend to unify people and provide purpose. They allow leaders to consolidate power and address threats, both foreign and domestic. Even a conflict that one side is likely to lose can be worthwhile for a regime if it survives the conflict.
The weapons of war have become quite fearsome. It's not just nuclear weapons. It's cruise missiles that can skim the waves, fighters, and bombers that are invisible to radar, and even elite teams of computer hackers that can shut off water and power to entire cities, leaving millions without drinking water or sanitation. How quickly would a city like Los Angeles survive without water? Who needs bombs to destroy a city when its own desperate people can do a better job?
Make no mistake, the world is in danger, greater danger than at any time in recent history. Unless we pray and petition for peace, we could wake up to a world at war any day now.
---
Copyright 2018 - Distributed by THE CALIFORNIA NETWORK
Pope Francis Prayer Intentions for July 2018
Priests and their Pastoral Ministry.
That priests, who experience fatigue and loneliness in their pastoral work, may find help and comfort in their intimacy with the Lord and in their friendship with their brother priests.
---
---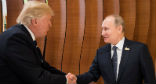 President Trump met with President Vladimir Putin for a summit in Helsinki today. By all accounts, the meeting went well, ... continue reading
---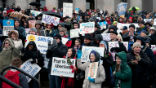 Is an end to abortion near? The retirement of Justice Anthony Kennedy suggests yes. LOS ANGELES, CA (California Network) - All ... continue reading
---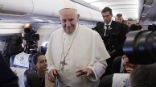 Pope Francis is a man of great compassion who houses refugees at the Vatican. He has also asked parish churches around the world to host ... continue reading
---

Children of illegal immigrants are being separated from their families and held in detention centers by the hundreds. This policy, which ... continue reading
---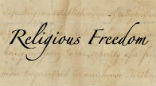 Religious freedom groups cheered Monday's 7-2 Supreme Court decision that a Colorado baker had his rights violated when the state civil ... continue reading
---