Stopping at nothing, Davos Man, Warren Buffett, donates staggering $1.2 billion to promote abortion
---
By Marshall Connolly, Catholic Online (NEWS CONSORTIUM)
8/27/2014 (3 years ago)
Catholic Online (https://www.catholic.org)
Are we helpless as Catholics in the face of the Davos Man?
Warren Buffett has given $1.2 billion to fund abortion advocacy and "research." This startling conclusion comes from the New York Times, which is reporting that he donates hundreds of millions of dollars at a time to a foundation named after his late wife, Susan Thompson Buffett.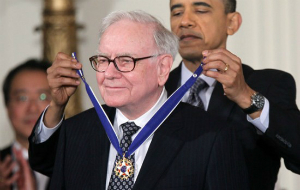 Obama awarding Buffett the Presidential Medal of Freedom.
LOS ANGELES, CA (Catholic Online) - The media is atwitter with the fact that billionaire investor and Davos man, Warren Buffet, has paid over $1.2 billion of his own fortune to support abortion advocacy and what is euphemistically called "research."
This simple fact possibly makes Warren Buffett the largest individual financier of the mass death of children in the womb through procured abortion on the entire planet.
According to the New York Times:
"Susan Thompson Buffett was married to Warren Buffett and served as president of the foundation that bears her name. She died in 2004. Two years later, Warren Buffett gave the foundation about $3 billion. He said that he expected the gift to increase the foundation's annual expenditures by $150 million. And in fact, total giving by the foundation, where two of the Buffetts' children sit on the board, increased from $202 million in 2007 to $347 million in 2008, according to tax returns. The tax records also show that most of the foundation's spending goes to abortion and contraception advocacy and research. According to Access Philanthropy, a research institute that focuses on the giving preferences of foundations and corporate donors, family planning is one of the Susan Thompson Buffett Foundation's main purposes. The foundation's nonprofit 990 tax form shows that in 2008, Planned Parenthood and its affiliates in the U.S. received about $45 million; the international arm of the organization got about $8 million. There is no line item for the Ryan program or the Family Planning Fellowship. But the foundation paid out around $50 million to universities with one or both of the programs.
"Warren Buffett has never spoken publicly about his views on abortion. But in the 1990s, according to The Wall Street Journal, the Buffett Foundation helped finance the research and development of the pills that induce abortion. The foundation also helped finance a lawsuit to overturn the ban on so-called partial-birth abortion in Nebraska, Buffett's home state and the headquarters of his company, Berkshire Hathaway. (Susan Thompson Buffett moved from Omaha to San Francisco in 1977 but remained close to her husband. She took credit for introducing him to the woman he has lived with since 1978; the three sent out Christmas cards together.) In Thompson Buffett's only television interview, which was broadcast after her death, she told Charlie Rose: "Warren feels that women all over the world get shortchanged. That's why he's so pro-choice."
There is no way to digest this news without felling terribly unsettled. This is another example of how some wealthy people do not understand the responsibilities of their position and can actually begin to feel they can engineer the world to their liking in accord with their personal beliefs, which often fail to recognize our moral obligations to one another. Those moral obligations are revealed by the Natural Law, written on every human heart. We truly are our brother and sister's keeper. That  includes having an obligation to protect what Deacon Keith Fournier regularly refers to as our youngest neighbors, children in the womb.
Act now to support a pro-life movement that really works!
This curious feature of some of the wealthy has developed in recent decades with the coming of the "Davos man."
Davos is a resort town in Switzerland that hosts some of the world's wealthy elite for a conference every January. Between helicopter rides up ski slopes and expensive parties, these elite rub elbows and talk about new ideas and next moves. It's a way for them to collaborate and work together to make the decisions that guide the world. The exclusive attendees are collectively regarded as 'Davos men."
A key feature of the Davos man seems to be that has no loyalty to any specific nation. Instead, a Davos man comes and goes wherever he likes, his investments are diversified and global, so he thinks globally, or so he thinks. While there's nothing wrong with thinking globally, it's the thoughts themselves distilled into policies that create trouble. That is particularly obvious when the Davos man does not recognize the child in the womb as having a fundamental human right to life.
A popular notion with Davos men, including others like Bill Gates for example, is that the world is endangered by overpopulation. That very supposition is objectively in error. However, the faulty notion has led them to finance and encourage efforts to foist contraceptives and procured abortions on women, especially in the developing world.
What these people want and prefer does not matter - because the Davos men believe they know better. There is an arrogance and condescension evident in their approach.
That many developing nations suffer from high infant mortality rates and slow population growth is irrelevant. The agenda is to reduce the population because the Davos men think it will be better for the planet. It's one way these men can claim they're helping, satisfying the prerequisites of noblisse oblige.
Yet they aren't helping anybody, and they're certainly not saving the planet. These men, many of which are self-professed atheists, seem not to care about emptying a region of its children before they are born.
In a developing nation, a large family means more production, more output, and this raises the standard of living for all people in a family and nation, assuming the fruits of their labor are shared out in a fair and equitable fashion. Instead, Davos men like Buffett point to the alleged poor quality of life and the cost of raising an infant - as though a child were a liability, a burden and  a problem rather than a gift, a brother or sister, son or daughter. By persuading so many people to prevent pregnancy by chemical means, or through the insertion of IUD's, and to abort their children, they are actually preventing growth and development in these regions. They are also committing objectively immoral and anti-life actions. yet, they do so while smiling and claiming to be philanthropic and concerned.
Of course, that can also make it easier to extract wealth from these regions.
But what about in the United States? The Davos agenda is a secularist and often atheistic agenda. It is often called liberal and progressive, but it has no real regard for the dignity of the human person or the bedrock values which serve as a moral foundation of American society.
The Catholic Church is aware of this problem. Last year, Pope Francis sent a letter to the Davos party. He offered his prayer and blessing the gathering. He asked those assembled billionaires to find a way to use their power and wealth to make the world a better place.
But some might not have heard his words. Maybe it was the loud music and wind on the ski slopes. Maybe it was echo in their empty hearts.
As Catholics, we must realize that often the very people who create the world's problems will not be solving them. What can you or I do in the face of $1.2 billion dollars of lethal money, paid to bulldoze away popular, protective, common sense pro-life policies?
We must stick to our faith, ever more closely. The correct response is to pray, to educate our own children, and to lovingly and respectfully engage with those who might be at risk of choosing the false allure of immorality.
We must act, and support pro-life policies that truly work. For forty years we have dug deep into our pockets to support pro-life advocacy, yet abortion is still legal, often free, and even encouraged in all fifty states. The pro-life movement has failed because its tactics are flawed.
Your Catholic Voice Foundation (YCVF) has found one solution that is proven to work. The non-profit organization aims to supply 4D ultrasound machines to loving and supportive care facilities around the world. By financing visits to these facilities, YCVF believes they can dramatically reduce the odds that a woman will choose an abortion. This is because a woman who in a loving and supportive setting, sees the baby in the womb and realizes she is looking at a child--her child, will be much less likely to abort it.
You might find this news disheartening because a billion dollars is a lot of money. Yet, you must remember, that we worship a very powerful God who is master of the entire universe. His will alone caused our universe to be. Imagine the power He has compared to a mere man like Warren Buffet.
There is certainly evil in the world, but there is also justice because God is just. Warren Buffet may be able to spend his lethal way into the wombs of women, but he cannot rival God, who will judge all of us for our actions - and inaction - by His Truth. He is the Lord of all Life. He loves all the poor, including the mother who is being lied to as she is dispensed poisonous chemicals and anti-life devices in the name of "charity" - and the child whose life is taken by every procured abortion.
Act now to support a new pro-life movement that actually works!
---
Copyright 2018 - Distributed by THE CALIFORNIA NETWORK
Pope Francis Prayer Intentions for APRIL 2018
For those who have Responsibility in Economic Matters.
That economists may have the courage to reject any economy of exclusion and know how to open new paths.
---
---

A bill in the California legislature intended to ban gay conversion therapy is also worded so that it could be used to ban books such as ... continue reading
---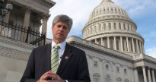 Rep. Jeff Fortenberry (R-NE) is not shy about his Catholic faith. He holds a master's degree in theology from Franciscan University of ... continue reading
---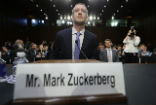 Facebook founder and CEO Mark Zuckerberg faced two days of tough questions from both the Senate and the House. It is possible that Facebook ... continue reading
---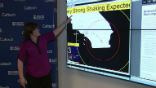 Caltech says their early warning system worked well during the 5.3 magnitude quake which shook the Southern California coast on Thursday. ... continue reading
---

A federal judge ruled in favor of the Catholic Benefits Association last week, issuing a permanent injunction and declaratory relief ... continue reading
---