US Navy collecting records on YOU and sharing with the FBI - What happens next?
---
Database includes minor citations, traffic and incident reports, and pawn shop records even if there's no crime.
As if we weren't being watched enough, Americans can add the U.S. military to the list of agencies collecting information about them. Known as the Law Enforcement Information Exchange (LinX), the database is reported to have 506.3 million law enforcement records including information on minor accidents, parking tickets, and incidents where no crime was suspected of happening. Even pawn shop records are included.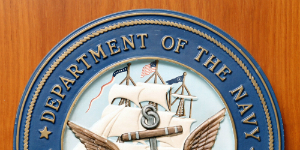 Why is the Navy collecting data on what happens to you? Should this even be a question anymore?
LOS ANGELES, CA (Catholic Online) - If you get a parking ticket, or are in a fender-bender, chances are you may find yourself in the Law Enforcement Information Exchange (LinX), a massive database maintained by the U.S. Military, specifically the Naval Criminal Investigative Service.
Yes, NCIS is spying on individual citizens who have ho connection whatsoever to the military, aggregating even trivial information. Even "field information cards" filled out by officers when no crime has occurred are included. The database even includes records taken from pawn shops.
Catholic Online needs your support!
The LinX is an information clearing house maintained by the NCIS and used by law enforcement agencies across the nation to exchange information. Federal, state, and local law enforcement agencies all use the database.
Concerns have been voiced that the military is involved in civilian law enforcement operations when it shouldn't be as a matter of law.
What business does the U.S. Navy have with your traffic citation information, especially if you have never served in the Navy?
According to the Washington Examiner, the U.S. military has spied on citizens before. During the Vietnam War, the U.S. Army spied on civilians and after 9/11, the Air Force spied on Americans. In those cases, especially after 9/11, the military was looking for people with ties to terrorism.
How much information is enough?
Our government is reflecting a societal obsession with safety, liability, and control. In an effort to hold safety paramount to all other concerns, we are sacrificing privacy in great quantity. While such efforts may start with sincerely benevolent intentions, they are seductively easy to pervert and as history shows, people are quick to corruption.
Already, the infamous NSA database has been exploited for inappropriate purposes. Reports emerged last year that agents were spying on love interests, and the NSA provided information to the IRS, which the IRS doctored in a failed attempt to conceal its origin because of a standing rule that sharing the information wasn't allowed. Federal officials all the way up to the President himself have openly lied to the American people about these databases and how they are being used. Nor does there appear to be any effective safeguards for the people.
Former president Jimmy Carter himself admits to using snail mail to communicate now, for fear of his communications being read, and last week Gmail finally encrypted their email.
Conversely, nobody can say that these massive data collection efforts are effective in stopping terrorism or improving public safety. As Edward Snowden himself said, "it's about control."
The NCIS was asked by the Washington Examiner to explain why they were keeping a civilian database. Their answer was less than satisfactory, simply explaining that they needed to access law enforcement records to help solve crimes.
Meanwhile, the Washington Examiner learned that the FBI has built its own database known as the National Data Exchange.
The Navy system and the FBI system are also connected.
There is a distinct possibility that the multiple databases from agencies such as the NSA, FBI and NCIS are all well-linked and integrated and that the U.S. government can aggregate a comprehensive dossier on an individual U.S. citizen at will. Such information could include more than tax returns and traffic tickets. It could include browsing habits online, the content of voicemail and phone calls, and even private information such as magazine, website, and club subscriptions, banking information, and who your friends are. Claims have even been made that the NSA can swiftly tell if a person is having an affair.
Incidentally, similar claims have been made about Facebook, which aggregates large quantities of personal information.
At least one other firm claims to have developed an app that can even predict what you will be doing in the future, based on detailed records of your past. Such an app would have powerful commercial application because marketers could serve the most relevant advertisements at the most appropriate times.
Already, smartphones are equipped to spy on us. Smartphones have barometers. Their GPS systems cannot be deactivated, even if you are not using the feature. And microphones on your smartphone can listen to the detail of your conversation.
Turning off your smartphone isn't a defense either. Even phones that are powered off can still record important data about you and submit it to your provider, whose records are then subject to NSA aggregation.
Privacy is important. Omniscience is the realm of God, and none other. If we choose to reveal our private selves in public, or we make choices (such as having an affair) that is discovered, we have none to blame but ourselves. Yet what happens when our most private thoughts and opinions can't even be privately shared without fear of exposure?
Is the Catholic confessional the last bastion of privacy? Perhaps not if you have your cellphone with you.
To those that want to control everything for purposes of power and profit, nothing is sacred. What happens when one day a man enters a confessional and testifies to an affair, then afterwards uses his smartphone only to be confronted with advertisements for websites that advertise dating for married men?
Alternatively, what about the person who confesses to a crime, perhaps years or decades after the fact, and instead of the opportunity after confession to hand oneself over to the authorities, the authorities are already found waiting outside the church?
These are far-fetched scenarios, but to those that would dismiss them, let us remember that just over a year ago the notion that our government was spying on us, and aggregating every scrap of information on our lives, was also farfetched.
What will be known in just another year?
---
Copyright 2018 - Distributed by THE CALIFORNIA NETWORK
Pope Francis Prayer Intentions for July 2018
Priests and their Pastoral Ministry.
That priests, who experience fatigue and loneliness in their pastoral work, may find help and comfort in their intimacy with the Lord and in their friendship with their brother priests.
---
---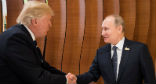 President Trump met with President Vladimir Putin for a summit in Helsinki today. By all accounts, the meeting went well, ... continue reading
---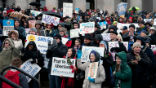 Is an end to abortion near? The retirement of Justice Anthony Kennedy suggests yes. LOS ANGELES, CA (California Network) - All ... continue reading
---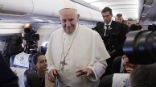 Pope Francis is a man of great compassion who houses refugees at the Vatican. He has also asked parish churches around the world to host ... continue reading
---

Children of illegal immigrants are being separated from their families and held in detention centers by the hundreds. This policy, which ... continue reading
---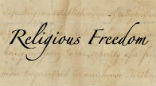 Religious freedom groups cheered Monday's 7-2 Supreme Court decision that a Colorado baker had his rights violated when the state civil ... continue reading
---