By Catholic Online (NEWS CONSORTIUM)
10/1/2013 (2 years ago)
Catholic Online (www.catholic.org)
Why is the government providing non-essential services anyway?
The U.S. federal government is in partial shutdown today as Obama and the Senate failed to reach a resolution with the House over a spending bill that would fund the government. The shutdown is partial and many government workers will be furloughed.
LOS ANGELES, CA (Catholic Online) - It's another forced spending cut for the government. Last year, the doomsday scenario was the sequester, which is ongoing and now few people notice. Now the federal government has shut down. Have you noticed?

For most Americans, the attitude is "so what" and "good, this means they will waste our money more slowly now." However, Americans who depend on the federal government for their employment are less flippant about it.

As of Tuesday morning, many government workers went into furlough meaning their offices won't reopen until Congress approves a spending bill to pay them. Certain government departments will continue to operate. The military will still be paid and the mail will continue to be delivered. Social security checks will still go out on time.

However, the national parks will be closed -ironic that it happens on the birthday of Yosemite National Park. Those waiting for passports will be kept waiting. Half of civilian defense workers and about 40 percent of all federal workers are furloughed as of today.

Applications for federal housing loans will be delayed as well as new visa applications.

Another flight over government spending also looms as the debt ceiling will need to be raised later this month to keep the government in business.

Congress and the president are still paid.

We can't help but say, "so what?" ourselves. While we lament the disruption to the lives of our federally employed brothers and sisters, we also recognize that government spending is out of control. We have money to bomb small countries, but no money for schools or infrastructure or public safety. We have money to spy on ourselves and build mega-complexes in which to do it. Meanwhile, there are children starving in our own country. We have money to provide free abortions and to promote sexual chemical dependency, and we have money to incarcerate non-violent criminals for years, but no money to support hungry children, nor to rehabilitate sinners in prison.

We have money to stockpile a billion rounds of ammunition, but not a billion cans of food. Seriously?

We have money to provide breaks to big corporations, but no money to cure childhood cancer or other afflictions.

This malfunction has been orchestrated at the Congressional level and is the product of a system that entrenches and rewards corruption, deceit, and immorality. It's a pity that Congress still gets their paychecks and their private healthcare and cafeterias.

Congress has been on a drunken spending spree for decades and its time we put them and the federal government on a diet. It's difficult to say this is the best way to do it, however every other attempt has failed. This may be the only way to do it, despite the pain it causes.

So far, the government is only shutting down "non-essential" services. Perhaps is the government didn't provide so many "non-essential services" we wouldn't be in this mess in the first place.

Click here to learn about our Saint Michael the Archangel conference this Nov 1-3!


---
Copyright 2015 - Distributed by THE CALIFORNIA NETWORK
Pope Francis Prayer Intentions for February 2016
Universal:
That prisoners, especially the young, may be able to rebuild lives of dignity.
Evangelization:
That married people who are separated may find welcome and support in the Christian community.
---
---
---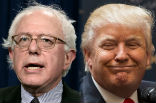 By Marshall Connolly, Catholic Online (CALIFORNIA NETWORK)
Both Trump and Sanders are riding high this morning following stunning victories in New Hampshire. Republicans reported massive turnout, shattering any previous turnout record. LOS ANGELES, CA (California Network) - The New Hampshire primary has finished with Donald ... continue reading
---

By Marshall Connolly, Catholic Online (CALIFORNIA NETWORK)
A lot of Catholics like Bernie Sanders. Recently, we saw an outpouring of support of the candidate in the comments under an excellent article written by Deacon Keith Fournier. Many Catholics appreciate Sander's stance on some social issues - after all, he is a ... continue reading
---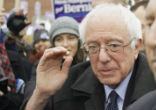 By Catholic Online (CALIFORNIA NETWORK)
Seen by many as a humble Senator with big ideas, the relatively unknown, until recently, Bernie Sanders seemed at first to pose no threat to Hilary Clinton for the Democratic nomination in the 2016 presidential race. That has changed noticeably - Sanders is ... continue reading
---

By Kenya Sinclair (CALIFORNIA NETWORK)
The first votes have been cast in the New Hampshire primary. In keeping with tradition, the voting began at midnight, as it has for every primary since 1960. LOS ANGELES, CA (Catholic Online) - Today marks the beginning of an exciting political shift in the ... continue reading
---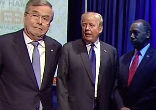 By Catholic Online (CALIFORNIA NETWORK)
It is a bit trivial to say about such an important event - but the GOP presidential debate in New Hampshire this weekend could have done with a bit more rehearsal. Candidate Ben Carson came out too early, Donald Trump stood with Carson, and candidates Marco ... continue reading
---

By Kenya Sinclair (CALIFORNIA NETWORK)
During the annual National Prayer Breakfast in Washington, President Barack Obama spoke of God, fear and love. LOS ANGELES, CA (Catholic Online) - At the breakfast, both Democrats and republicans set aside their differences to build relationships based on their ... continue reading
---

By Catholic Online (CALIFORNIA NETWORK)
While he faced defeat in the Iowa caucuses, GOP presidential candidate Donald Trump was full of his usual bluster in New Hampshire. Never one to mince words, he vowed to "beat the ___ out of ISIS" if he was elected president. LOS ANGELS, CA (Catholic Online) - ... continue reading
---

By Thomas Heed (CALIFORNIA NETWORK)
When news of the Cruz campaign "mistake" concerning Ben Carson at the Iowa caucus reached Donald Trump, he was furious. The business tycoon took to Twitter to call for a new election or to nullify Cruz's results. LOS ANGELES, CA (Catholic Online) - Despite his initial ... continue reading
---

By Abigail James (CALIFORNIA NETWORK)
Following a disappointing show in the Iowa caucus, with only 4.5 percent of the votes, Kentucky Senator Rand Paul has officially dropped out of the 2016 presidential race. LOS ANGELES, CA (Catholic Online) - "It's been an incredible honor to run a principled campaign ... continue reading
---

By Thomas Heed (CALIFORNIA NETWORK)
In a shocking admission, Ted Cruz admits his staff spread rumors of Ben Carson dropping out of the runnings just before the Iowa caucus voting began. LOS ANGELES, CA (Catholic Online) - As previously reported, the Iowa caucus was filled with surprises that included ... continue reading
---
All Politics & Policy News