Pope Francis Is Correct: A Good Catholic Meddles in Politics
---
We cannot abandon the call to be leaven in the loaf of human culture - and that culture includes politics
In his daily homily of September 16, 2013 Pope Francis used the account of the Roman Centurion to dabble in politics. (Luke 7:1-10)  He spoke to those in public office. He also addressed the question of whether Christians should participate in politics. There is no solidarity in a culture that kills its own children and calls such evil a legal right.What we face in America is a moral crisis. The leadership crisis flows directly from it.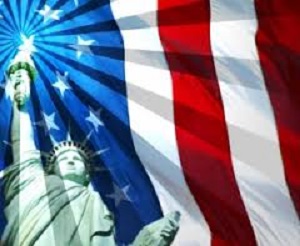 Both major political parties in the United States are morally incoherent
P>WASHINGTON, DC (Catholic Online) - In his daily homily of September 16, 2013 Pope Francis used the account of the Roman Centurion to dabble in politics. (Luke 7:1-10)  He spoke to those in public office. He also addressed the question of whether Christians should participate in politics.
Using the Old Testament leader David as an example for political leaders he was blunt. He reminded them they must love the people whom they serve, noting "a leader who doesn't love cannot govern - at best they can discipline, they can give a little bit of order, but they can't govern. You can't govern without loving the people and without humility! And every man, every woman who has to take up the service of government, must ask themselves two questions:
'Do I love my people in order to serve them better? Am I humble and do I listen to everybody, to diverse opinions in order to choose the best path.' If you don't ask those questions, your governance will not be good. The man or woman who governs - who loves his people is a humble man or woman."
He also had words for those indifferent to politics or who simply blame political leaders for all our problems, "None of us can say, 'I have nothing to do with this, they govern.  No, no, I am responsible for their governance, and I have to do the best so that they govern well, and I have to do my best by participating in politics according to my ability. Politics, according to the Social Doctrine of the Church, is one of the highest forms of charity, because it serves the common good. I cannot wash my hands, eh? We all have to give something!"
Finally, he used the expression which is part of the title of this article: "'A good Catholic doesn't meddle in politics.' That's not true. That is not a good path. A good Catholic meddles in politics, offering the best of himself - so that those who govern can govern. But what is the best that we can offer to those who govern? Prayer!
"That's what Paul says: "Pray for all people, and for the king and for all in authority." "But Father, that person is wicked, he should go to hell. . . ." Pray for him, pray for her, that they can govern well, that they can love their people, that they can serve their people, that they can be humble. A Christian who does not pray for those who govern is not a good Christian! "But Father, how will I pray for that person, a person who has problems. . . ." "Pray that that person might convert!"
The culture is a component of the broader mission field of the Church. Politics is a subset of Culture. The word is derived from a Greek word, Polis, which literally means City or City/State. Just as there can be no disembodied spirituality worthy of the name Christian - because redemption involves the integrated human person, body, soul and spirit - there cannot be a disembodied understanding of the mission we have as members of a Church called into the world.
Catholics are not anti-government. We reject the notion that the isolated individual is the measure of freedom. We begin with the family as the first mediating association and move out from there, always respecting the principle of subsidiarity. However, the vision of the human person as called to community is integral to good governance. 
In addition, the Church must be guaranteed the freedom to proclaim her message in word and deed - in every Nation and in every culture. That is her mission. Her message and mission are not confined to the walls of a Church building. St Paul used his Roman citizenship to advance the preaching of the Gospel. We must use our American citizenship to do the same in the United States. 
In Chapter II of the Section in the Catechism of the Catholic Church entitled "Life in Christ" - and, in particular Paragraphs #1877- 1960 - we find an explanation of our vocation to live in human society.  We are, by nature and grace, social. We are called to participate in social life. The section also explains the AUTHENTIC understanding of terms such as the common good, social justice, responsibility, participation, solidarity and the Natural Moral Law.
Here is a short quote: "All men are called to the same end: God himself. There is a certain resemblance between the unity of the divine persons and the fraternity that men are to establish among themselves in truth and love. Love of neighbor is inseparable from love for God. The human person needs to live in society. Society is not for him an extraneous addition but a requirement of his nature."
  
In 2002, the Vatican Congregation for the Doctrine of the Faith issued a Doctrinal Note on the Participation of Catholics in Political Life which began with these words: "The commitment of Christians in the world has found a variety of expressions in the course of the past 2000 years. One such expression has been Christian involvement in political life: Christians, as one Early Church writer stated, "play their full role as citizens". Among the saints, the Church venerates many men and women who served God through their generous commitment to politics and government.
"Among these, Saint Thomas More, who was proclaimed Patron of Statesmen and Politicians, gave witness by his martyrdom to "the inalienable dignity of the human conscience". Though subjected to various forms of psychological pressure, Saint Thomas More refused to compromise, never forsaking the «constant fidelity to legitimate authority and institutions» which distinguished him; he taught by his life and his death that "man cannot be separated from God, nor politics from morality".
We are living under what Joseph Cardinal Ratzinger (Pope Emeritus Benedict XVI) labeled a Dictatorship of Relativism. Relativism is a philosophy which says there is nothing objectively true. When there are no objective moral truths - which can be known by all and form the basis of our common life - there is no basis for true and responsible freedom.  Freedom can never be realized, nor can it flourish, unless it is exercised in reference to choosing what is true and pursuing what is good.
As a Nation we have lost our moral compass. As a direct result we are losing the very meaning of freedom. There can be no good governance in a Nation when its moral foundations are gone.When a society fails to recognize that persons are more important than things it devolves into practical materialism. 
The political leaders of our Nation may still use the language of human rights but the words have lost any moral content. Human rights do not exist in a vacuum; they are goods of the human person. When there is no recognition of a preeminent right to life there soon follows an erosion of the entire structure of all human rights. We are at that stage, and we cannot sit idly by.
Failing to recognize that our first neighbors in the womb have a right to be born and live a full life in as our neighbors in our community is the foundational failure we face as a Nation. It is a rejection of our obligation in solidarity to one another. It denies the truth of being our brothers (and sisters) keeper.
Catholic social teaching on the necessity of every nation giving a love of preference to the poor is rooted on our insistence that they have equal human dignity to everyone else, including children in the womb. Without the freedom to be born, all of the talk about compassion for the poor and the promotion of freedom throughout the entirety of life, and how we attain it, is hollow and empty. Mother Teresa coined the phrase poorest of the poor in refererring to children in the womb.
In 1994 she stated clearly: "America needs no words from me to see how your decision in Roe v. Wade has deformed a great nation. The so-called right to abortion has pitted mothers against their children and women against men. It has sown violence and discord at the heart of the most intimate human relationships. It has aggravated the derogation of the father's role in an increasingly fatherless society. It has portrayed the greatest of gifts -- a child -- as a competitor, an intrusion, and an inconvenience."
"It has nominally accorded mothers unfettered dominion over the independent lives of their physically dependent sons and daughters. And, in granting this unconscionable power, it has exposed many women to unjust and selfish demands from their husbands or other sexual partners. Human rights are not a privilege conferred by government. They are every human being's entitlement by virtue of his humanity. The right to life does not depend, and must not be declared to be contingent, on the pleasure of anyone else, not even a parent or a sovereign."
There is no solidarity in a culture that kills its own children and calls such evil a legal right. What we face in America is a moral crisis. Our leadership crisis flows directly from it. We cannot buy the lie that morally based positions are only 'religious' and should be kept out of political discourse or campaigns. They are based upon the Natural Moral Law which can be known by all men and women through the exercise of reason.
Acknowledgement of the existence of this Natural Moral Law is the ground upon which every great civilization has been built. It is the source for every great and authentic human and civil rights movement. We honor Dr Martin Luther King Jr. as a Nation. We have a Holiday which bears his name. He was a Christian minister and a heroic champion of human rights. His Letter from a Birmingham Jail is an example of how reliance on the Natural Law is the ground of true freedom and necessary for a proper understanding of the source of our rights and the foundation of law itself. Dr King wrote:
"There are two types of laws: just and unjust. I would be the first to advocate obeying just laws. One has not only a legal but a moral responsibility to obey just laws. Conversely, one has a moral responsibility to disobey unjust laws. I would agree with St. Augustine that "an unjust law is no law at all."
"Now, what is the difference between the two? How does one determine whether a law is just or unjust? A just law is a man-made code that squares with the moral law or the law of God. An unjust law is a code that is out of harmony with the moral law."
"To put it in the terms of St. Thomas Aquinas: An unjust law is a human law that is not rooted in eternal law and natural law. Any law that uplifts human personality is just. Any law that degrades human personality is unjust. All segregation statutes are unjust because segregation distorts the soul and damages the personality."
Without the Natural Moral Law informing the positive law, a Nation devolves into anarchy. We need men and women in to run for office and govern who are unafraid to acknowledge this fact and embrace a morally coherent approach to governing and public service. We need political parties to offer such morally coherent candidates for office.
The Compendium of the Social Doctrine of the Church says of Political Parties: Political parties have the task of fostering widespread participation and making public responsibilities accessible to all. Political parties are called to interpret the aspirations of civil society, orienting them towards the common good, offering citizens the effective possibility of contributing to the formulation of political choices. They must be democratic in their internal structure, and capable of political synthesis and planning." (#413)
I left the Democratic Party many years ago - after its leadership was taken over by the current morally incoherent coalition of social and cultural engineers which control it. I am now concerned about the leadership of the Republican Party. It is retreating from defending the moral foundations of a free society.
Let me quote from Peter Maurin's insightful book of prose entitled Easy Essays. I do so NOT because I accept the left wing politics which too often seeks to co-opt what he and Dorothy Day meant to found. I reject those left wing politics as I reject all political movements, right or left, which point to collectivism as a solution to anything.
Rather, I quote them because they speak to the kind of movement we need right now. We need to take the values derived from the Catholic worldview and knead them into the loaf of contemporary culture "creating a new society within the shell of the old with the philosophy of the new, which is not a new philosophy but a very old philosophy, a philosophy so old that it looks new".  (Maurins words)
In 1977 at the 4th Annual Conservative Political Action Convention, a man named Ronald Reagan gave a speech in which he called for a New Republican Party. In that speech he asked whether:
"The time has come to see if it is possible to present a program of action based on political principle that can attract those interested in the so-called social issues and those interested in economic issues. In short, isn't it possible to combine the two major segments of contemporary American conservatism into one politically effective whole?"
I remember reading that speech in the early 1980's. It was during that decade that I made my transition from the Democratic Party to the Republican Party. The last democratic candidate for the presidency I supported was the late, former Governor of Pennsylvania, Bob Casey (the father not the son). This heroic Pro-Life Democrat was denied a speaking role at the 1992 Democratic nomination convention because of his defense of the Right to life.
The late Governor wrote a marvelous book entitled Fighting for Life which should be read by anyone who wants to be exposed to a truly Pro-Life Democrat. The book details the censorship of the Governors speaking role at the 1992 Democratic convention and the Governors courage in the face of those who sold out that Party.
Governor Casey wrote concerning legalized abortion: "It's hard to think of anything more foreign to the principles of the Democratic Party or the whole American experience. Far from being "inclusive", it excludes an entire class of fellow human beings from our care and protection. It's the only constitutional right we're ashamed of, avoiding the word abortion with contorted euphemisms like reproductive rights and termination and evacuation.
"Far from liberating women, abortion has become a lucrative industry, exploiting young women beyond anything ever imagined. When pregnancy comes at a difficult time, which is the worthier response of society: To surround mother and child alike with protection and love, or to hold out the cold comfort of an abortion clinic? Where is America's true character to be seen- in an adoptive home or at the abortion clinic? In which role is a woman more empowered - giving life or taking it?
"These are questions that rest uneasily on the conscience of today's Democratic Party. We have traded our principles for power - the fleeting power offered by loud and well financed factions like NARAL and Planned Parenthood. We can choose to extend once again the mantle of protection to all members of the human family, including the unborn. We can choose to provide effective care of mothers and children."
The censoring of Governor Bob Casey from speaking at the 1992 Democratic convention because of his support of the rights of all people including our first neighbors in the womb contributed to my departure from what I once thought was a Party of the working poor, middle class and disenfranchised.
It was Ronald Reagan - his views, his character, his courage and his manner - which drew me into the Republican Party. He attempted to build a morally coherent political party. An example of his morally coherent leadership can be read in Abortion and the Conscience of the Nation.  The idea that we can separate moral issues from fiscal or international issues is a serious error.
There is a moral basis to every political and social concern, including economics. I now believe the Republican Party is at a new crossroad. What is needed is a New Republican Party with morally coherent candidates. I would also welcome a New Democratic Party.
It would be wonderful if both major political parties in this nation began with a bedrock commitment to the dignity of every human person from conception to natural death, the primacy of marriage and the family and society founded it, a commitment to authentic human freedom (one which recognizes that it is not only a freedom from but a freedom for and that true freedom is only realized when its exercise is directed toward what is good and true)  and a commitment to solidarity as properly expressed through subsidiarity.
Then we could have a robust and healthy discussion on the size and role of government outside of the family and the role of mediating associations in good governance, the proper role of the nation in being a neighbor internationally, the proper understanding of a free economy as ordered toward promoting the freedom of the person and the common good... and many other vital political concerns.
The collapse of Western civilization will not be remedied by political movements. They are inadequate for the task. The West has been seduced by the siren song of evil. However, we also must not withdraw from political participation. Catholics MUST meddle in politics.  At the end of the Catechism of the Catholic Church is a glossary. The term Human Person is followed with this description with which I conclude:
PERSON, HUMAN: The human individual, made in the image of God; not some thing but some one, a unity of spirit and matter, soul and body, capable of knowledge, self-possession, and freedom, who can enter into communion with other persons-and with God (357, 362; cf. 1700). The human person needs to live in society, which is a group of persons bound together organically by a principle of unity that goes beyond each one of them (1879).
Pope Francis Is Correct: A Good Catholic Meddles in Politics. With the 2014 elections around the corner, it is time to commence the meddling.
---
Copyright 2018 - Distributed by THE CALIFORNIA NETWORK
Pope Francis Prayer Intentions for FEBRUARY 2018
Say 'No' to Corruption.
That those who have material, political or spiritual power may resist any lure of corruption.
---
---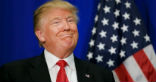 President Trump is on the verge of the greatest win of his presidency, a meeting with North Korea. The dictator of the Hermit Kingdom, Kim ... continue reading
---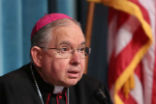 Although the Deferred Action Childhood Arrivals (DACA) protections did not expire on March 5, the passage of the original deadline has ... continue reading
---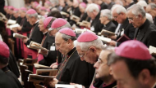 After the Senate failed to pass a bipartisan bill that would offer protections for immigrants, U.S. bishops noted their disappointment and ... continue reading
---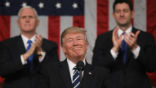 Americans are overwhelmingly approving of President Trump's second State of the Union address. The speech has been given a 75 percent ... continue reading
---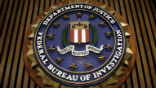 House Republicans have voted to release a controversial memo that describes government abuse of surveillance powers. The information is so ... continue reading
---