By Marshall Connolly (Catholic Online)
11/13/2012 (3 years ago)
Catholic Online (www.catholic.org)
Demographics and history have changed, the future isn't what it used to be.
It's a bad time to be a rich white conservative leaning male with political aspirations. This is because the era of rich white male dominated politics is over. Yes, it is about race, it's also about a long-running historical narrative, a backlash spanning generations, and the changing demographics of American society. Mitt Romney's failed campaign is one for the textbooks, for this very reason.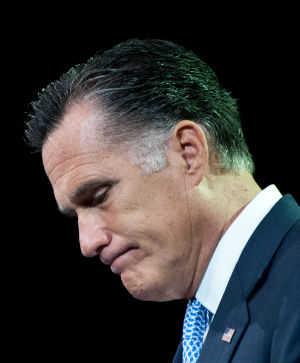 Mitt Romney was one election too late.
LOS ANGELES, CA (Catholic Online) - Most older Americans learned a history of America that lionized wealthy and talented white males of European ancestry. Christopher Columbus courageously "discovered" America. George Washington and Thomas Jefferson forged a nation out of 13 disparate colonies. Later, Abraham Lincoln freed the slaves, and the "wild west," in almost in spite of Indians and Mexicans, was "won."

In more recent times, some accounts seem to almost imply that white men saved the world from the Nazis, the Communists, and walked on the moon in the process.

Perhaps to some, it seemed only fitting then, that white men should govern. After all, look at all the good they have done.

So what's the problem? The problem is that such a narrow narrative is not only inaccurate, it is infected by racism. And racism, rightly so, doesn't wash so well in America anymore.

Beginning as early as the 1950's, questions began to be raised, making inroads into correcting this narrative. Some of this began in the university lecture halls, other inroads were acheived by the Church - which properly opposes all racism and discrimination as sin. The questions began to help to paint a new narrative which is slowly diffusing throughout society.
 
In the 1960's, advances in civil rights for blacks and women raised our national awareness that white men were not the only people entitled to a voice in American politics.Fortunately, the brave story of Black Americans throughout the history of the United States also began to be told. In the 1970's and 80's, women and Latinos made their gains and their unique contribution began to be properly acknowledged. By the mid 1990's, America's historical narrative had changed. We viewed our story differently.

It may come as a surprise to some, but not all history is a set-in-stone changeless narrative. Historical narrative changes all the time. It is often relative, sometimes speculative and often biased by the lens through which it is viewed. 

For example, to some, Christopher Columbus was nothing more than an intrepid fool who thought the Earth was 25 percent smaller than it really was. He was "lucky" to stumble into (not discover) a continent well-populated with some 100 million human beings. Of course, this also constitutes a narrative - and one which many others strongly oppose, Catholic Americans are included among them.

Washington and Jefferson were brilliant statesmen - who also built some of their fortunes and careers on the backs of slave labor. Lincoln didn't end up actually freeing the slaves, his Emancipation Proclamation freed none. It only applied to those places in rebellion and the Confederacy wasn't going to listen to him. Slavery remained perfectly legal in the North until after the conclusion of the Civil War.

If the west was wild, it may have actually been the white man who made it so. Native Americans (not "Indians") settled and managed the land well enough, farming and ranching in their own way, sustaining their own culture. When the white man came, it was to add slave states to the Union, particularly in Texas. Perhaps, America actually invaded Mexico for a cause no more noble than greed.

In subsequent years, the history books tell us that minorities and women did much to shape our national story by fighting in all our wars, working at every level of society, and improving things for everyone. Today, the narrative of our national history rightly includes much more than the rich, white, old men who contributed to it. It is increasingly and properly presented as a patchwork quilt where every demographic has added something precious to our Republic.

This makes a difference. The American story that our young are now learning isn't exactly the same one that their parents and grandparents studied. More importantly, our schools are no longer mainly made up of rows of white children. In states like California, whites are now the minority, making up less than 50 percent of the total population.

Already, these children are graduating from school, and voting. And the trend will only continue.The 2012 election cycle represents the first time in history that our demographics may have changed enough to shift the outcome of a presidential election.

Some opponents and critics of Romney's campaign are asserting that it failed because it followed an old, outmoded model -  one that appealed to wealthy, white males above everyone else. Some actually contend that this has been the traditional campaign model since America was established as a nation.

Yet,the problems can flow both ways. Some now claim that many local political races have been closed to white men for a long time because demographics have changed so much in many neighborhoods, towns, and even large cities, that a reverse exclusion may be arising.

This should all lead to serious national discussion as we move forward. 

The election of Barack Obama should have been a wake up call to some in the old Republican establishment that their political analysis of the past was dated. American voters have no problem electing a member of a racial minority. Obama broke the race barrier in politics, and now that the barrier is broken, nothing will be the same ever again in presidential politics. Yet, according to some who are evaluating the election results, despite the handwriting on the wall, Romney's campaign forged ahead in a traditional fashion.

Meanwhile, Obama's campaign took to the ground, organizing millions of voters at the grassroots level. Race was an issue - often because they made it one. In Florida, Obama supporters specifically targeted Latinos for voter registration drives. And vote they did, handing the state to Obama.

Meanwhile, critics maintain that Romney expected a win based on old-model predictions that did not weight race heavily enough. Romney bet on politically self identified independents instead of reaching out to minorities. These critics charge that few in his camp thought minorities could outvote such independents. If that is true, then they were wrong. Despite winning independents by a wide margin, Obama's supporters in minority communities outweighed their influence. 

The Republican Party establishment has been taught a hard lesson. No longer will it work to nominate one of the "good ole boys". No longer should they expect an easy win backed with millions in campaign cash. Candidates on both sides have to seek to distance themselves from any old narrative of history which fails to see the full picture - and adapt to the proper understanding of a Nation which has a proud heritage for all.

The next candidate who wins the White House or any national elective office might be a woman, or a member of a minority, or both. They may be either politically "liberal" or politically "conservative" - or a combination as the labels continue to lose their meaning. However, it is becoming less and less likely that the candidate will be a well-to-do white male. This is not the product of some insidious engineering designed to punish the white man for his history of sins. Rather, it is merely the reality of the  changing social fabric of our nation.

It's been changing for generations, so perhaps the real surprise is that anyone was surprised at all. 


---
Copyright 2016 - Distributed by THE CALIFORNIA NETWORK
Pope Francis Prayer Intentions for May 2016
Universal:
Respect for Women: That in every country of the world, women may be honored and respected and that their essential contribution to society may be highly esteemed.
Evangelization:
Holy Rosary: That families, communities, and groups may pray the Holy Rosary for evangelization and peace.

By Kenya Sinclair (CALIFORNIA NETWORK)
Personal privacy is one of the greatest rights any citizen of the free world enjoys but soon the Federal Bureau of Investigation may have legal access to everything from passwords and personal emails to banking information and search history - all without your ... continue reading
---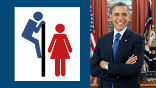 By David Drudge (CALIFORNIA NETWORK)
Eleven states are challenging the Obama edict that schools should allow kids to use whatever bathroom they choose, regardless of their gender. Obama issued the edict last week as a means of joining the "transgender" bandwagon that is sweeping the nation. Unfortunately, ... continue reading
---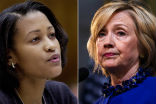 By David Drudge (CALIFORNIA NETWORK)
Hillary Clinton's former chief of staff from the State Department, Cheryl Mills, has asked a court to shield her from conservatives who are seeking the transcripts and recordings of her deposition scheduled for Friday. Mills is worried she will be taken out of context ... continue reading
---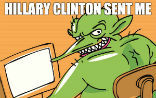 By Marshall Connolly (CALIFORNIA NETWORK)
The next time you encounter an internet troll, be warned, he could be getting paid to fan the flames, or to douse your conversation. A new study our of Harvard reveals that China is using an army of 448 million fake troll accounts to influence public opinion. And China ... continue reading
---

By David Drudge (CALIFORNIA NETWORK)
The State Department Inspector General has ruled that Hillary Clinton broke department rules for using a private email server and for deleting emails she sent and received during her tenure. The report was released on Capitol Hill today. LOS ANGELES, CA (California ... continue reading
---

By Kenya Sinclair (CALIFORNIA NETWORK)
The United States provides 33 percent of the world's arms such as fighter jet aircraft, tanks and more - so which countries are buying? LOS ANGELES, CA (Catholic Online) - According to the Defense Security Cooperation Agency, the number one country purchasing ... continue reading
---

By Kenya Sinclair (CALIFORNIA NETWORK)
With many Senate Democrats calling for a faster processing, the Obama Administration and U.S. Citizenship and Immigration Services (CIS) have drastically increased the number of Syrian refugees admitted into the United States. LOS ANGELES, CA (Catholic Online) - ... continue reading
---

By David Drudge (CALIFORNIA NETWORK)
The FBI is investigating Virginia Gov. Terry McAuliffe on the grounds that he accepted illegal campaign contributions. There is overlap between his donors and donors to the Clinton campaign. Investigators have discovered that a Chinese politician made a particularly ... continue reading
---

By Kenya Sinclair (CALIFORNIA NETWORK)
As American steel production falters, China has begun efforts to dump its excess steel at slashed prices. LOS ANGELES, CA (Catholic Online) - According to Thomas J. Gibson, president and CEO of the American Iron and Steel Institute, and Chuck Schmitt, president of SSAB ... continue reading
---

By Catholic Online (NEWS CONSORTIUM)
Chaos erupted as the US House of Representatives refused to pass an amendment meant to strip away religious freedom and protections for religious contractors and those who work with the federal government. LOS ANGELES, CA (Catholic Online) - When House Democrats ... continue reading
---
All Politics & Policy News