Trump speech rocks the NFL, protests spread, but who's right?
---
Fans can boycott, owners can fire, and people can still protest.
A wave of protests has rocked the NFL and is spreading following President Trump's statement that players should stand for the national anthem. The issue has millions of Americans talking and debating.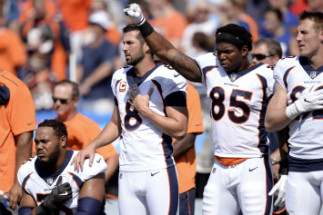 Some players saluted, others protested during the playing of the national anthem at Sunday's football games.
LOS ANGELES, CA (California Network) -- Over 150 NFL players protested the national anthem on Sunday by kneeling instead of standing. Several more raised their fists in the air. The protests are intended to call attention to the Black Lives Matter movement, and the state of racial inequality in America.
It is a matter of fact that black Americans suffer more from racial and social inequality than others. Blacks tend to be paid less, are more frequently stopped by police, are more likely to be killed by police and others, even when they are innocent of any crime. Black children grow up in poorer neighborhoods, and are incarcerated at a higher rate than other races. There are many reasons for this inequality. The Black Lives Matter protests have aimed to bring attention to this issue.

National anthem protests are rooted in the idea that all Americans are equal. Race should not be a factor in opportunity or justice. 
The first national anthem protests took place in the late 19th century, and became widespread during World War I, as a response to the draft. Anthem protests surged again in the 1960s, as Jehovah's Witnesses argued being forced to stand undermined their freedom of religion. Shortly after this, anthem protests became associated with the civil right movement.
In 1968, black Olympians, Tommie Smith and John Carlos raised their fists during the anthem while on the medal platform in the 1968 games in Mexico City.
In 2016, Colin Kapernick, a player for the San Francisco 49ers, refused to stand during the national anthem. His protest has since gone viral and spread.
On Friday, President Trump weighed in on the issue, stating his opinion that players who refuse to stand ought to be fired.
"...We're proud of our country, we respect our flag. Wouldn't you love to see one of these NFL owners, when somebody disrespects our flag, to say, 'Get that son of a bitch off the field right now. Out. He's fired. He's fired!' You know, some owner is going to do that. He's going to say, 'That guy that disrespects our flag, he's fired.' And that owner, they don't know it. They don't know it. They'll be the most popular person, for a week. They'll be the most popular person in this country."
President Trump explained his remarks, and recognized that people have the right to protest. "I know we have freedoms... but you know what? It's still totally disrespectful."
The President is right.
The flag symbolizes the sacrifices made by millions of Americans, people of all races, who died so that we could be free. People who died to make and keep others free. But it also represents the right of people to be disrespectful to the flag.
Freedom means letting others do things you don't like.
Players and citizens have the right to remain seated, or to raise their clenched fists during the national anthem.
However, citizens also have the right to boycott the NFL. And owners and managers have the right to fire players who violate the terms of their contract, should those contracts apply to such protests.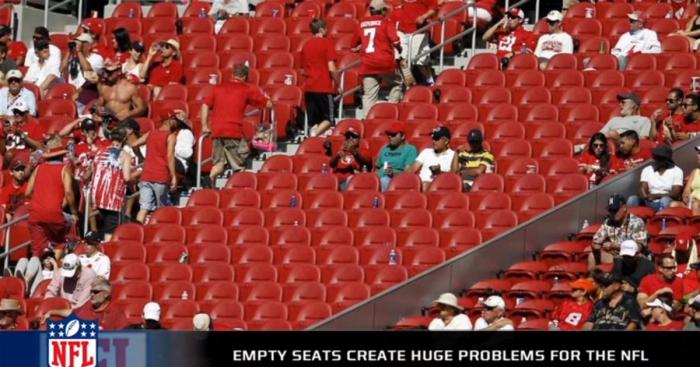 Many stadiums have empty seats. Some fans are boycotting the NFL due to the player's protests. Others are boycotting the games because of the NFL's refusal to re-hire Colin Kapernick.
Colin Kapernick's football career has ended following his release by the 49ers, and the refusal of any team to hire him. It is unclear if this is a result of his game-play statistics, or his protests.
As Americans, we have freedom. We have the freedom to do things others don't like. We should also be aware that choices have consequences.
---
Copyright 2018 - Distributed by THE CALIFORNIA NETWORK
Pope Francis Prayer Intentions for FEBRUARY 2018
Say 'No' to Corruption.
That those who have material, political or spiritual power may resist any lure of corruption.
---
---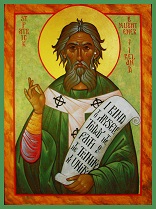 We need to learn from this great missionary. He saw what was good in the culture and baptized what could be redeemed. He respected the ... continue reading
---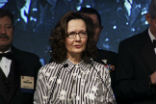 Gina Haspel, President Donald Trump's nominee to lead the CIA, oversaw a secret prison in Thailand where US intelligence targets were ... continue reading
---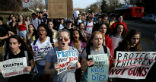 Yesterday thousands of students, mostly in high schools across the United States, walked out of their classes. They were joined in ... continue reading
---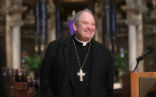 Archbishop Bernard Hebda of the Archdiocese of St. Paul and Minneapolis said it is the duty of the laity to represent the Catholic faith in ... continue reading
---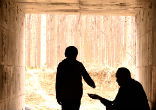 Robin Hood, the legendary hero of English folklore who took from the rich to give to the poor - whose very name conjures up thoughts of ... continue reading
---