GPS caused trucker to hit overpass
A new online video from Long Island shows why it's important to heed the height of bridges, especially when driving a massive semi-truck.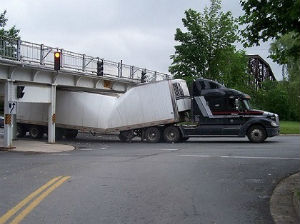 A long island trucker had the top of his semi's trailer sheered off after he hit an overpass that was lower than usual.
LOS ANGELES, CA (Catholic Online) - Destruction followed as a semi, driving on a parkway with lower than usual overpasses where trucks aren't allowed, loses the top of the hauled trailer.

Join the war on hunger.

Beyond his pride, the driver of the vehicle was not hurt, but the trailer was totally decapitated, and bent awkwardly from the impact.
---
Copywriter 2015 - Distributed by THE NEWS CONSORTIUM
Pope Francis Prayer Intentions for May 2015
Universal:
That, rejecting the culture of indifference, we may care for our neighbours who suffer, especially the sick and the poor.
Evangelization:
That Mary's intercession may help Christians in secularized cultures be ready to proclaim Jesus.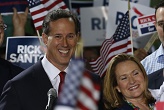 By Keith A Fournier
There is something which many in the main stream U.S. media do not know, here it is - not many people are listening to them anymore. However, they will listen to this song. And, they will understand it. The sentiment it captures will encourage the heart of a ... continue reading
---

By Nikky Andres (NEWS CONSORTIUM)
Treasure hunters claim they discovered $2 million worth of gold, originally stolen from the Confederates after the Civil War, in a Lake Michigan Shipwreck. The hunters, Kevin Dykstra and Frederick J. Monroe said they discovered a 19th Century tug boat off of Frankfort, ... continue reading
---

By Catholic Online (NEWS CONSORTIUM)
Transplant recipients do not normally meet the families of their donors. An exception was made in the case of Rebekah Aversano, who met the man with the transplanted face of her deceased brother for a strange, touching homecoming. LOS ANGELES, CA (Catholic ... continue reading
---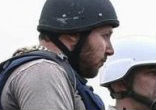 By Catholic Online (NEWS CONSORTIUM)
United States President, Barack Obama met with the family of slain American journalist Steven Sotloff during his trip to Miami. Islamic State militants beheaded Sotloff last year. LOS ANGELES, CA (Catholic Online) - Obama met with Sotloff's parents, Art and ... continue reading
---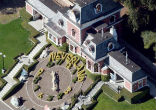 By Catholic Online (NEWS CONSORTIUM)
Late pop music superstar, Michael Jackson's famous retreat, Neverland Ranch is now up for grabs at $100 million. The former fantasyland currently lives under the name "Sycamore Valley Ranch." Located 40 miles from Santa Barbara in Los Olivos, the property spans ... continue reading
---

By Atarah Haely (NEWS CONSORTIUM)
Some samples negligently sent by the U.S. Military contained live anthrax. Four lab workers from the United States and about 22 overseas, who come in contact with the shipment, are placed into post-exposure treatment, according to a defense official. MUNTINLUPA, ... continue reading
---

By Nikky Andres (NEWS CONSORTIUM)
May has proved to be the most dangerous and deadliest month Baltimore has witnessed in more than 50 years. There were more than two dozen shootings over the Memorial Day weekend alone; city police have never been busier. Community leaders hope the members will come ... continue reading
---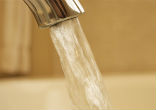 By Catholic Online (NEWS CONSORTIUM)
While it's "doable," few people in California are actually voicing any enthusiasm. Stricken by a crippling drought, water officials are going through some highly popular alternatives - and repurposing sewage water into drinking water is one of them. LOS ... continue reading
---

By Matt Waterson (NEWS CONSORTIUM)
As Gay rights movements continue to disrupt society and political life, poll reveals that gay and lesbians are not as common in the United States as previously perceived. LOS ANGELES, CA (Catholic Online) - A new Gallup poll conducted in early May has revealed that ... continue reading
---

By Talia Ramos (NEWS CONSORTIUM)
World's oldest woman, Jeralean Talley has added another year to her life - the world declared she turned 116 last weekend. Talley and her family, friends, the Inkster mayor and Congressman Conyers, delivered a message from President Barack Obama, celebrating her ... continue reading
---
All U.S. News