New complex planned for anti-gang program
---
LOS ANGELES, Calif. - The mayor of Los Angeles said that a new, long-awaited facility to be built for an anti-gang program could be called "Destination Hope."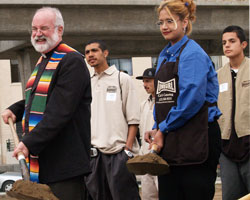 JESUIT ANTI-GANG EFFORT BREAKS GROUND FOR NEW FACILITY IN LOS ANGELES Jesuit Father Greg Boyle, center, is assisted by youths from Homeboy Industries as he breaks ground on the organization's new headquarters in Los Angeles in early March. The 21,000-square-foot center will house a cafe, catering kitchen, offices, a counseling room and other services to assist youths breaking away from the gang lifestyle. (CNS photo)
"We want to instill in you the idea that anything is possible, that you could turn your life around to do something productive to give back to the community you live in," Los Angeles Mayor Antonio Villaraigosa told young people at a groundbreaking ceremony in March for Homeboy Industries. The new 21,000-square-foot center, expected to open sometime next year, will house the program's headquarters as well as facilities for its various services, Homegirls Cafe and Catering, a retail store and a new location for Homeboy Bakery. The old bakery, a commercial enterprise of Homeboy Industries, burned down in 1999 following an electrical fire. A capital campaign has raised a little more than half of the needed $11.5 million for the project. Jesuit Father Greg Boyle is the founder and director of Homeboy Industries, which was started in 1992. Last year, the program provided more than 4,000 tattoo removal treatments, 1,000 mental health counseling sessions and nearly 1,000 job placements to youths working for Homeboy businesses or other jobs. The organization reaches out to youths and young adults from 600 area gangs. During the March 10 groundbreaking ceremony, the mayor noted that between 1994 and 2006 the California inmate population increased from 69,000 to 173,000. "Yes, people should face the consequences of their actions. None of us would suggest otherwise. But we also have to look within. What are we doing to turn a life around?" he asked. "We have a lot of work to do to reclaim a young person one at a time because that's what it's all about." Los Angeles County Sheriff Lee Baca noted the irony in locating Homeboy Industries one-quarter of a mile west of the largest jail system in the world - Men's Central Jail - where roughly 5,000 gang members are being held. Baca said the problem of gangs is "extraordinary and difficult" and will not be solved just by arrests. "You cannot put enough people in prison or jails to solve this problem," he said. Homeboy Industries is "an oasis near a place that represents nothing but despair," he said. Father Boyle's work has given him "tremendous inspiration as well," he said, noting the priest's ability to "singly inspire the work of young men who have lost their journey in life" and give them new direction. Wearing his black priestly garb and a colorful Latin American stole, Father Boyle referred to French writer Albert Camus, saying: "Where there is no hope, you have to invent it." He said the groundbreaking for the new center "is about the invention of hope in a city where oftentimes poor young men and women plan their funerals and not their future. This place here announces that we will stand with the disposable, until such time that we stop throwing folks away." One of the young men at the ceremony was 26-year-old Agustin Lizama, who turned his life around after getting a job through Homeboy Industries. After several stints in juvenile facilities and prison, Lizama reached a point where he thought "enough is enough." He went to Father Boyle after being released and got his first job as a phone clerk. "Father G. trusted me by employing me," he said. Today, Lizama facilitates the anger management classes at Homeboy and called it a "dream come true to be a part of this." "I hope I can play a role in touching a young person to redirect themselves to be somebody," he said, adding that he had accomplished more in the last several months than he had in his whole life. "I'm even amazing myself," said Lizama, who is studying to become a drug prevention counselor.
---
Copyright (c) 2007 Catholic News Service/U.S. Conference of Catholic Bishops
---
---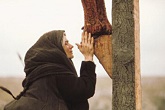 On Good Friday we are reminded that death is no longer the final word. For those filled with hope of the Resurrection, it is no longer an ... continue reading
---

Transubstantiation means "change of substance," or "change of reality." When the priest repeats the words that Jesus spoke at the ... continue reading
---
---

Why did Jesus wash the Disciples' feet? It seems like such a humiliating task, yet it's also personal, almost intimate. That Jesus ... continue reading
---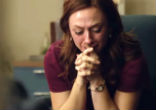 "Unplanned" is an inspiringly powerful movie that will deeply touch your heart. It will move you to feel uncomfortable, angry, sad, ... continue reading
---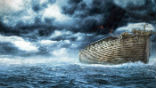 What was Noah's Ark and what has become of it? Noah's Ark was a ship built by Noah on God's command. The ship held Noah and his family as ... continue reading
---