Paul Bhatti, Brother of Martyr Shabhaz Bhatti, Urges Pope Francis to Visit Persecuted Christians in Pakistan
---
Martyrdom is the supreme witness given to the truth of the faith: it means bearing witness even unto death.- Catholic Catechismim
The world should pause once again to consider the Christian heroism shown by Shabhaz Bhatti in 2011. At the time, Shahbaz Bhatti was the only Christian member of the Parliament of Pakistan. He was executed in cold blood by militant Islamists on March 2, 2011. He was a martyr for the faith. His selfless service and genuine Catholic Christian faith has inspired other Christians, people of faith, and people of good will throughout the entire world. Given the developments of the years since his martyrdom, the story of his heroism must be told again.His brother and mother have asked Pope Francis to visit the persecuted Christians of Pakistan.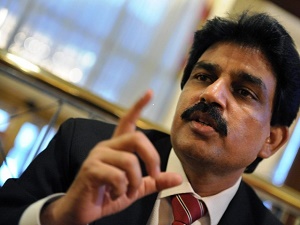 The Christian Martyr of Pakistan, Shabhaz Bhatti,
Highlights
By Deacon Keith A Fournier
Catholic Online (https://www.catholic.org)
9/4/2014 (3 years ago)

Published in Middle East
Keywords: Paul Bhatti, Shahbaz Bhatti, Pope Francis, Pakistan, Islam, Islamist, ISIS, ISIL, IS, Pope Francis, Jihadists, persecution, Christian persecution, Deacon Keith Fournier
---
VATICAN CITY (Catholic Online) - On Wednesday August 29, 2014, Pope Francis met with Dr. Paul Bhatti, the former Pakistani Minister for National Harmony and Minorities in Pakistan.  Paul Bhatti's brother, Shabhaz, served as the first Minister for minority affairs in Pakistan. He was assassinated by Jihadist extremists. He was martyred for the Christian faith.
Dr. Paul Bhatti told a Vatican Radio interviewer that Pope Francis is now a "father figure" and "source of great inspiration" for all of the worlds persecuted Christians.  He and his mother then urged the Holy Father to visit the small persecuted Christian community in Pakistan.
We will be watching and praying for the response of the Pope.
With the kind of courage demonstrated by his brother, the Christian Martyr of Pakistan, Shabhaz Bhatti, Paul spoke out with great courage in the interview. He strongly criticized the complacency of the international community in speaking out against the violent and growing persecution of Christians and other religious minorities.
The world should pause once again to consider the heroism shown by Shabhaz Bhatti in 2011. At the time, Shahbaz Bhatti was the only Christian member of the Parliament of Pakistan. He was executed in cold blood by militant Islamists on March 2, 2011. He was a martyr for the faith.
Over 10,000 people gathered on March 4, 2011 in Khushpur to commend him to the Lord whom he loved with inspiring fidelity and courage. They held banners reading "Shahbaz Bhatti, son of the Nation, will be missed" and "We will carry on your mission Bhatti."
His selfless service and genuine Catholic Christian faith has inspired other Christians, people of faith, and people of good will throughout the entire world. Given the developments of the years since his martyrdom, the story must be told again.
In the days following his violent death at the hand of Jihadists, the Baptist Press reported that at one of several memorials "a teenager stood up and asked those attending if they thought anyone in the world had ever heard of Shahbaz Bhatti before the tragic shooting.
"No," she said, answering her own question. "But this week, everybody with a television could hear him testify about Jesus Christ. Even after death, God has used Shahbaz Bhatti for His work!"
When I received news of this murder, what became immediately clear to me was that Shahbaz Bhatti was a Christian Martyr. I wrote an article entitled Shahbaz Bhatti, Pakistani Catholic, Martyred for the Faith by Jihadists"
In a section entitled "to Bear Witness to the Truth" the Catechism of the Catholic Church says:
"Before Pilate, Christ proclaims that he "has come into the world, to bear witness to the truth."  The Christian is not to "be ashamed then of testifying to our Lord."
In situations that require witness to the faith, the Christian must profess it without equivocation, after the example of St. Paul before his judges. We must keep "a clear conscience toward God and toward men."
"The duty of Christians to take part in the life of the Church impels them to act as witnesses of the Gospel and of the obligations that flow from it. This witness is a transmission of the faith in words and deeds. Witness is an act of justice that establishes the truth or makes it known.
"All Christians by the example of their lives and the witness of their word, wherever they live, have an obligation to manifest the new man which they have put on in Baptism and to reveal the power of the Holy Spirit by whom they were strengthened at Confirmation.
"Martyrdom is the supreme witness given to the truth of the faith: it means bearing witness even unto death. The martyr bears witness to Christ who died and rose, to whom he is united by charity. He bears witness to the truth of the faith and of Christian doctrine. He endures death through an act of fortitude" (CCC #2471 - 2473)
That is precisely what happened on that Wednesday, March 2, 2011. Shahbaz Bhatti, a faithful Catholic Christian, endured death at the hands of evil men who killed him precisely because he belonged to Jesus Christ.  He bore witness even unto death.
This devout Catholic Christian defended Asia Bibi, a Christian who still faces the death penalty simply for being a Christian. She is still being persecuted under the evil "Blasphemy Laws". Her lawyer recently experienced one more assassination attempt for defending her.
Shahbaz Bhatti was a vocal opponent of these unjust laws. Because of that reports indicated that after the militants killed Salman Taseer, Governor of Punjab, who also defended Asia Bibi, Bhatti became their next target.
The UK Catholic Herald reported after his death that "Mr Bhatti spoke about the threat facing him last month, during a visit to Canada to raise awareness about his country's blasphemy laws. He said: "I have been told by pro-Taliban religious extremists that if I will continue to speak against the blasphemy law, I will be beheaded."
"As a Christian, I believe Jesus is my strength. He has given me a power and wisdom and motivation to serve suffering humanity. I follow the principles of my conscience, and I am ready to die and sacrifice my life for the principles I believe."
On the day that he died, Asia News shared comments from the Bishop of Islamabad-Rawalpindi, Rufin Anthony:
"Bhatti's daily routine was that he used to go to meet his mother, pray with her. He used to call me and ask me to pray for him every morning. I remember him as a child; he regularly attended the Church; he was passionate since childhood. He was under threat and the government did not provide sufficient security.
"He was a brave man, a man of courage, he took a stand for the minorities. When he took the oath for the new cabinet, he said he would fight till the last drop of his blood. He proved himself, stood firm and paid the price by his blood. This should be an eye opener for minorities and the government. How much more blood will it take to realize that enough is enough."
After his death, Asia news also reported that an official of the Bishops Conference of Pakistan reported there was a movement to formally seek a Vatican declaration that Shahbaz Bhatti was indeed a Martyr.
"Bishop Andrew Francis of Multan, president of the bishops' Commission for Interreligious Dialogue, drafted the proposal and told the Vatican's missionary news agency, Fides, "Bhatti is a man who gave his life for his crystalline faith in Jesus Christ. It is up to us, the bishops, to tell his story and experience to the church in Rome, to call for official recognition of his martyrdom."
Zenit News Agency offered an excerpt from a 2008 interview with Shahbaz Bhatti which is excerpted from a  book entitled "Christians in Pakistan or Where Hope Is Tested" (Marcianum Press, 2008). In the excerpt he was asked about his heroic defense of religious freedom:
"I was offered high government positions and asked to quit my struggle but I always refused to give up even at the cost of my life. I said: "No, I want to serve Jesus as a common man". I am happy with this devotion. I do not want popularity; I do not want any position. I want just a place at Jesus' feet.
"I want that my life, my character, my actions speak for me and indicate that I am following Jesus Christ. Because of this desire, I will consider myself even to be more fortunate if -in this effort and struggle to help the needy, the poor, to help the persecuted and victimized Christians of Pakistan - Jesus Christ will accept the sacrifice of my life. I want to live for Christ and I want to die for Him.
"I do not feel any fear in this country. Many times the extremists wanted to kill me, many times they wanted to put me in prison, they threatened me, they harassed me and they terrorized my family. Even my parents, my mother and my father, were asked by the extremists few years ago to stop their son from continuing with his mission, this struggle to help the Christians and the needy. Otherwise they would have lost me.
"But my father always encouraged me. I said: "Until I live, until my last breath, I will continue to serve Jesus, to serve the poor humanity, the suffering humanity, the Christians, the needy, the poor".
"I want to share that I am very much inspired by the Holy Bible and the life of Jesus Christ. The more I read the New and Old Testament, verses from the Holy Bible, the word of God, the more it gives me strength, determination. When I see that Jesus Christ sacrificed His everything and our Lord sent His Son for our redemption and salvation, I ask myself how I can follow that path of the Calvary.
"And our Lord said: "Come to me, hold your cross, and follow the path". The verses I like the most from the Holy Bible read: "I came to you when I was hungry, when I was thirsty, when I was imprisoned". So when I see the poor people, I think Jesus might have come to me. Hence I always try to help, along with my colleagues, those in need, the hungry, the thirsty."
Let us pray that the Holy Spirit, working through Christ's Church, officially proclaim Shahbaz Bhatti a Martyr of the Christian Church. Let us also pray that Pope Francis give a positive response to the invitation of his mother and brother and visit Pakistan. We are living in a new missionary age.
-----
Deacon Keith Fournier is Founder and Chairman of Common Good Foundation and Common Good Alliance. A married Roman Catholic Deacon of the Diocese of Richmond, Virginia, he and his wife Laurine have five grown children and six grandchildren, He serves as the Director of Adult Faith Formation at St. Stephen, Martyr Parish in Chesapeake, VA. He is also a human rights lawyer and public policy advocate.
---
Copyright 2018 - Distributed by THE CALIFORNIA NETWORK
Pope Francis Prayer Intentions for APRIL 2018
For those who have Responsibility in Economic Matters.
That economists may have the courage to reject any economy of exclusion and know how to open new paths.
---
---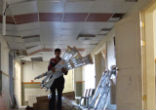 Hospitals have become military targets in Syria, making it difficult to provide aid to victims of the country's civil war, according to ... continue reading
---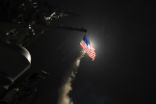 A military conflict appears imminent over Syria as the United States and its allies prepare to carry out strikes on Syria. Those strikes ... continue reading
---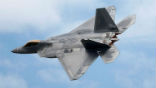 The United States and France have vowed a joint response against Bashir al Assad's regime in Syria following a chemical weapons attack on ... continue reading
---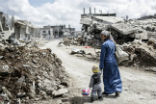 Seven years ago, on March 15, 2011, the Syrian Civil War began. Since then, the conflict in Syria has forced more than 5.4 million people ... continue reading
---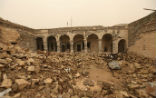 Looters from the Islamic State managed to discover the palace of an ancient Assyrian king under the tomb of Jonah in Mosul, Iraq. ... continue reading
---