'I will not let another Holocaust happen!' Sign the petition in support of Iraqi Christians forced to flee from persecution
---
Iraqi Christians face genocide as they are chased from their homes in Northern Iraq.
The plight of Iraq's Christians has now lasted longer than a decade, and recent militant uprisings in Mosul threaten to expunge the neighboring Chaldean-Assyrian-Syriac villages. Iraqi Christians have fled Mosul in droves, but some remain behind, awaiting their inevitably gruesome fate. As entire families risk slaughter, tensions between Sunni militants are beginning to show as not all of the Muslims support what the Islamic State is preparing to do.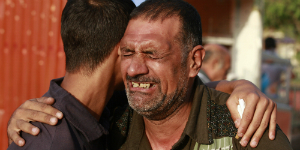 Christians in Mosul embrace one another as they are forced to leave absolutely everything behind at gunpoint.
LOS ANGELES, CA (Catholic Online) - Reports continue to come in that Christians, predominantly Catholic, have arrived in Kurdish-held territory in northern Iraq. The great majority have arrived in the provinces of Irbil and Dohuk and have been sent to refugee camps. Kurdish officials have promised to protect Christians who arrive there. According to the U.N., about 400 families have arrived as of yesterday and more are believed to be on their way, all traveling on foot. Some local volunteers have driven out to meet and pick up refugees in their cars.
Virtually all of them have arrived with nothing, not even food or water. A significant number of victims attempted to flee by car with their possessions intact, but were stopped at checkpoints and ordered out. Those thought to be Christians or anyone leaving the city was searched and their vehicle and property confiscated, even down to wedding rings.
Sign the petition now and stay informed as this situation develops.  GOAL - 25,000 signatures.
Absolutely nothing of value except the clothing on their backs has been left to these Christians. A new holocaust is brewing.
As Islamic State terrorists moved into Mosul, they branded the doors of all Christian houses with red paint, the vast majority of them belonging to Catholic Christians who have lived in the region since the time of Christ's death. This is not unlike the Nazi branding of Jewish homes and businesses.
On Friday, Christians were warned to flee or to pay a punishing tax, or to convert to Islam, and they were given until Saturday to meet the deadline. Most chose to flee. It is uncertain how many remain. Even those that convert or pay the tax will likely be subject to persecution.
Some remained and did nothing, and since then it is unclear what, if anything has happened to them. They remain in the city under the threat of death.
The Islamic State(IS) terrorists will have no problem carrying out their orders to kill if so directed. Already, IS terrorists have committed vast atrocities which include torture and mass murder. A stoning also reportedly occurred in an IS controlled region of Syria.
The Islamic State intends to provide Muslims with a theocratic state governed by conservative Islamic law. Catholics have Vatican City, the Jews, Israel, and now Muslims the Islamic State. Unfortunately, the laws espoused by the militant leadership include draconian justice ripped right from the 7th century A.D.
Additionally, the IS has already made clear it intends to expand, and terrorists have previously attempted takeovers of other regions in Iraq. These attempts have been halted for the moment, but mostly because the Islamic State is consolidating its power in the areas it controls. The IS has not been checked or pushed back by Iraq which lacks the firepower and training to resist. There are widespread reports of Iraqi desertions in the face of IS terror attacks.
The Islamic State is also being reinforced with the arrival of newly recruited fighters from around the globe.
Former elements of the military and government, previously loyal to Saddam Hussein, himself a Sunni, have also aligned themselves with the Islamic State, however they have stopped short of condoning the Islamic State's use of violence to convert people to Islam. In fact, they have distanced themselves from the IS, saying they do not support the division of Iraq by sect or any other measure, but they are a minority.
Most of the people in the region are silent on what's happening to their Christian neighbors, after all, they're not Christian and nobody wants to run afoul of the IS terrorists who now run the city. This silent majority will now permit the conduct of a fresh human genocide, news of which we may hear any day.
Meanwhile, for Iraqi Christians who have fled only to be jammed into crowded refugee camps, they have left everything behind. Every family heirloom, every child's toy, even wedding rings, Bibles, and religious artifacts have been abandoned or stolen.

"Don't even dream of coming back" one IS terrorist told a family once they had been stripped of everything.
Your Catholic Voice Foundation will take measures to support these Christians as details and logistics are worked out. Until then, you can sign up to stay informed and petition the world to pay attention to this crisis developing in the new, evil and illegitimate, Islamic State.
The time has come for us to stand in solidarity with our Christian brothers and sisters in the region. Please click here to sign the form in protest of what is happening and ask the world to pay attention to the genocide in the region.
---
Copyright 2018 - Distributed by THE CALIFORNIA NETWORK
Pope Francis Prayer Intentions for APRIL 2018
For those who have Responsibility in Economic Matters.
That economists may have the courage to reject any economy of exclusion and know how to open new paths.
---
---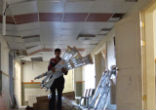 Hospitals have become military targets in Syria, making it difficult to provide aid to victims of the country's civil war, according to ... continue reading
---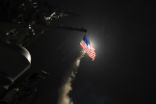 A military conflict appears imminent over Syria as the United States and its allies prepare to carry out strikes on Syria. Those strikes ... continue reading
---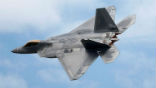 The United States and France have vowed a joint response against Bashir al Assad's regime in Syria following a chemical weapons attack on ... continue reading
---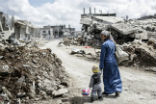 Seven years ago, on March 15, 2011, the Syrian Civil War began. Since then, the conflict in Syria has forced more than 5.4 million people ... continue reading
---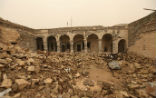 Looters from the Islamic State managed to discover the palace of an ancient Assyrian king under the tomb of Jonah in Mosul, Iraq. ... continue reading
---