By Catholic Online (NEWS CONSORTIUM)
10/14/2013 (2 years ago)
Catholic Online (www.catholic.org)
A greater number of Christian soldiers are joining with Assad as Islamist rebels threaten Christian communities.
Syrian Christians are starting to align with the regime of Bashar al Assad as extremist rebels form an increasing number of the anti-regime fighters. Worried about their churches and homes, Christians are organizing into volunteer units and fighting alongside the regular Syrian army. There is a sense of stalemate and a need for negotiation to end the conflict.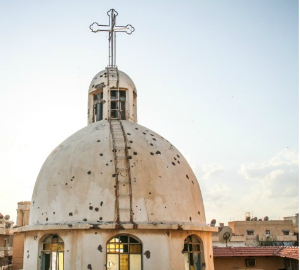 A church tower riddled with bullet holes. Christians are finding it harder to remain neutral as jihadists close in.
LOS ANGELES, CA (Catholic Online) - France 24 carried the story late last week of "John" a Christian fighting in Assad's forces. John was interviewed by the agency who wanted to know why Christians, originally neutral in the conflict, have started to gravitate towards the Assad regime.

Christians are a major minority in Syria making about 5 percent of the population. A few have sided with the rebels, however the majority have tried to remain neutral, worried that an unfavorable outcome could bring post-war repercussions.

While Christians may not be major supporters of the Assad regime, they distrust the jihadists whose publicly stated goal is to turn Syria into an Islamic state with conversion to Islam made compulsory.

To accomplish their mission, jihadist fighters have targeted clergy, ransacked churches and shrines, and killed some Christians in their efforts to terrorize Christian enclaves into submission. The Free Syrian Army, that arm of the rebels recognized by the United States and its allies does not endorse the tactics of the jihadists, and has on some occasions actually clashed with them. However, the Syrian uprising is hugely dependent on the influx of al Qaeda-linked fighters and cannot continue without them.

The jihadists have been largely successful in hijacking the rebellion.

This leaves Christians with a shrinking choice, which is to reluctantly join regime forces in an effort to defend their communities against the jihadist threat.

John told France 24, "I tried to encourage the men from my village and nearby villages to join up as well. But they weren't very receptive, as they didn't feel concerned by what was going on. All the while, an increasingly large number of Lebanese and Palestinian Jihadists were crossing the border to come support the rebels. From week to week, the number of kidnappings and attacks against civilians was increasing rapidly. All the inhabitants of the region, whether Christian or Muslim, could clearly see that criminals were taking advantage of the reigning chaos to loot and kidnap innocent people. This ended up pushing many of our young men to join the ranks of the National Defense Committees."

John added that many prominent local religious leaders were "reticent" to support the Christian reinforcement of Assad's army, but they all recognize the threat posed by the al Qaeda linked fighters.

There is a growing sense that the conflict cannot be resolved by fighting so the incentive to negotiate is strong. However, al Qaeda-backed fighters have little desire to negotiate and they often undermine ceasefires. The rebel forces are receiving arms and supplies, especially the jihadists with their own, independent supply networks.

With no end to the conflict in sight, more Christians are taking Assad's side in an effort to stem the slowly rising tide of jihadists arrayed against them.

A birth foretold: click here to learn more!


---
Copyright 2015 - Distributed by THE CALIFORNIA NETWORK
Pope Francis Prayer Intentions for April 2016
Universal:
Small Farmers: That small farmers may receive a just reward for their precious labor.
Evangelization:
African Christians: That Christians in Africa may give witness to love and faith in Jesus Christ amid political-religious conflicts.
---
---
---

By Kenya Sinclair (CALIFORNIA NETWORK)
Footage captured Kurdish fighters destroying a Mad Max-like scrapyard ISIS suicide bomber truck in Syria in an amazing missile explosion. LOS ANGELES, CA (Catholic Online) - The footage caught an ISIS suicide bomber truck driving along a dirt road when suddenly a ... continue reading
---
By Kenya Sinclair (CALIFORNIA NETWORK)
Fighting in Iraq leads to 12 dead - but ISIS had nothing to do with the gunfire. LOS ANGELES, CA (Catholic Online) - News of ISIS-related acts of terror including bombings, rape and even threatening social media have splashed headlines for quite a while, but what else ... continue reading
---
By David Drudge (CALIFORNIA NETWORK)
The Wall Street Journal has published their report on documents released by the U.S. government detailing the raid that killed ISIS's top money man. Abu Sayyaf was the official oil man for ISIS, generating over a million dollars a day for the terror organization, even ... continue reading
---

By David Drudge (CALIFORNIA NETWORK)
Saudi Arabia is taking out a $10 billion loan to offset losses caused by collapsed oil prices, a condition the conservative Islamic monarchy has created for itself. Saudi Arabia is beginning to consider changes to its economy that will shift the nation away from oil. ... continue reading
---

By Matt Hadro (CNA/EWTN News)
Now that the U.S. has declared that the Islamic State is waging genocide against religious minorities in Iraq and Syria, what will be done to help the victims move forward? LOS ANGELES, CA (Catholic Online) - That was the question at an April 19 congressionalWill the ... continue reading
---

By Abigail James (CALIFORNIA NETWORK)
Two-hundred and fifty women have been brutally slaughtered by the Islamic State for refusing to become sex slaves to the terrorists. LOS ANGELES, CA (Catholic Online) - After refusing to accept the "temporary marriages" and the "sexual jihad" being forced on them the ... continue reading
---

By Kenya Sinclair (CALIFORNIA NETWORK)
Air strikes in Syria continue to eat away at the ISIS population - but they have been destroying civilian lives as well. LOS ANGELES, CA (Catholic Online) - A mother recently lost her daughter in a missile strike of Aleppo, Syria.The woman was recorded crying and ... continue reading
---

By Kenya Sinclair (CALIFORNIA NETWORK)
Historians often argue about the age of the Bible. For all they've learned from the text, several questions remain. Was it written as events were happening or were stories passed down and eventually recorded? When, exactly, were the books of the Bible ... continue reading
---

By Kenya Sinclair (CALIFORNIA NETWORK)
ISIS is reported to have kidnapped 300 cement workers outside Damascus, Syria. Of the 300 workers, new reports indicate 175 have been killed. LOS ANGELES, CA (Catholic Online) - According to Daily Mail, an unknown source told state-run news agency SANA, "employees and ... continue reading
---

By Abigail James (CALIFORNIA NETWORK)
As the entire world anxiously awaits a safe return of the ISIS kidnapped priest, Fr Thomas Uzhunnalil, his older brother continues to worry about the safety of Fr Tom. LOS ANGELES, CA (Catholic Online) - Living alone with no access to media, Mathew Uzhunnalil, 73, ... continue reading
---
All Middle East News