A strike is inevitable, here's what will happen.
Sometime within the next 24-48 hours, the United States will unleash its military wrath upon Syrian President, Bashir al Assad, striking a wishlist of military targets provided by the Free Syrian Army. Here's what you can expect.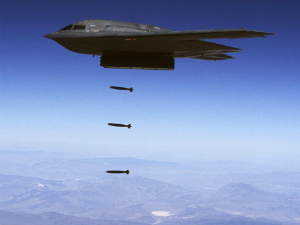 Justice, American style. Unfortunately it will not decide who is right, only who is left.
Highlights
By Marshall Connolly, Catholic Online (NEWS CONSORTIUM)
Catholic Online (www.catholic.org)
8/27/2013 (2 years ago)
Published in Middle East
Keywords: Syria, US, strike, UN, missile, bombing, missiles, what to expect, war, Obama, Assad, when will, what will happen
---
LOS ANGELES, CA (Catholic Online) - President Obama has already made his most basic decision, which is that barring any extraordinary events, the United States, in conjunction with NATO allies, will execute a sharp strike, chiefly using cruise missiles, against regime targets in Syria. Multiple sources confirm the military is ready and all that remains is to prepare the public for its eventuality.

The strike is intended to be a rebuke for the use of chemical weapons against civilians in the suburbs of Damascus last week.

Between now and then, we can expect President Obama to make his case to the American people by asking Jay Carney and others to release intelligence information on the chemical attacks in Damascus. The first dump of information is expected later today with a report that supposedly contains communications intercepts from Syrian military commanders.

These intercepts could contain damning communications that prove the regime deployed chemical weapons. Given the certainty with which the administration is moving, it likely has such evidence. Although there will be claims of fabrication, most credible analysis will dismiss them. Reasonably speaking, it is evident and likely that the regime is guilty and worthy of sanction.

At the time an attack is ordered, President Obama will address the American people. This is appropriate for a commander-in-chief anytime the use of force is ordered.

The timing of the speech will probably coincide with the attacks, usually coming just after they have started to prevent alerting the enemy that the strikes are inbound. By the time we see Obama on the television, the first salvos should have landed.

News media will break in with coverage of the strikes, which will likely be comprised of cruise missiles launched from four missile destroyers and at least one attack submarine said to be in the region. Other ships and assets are reportedly on their way.

Syria has advance warning, and the world knows this is coming. Although U.S. weaponry is powerful, it is also very likely that Syria will have moved many of its assets to safety. Weapons caches will be stored in deep bunkers and mobile assets will be on constant move. Meanwhile, easy-to-kill fixed assets such as radar installations and SAM sites will have to be written off as lost.

What is unknown then, is if Obama will order strikes against bunkers, strikes that are better made with bombers dropping smart bombs. Known as JDAMS, bombers are capable of dropping these GPS-guided, bunker-busting bombs on targets in any weather and from very high altitude. The best tool for this job would be B-2 Spirit "stealth" bombers based in Missouri.

In fact, the flight of B-2 bombers from Missouri could actually provide excellent notice of a pending attack since their flight time to their targets would be measured in hours.

However, while this step would be effective at destroying deeply situated assets, it also involves overflying Syrian airspace. Stealth bombers can evade radar detection, but interception is still possible by fighter jets. Technical difficulties could also cause the loss of a bomber, something the Obama administration is probably keen to avoid.

For some targets, B-2 bombers could possibly stand-off and drop their bombs from over Israeli and Turkish airspace, however this risks directly involving those countries in the conflict. Israel in particular may be keen to avoid a wider conflict. There would also be a limit on how far away the bombers can operate from their targets, and that limit is reasonably short -bunker-busting bombs drop more than they can fly.

Drone strikes are thought to be an unlikely option. Although some drones may be deployed, they will be used in a supporting role, providing intelligence and damage assessments in the wake of the attacks. Most drones in the U.S. arsenal are deployed in the Horn of Africa and the Arabian Peninsula, so they are not really in easy range of Syria. Furthermore, their weapons systems are more suited to striking individual soft targets, such as vehicles and people, as opposed to hardened targets such as bunkers.

The attack will probably come at night, local time, which will be daytime for Americans on Wednesday or Thursday at the latest.

The attacks will not continue beyond the initial strike because Obama does not want to become embroiled in the ground war. The strike is intended to punish and weaken Assad, not topple him altogether.

Obama may wish to avoid making attacks on Friday, which is the Islamic holy day. He also wants to have the strikes finished before meeting with Russian leaders next week during the scheduled G8 summit.

While the Russians may angrily tolerate a strike, they would be hard-pressed to tolerate ongoing intervention in a region they see as within their sphere of influence.


Ultimately, whatever happens will happen soon, and end as quickly as it starts. What will remain after that will be what response Syria and its allies will make, if any.
Although speeches will be given and Syria will remain defiant, it is unlikely that Assad is either capable or willing to invite further American intervention, or that of our regional allies such as Israel. The world is probably safe from World War III.
Soon, Obama will deliver a rebuke, then we'll see if it makes any difference and pushes Assad's regime to the negotiating table with the rebels. 
It sure doesn't measure up to peace, but sadly the powers that be discarded that option long ago.
---
Copyright 2016 - Distributed by THE CALIFORNIA NETWORK
Pope Francis Prayer Intentions for May 2016
Universal:
Respect for Women: That in every country of the world, women may be honored and respected and that their essential contribution to society may be highly esteemed.
Evangelization:
Holy Rosary: That families, communities, and groups may pray the Holy Rosary for evangelization and peace.

By Kenya Sinclair (CALIFORNIA NETWORK)
Local and international ministers will join forces to lead teams of Christian youths across Israel to spread the Word of God and encounter Him in the Holy Land of Israel. LOS ANGELES, CA (Catholic Online) - According to the CBN News, the tour of Jerusalem, called ... continue reading
---

By Kenya Sinclair (CALIFORNIA NETWORK)
Egyptian authorities have arrested six men suspected to have participated in the mob and are currently looking for 12 more. LOS ANGELES, CA (Catholic Online) - President Abdel-Fattach el-sissi demands the culprits be held accountable and issued his military one month ... continue reading
---

By Kenya Sinclair (CALIFORNIA NETWORK)
Pakistan's Ministry of Foreign Affairs confirmed the death of Afghan Taliban leader Mullah Akhtar Mohammed Mansour by U.S. drone strike - but another leader has risen. LOS ANGELES, CA (Catholic Online) - Days after burying Mansour in an undisclosed location in ... continue reading
---

By Kenya Sinclair (CALIFORNIA NETWORK)
After a Tuesday vote, Iran's Assembly of Experts elected 89-year-old Ahmed Jannati as its next supreme leader.Jannati is famous for his extremely conservative views of Islam and is now in a position to choose Iran's next Supreme Leader. LOS ANGELES, CA (Catholic ... continue reading
---

By Kenya Sinclair (CALIFORNIA NETWORK)
It's a bad time to be an ISIS commander. In response to the continual failures on the battlefield, ISIS commanders are now being executed by being fed to aggressive dogs. LOS ANGELES, CA (Catholic Online) - A Kurdish commander spoke to the Iranian media outlet ... continue reading
---

By Kenya Sinclair (CALIFORNIA NETWORK)
ISIS followers have been urged to strike at Europe and the United States by a 31-minute speech Abu Mohamed al-Adnani posted online. LOS ANGELES, CA (Catholic Online) - In his speech, al-Adnani told his followers: "The tiniest action you do in the heart of their land is ... continue reading
---

By David Drudge (CALIFORNIA NETWORK)
A senior Iranian military adviser has said that Israel can be destroyed within eight minutes, if the order is given. The estimate is based on the amount of time it will take for a missile to reach Israel. LOS ANGELES, CA (California Network) - Ahmad Karimpour, an ... continue reading
---

By Kenya Sinclair (CALIFORNIA NETWORK)
An ISIS militant confined to a wheelchair has made headlines once again for executing an innocent. LOS ANGELES, CA (Catholic Online) - According to <a ... continue reading
---

By Kenya Sinclair (CALIFORNIA NETWORK)
In a newly released video, an ISIS militant, supporting himself on crutches, stood beside the remains of a destroyed Christian headstone. LOS ANGELES, CA (Catholic Online) - The video, shown on <a ... continue reading
---

By Kenya Sinclair (CALIFORNIA NETWORK)
The latest issue of Al-Qaeda's propaganda magazine 'Inspire' claims the assassination of several American business leaders can be of use in the Prophet's holy war. LOS ANGELES, CA (Catholic Online) - According to Daily Mail, a hit list was released for lone wolf jihads ... continue reading
---
All Middle East News