The time has come to do more than debate, no matter the outcome, the murder of children must be stopped.
The images are very hard to look at. Rows of bodies, ready to be stacked into graves like cord-wood, have been photographed by Reuters staff in Damascus, Syria where an alleged chemical weapons attack may have killed as many as 1,300 civilians.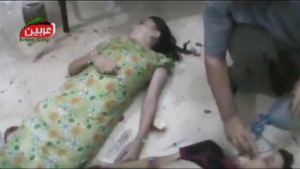 Images of the dead were broadcast around the world. So far, the world is doing nothing in response.
LOS ANGELES, CA (Catholic Online) - We warn you that the images within this article are very graphic and disturbing. They include children.

On Wednesday morning, just before dawn, a rocket attack was staged against a Damascus suburb. Instead of high explosive warheads, those rockets contained some form of nerve agent which spread in a toxic cloud across homes, mosques, and public areas, settling in the lungs of hundreds, including sleeping children.

A few probably died quickly, more likely had time to suffer as their lethal doses of nerve agents went to work as pesticides do against insects, albeit slowly. It's a known problem with chemical weapons, they are only immediately effective within a small radius, and take time to work the farther away a victims from ground zero.


Nonetheless, people died just the same and many others were seriously injured as their bodies reacted violently to the chemicals.
The images are intended to shock. They should shock you and turn your stomach. What has happened is being referred to by the French Foreign Minister as "an unprecedented atrocity." Indeed, the latest attack may be the worst chemical weapons attack since Saddam Hussein gassed a Kurdish village in northern Iraq in 1988. The world did not do much about that attack either.
In Wednesday's attack, the suburbs of Ain Tarma, Zamalka, and Jobar were struck with chemicals, delievered by rockets or possibly artillery.
Most victims died in bed, as the warheads exploded outside their homes just before the waking hour.
The gas used against the people is believed to have been the infamous Sarin nerve gas, one of the most deadly substances known to humans. Sarin is deadly within one to ten minutes, and a fraction of an ounce on the skin is enough to cause death.  Of course, there are many survivors, who were exposed to just enough gas to cause violent reactions and trauma, but not death.
Victims lose vision, foam at the mouth, and become paralyzed. Only immediate treatment with proper antidotes can save the victim from death. Naturally, such antidotes are nonexistent by this time in Syria.
Overnight, the UN Security Council met to devise a strongly worded resolution to condemn the attacks. The US, England, and France were blocked by Russia and China. No resolution will be forthcoming.
The UN has sent a team to investegate, there is no word on how much access they will be given.
National leaders condemned the attacks. Then resumed their breakfasts, politicking, or what busyness they had to fill their day.
The United States has expressed reluctance to support the Syrian rebels after large numbers of al Qaeda fighters managed to infiltrate the Free Syrian Army and form brigades of extremists. The US wants to see a state formed that supports American interests and so far, there is no guarantee the highly-factionalized rebel forces can coalesce into such a government.
Also, the western world is reluctant to engage in an open-ended conflict that will provide uncertain results. Meanwhile, Hezbollah, Iran, Russia, and China are more than happy to continue supplying the Assad regime with weapons and aid.
If Assad wins the conflict, the western world will be punished for siding with the rebels and calling for the condemnation of his regime. If the rebels win, it is possible the western world could influence the Syrian people, weary of war, that a peaceful, truly democratic society is best. We may not be pleased with the outcome of their elections, but perhaps their government will remain moderate and amicable to the west.
Most importantly, scenes like those generated in Damascus this week will not be repeated. For that reason alone, the intervention of the entire world is due.
It is well past time to put politics and religious differences aside. All religions and politics can agree that the murder of innocents is wrong. The merits of moderate Islam and democracy can be debated later.
---
Copyright 2016 - Distributed by THE CALIFORNIA NETWORK
Pope Francis Prayer Intentions for May 2016
Universal:
Respect for Women: That in every country of the world, women may be honored and respected and that their essential contribution to society may be highly esteemed.
Evangelization:
Holy Rosary: That families, communities, and groups may pray the Holy Rosary for evangelization and peace.

By Kenya Sinclair (CALIFORNIA NETWORK)
Egyptian authorities have arrested six men suspected to have participated in the mob and are currently looking for 12 more. LOS ANGELES, CA (Catholic Online) - President Abdel-Fattach el-sissi demands the culprits be held accountable and issued his military one month ... continue reading
---

By Kenya Sinclair (CALIFORNIA NETWORK)
Pakistan's Ministry of Foreign Affairs confirmed the death of Afghan Taliban leader Mullah Akhtar Mohammed Mansour by U.S. drone strike - but another leader has risen. LOS ANGELES, CA (Catholic Online) - Days after burying Mansour in an undisclosed location in ... continue reading
---

By Kenya Sinclair (CALIFORNIA NETWORK)
After a Tuesday vote, Iran's Assembly of Experts elected 89-year-old Ahmed Jannati as its next supreme leader.Jannati is famous for his extremely conservative views of Islam and is now in a position to choose Iran's next Supreme Leader. LOS ANGELES, CA (Catholic ... continue reading
---

By Kenya Sinclair (CALIFORNIA NETWORK)
It's a bad time to be an ISIS commander. In response to the continual failures on the battlefield, ISIS commanders are now being executed by being fed to aggressive dogs. LOS ANGELES, CA (Catholic Online) - A Kurdish commander spoke to the Iranian media outlet ... continue reading
---

By Kenya Sinclair (CALIFORNIA NETWORK)
ISIS followers have been urged to strike at Europe and the United States by a 31-minute speech Abu Mohamed al-Adnani posted online. LOS ANGELES, CA (Catholic Online) - In his speech, al-Adnani told his followers: "The tiniest action you do in the heart of their land is ... continue reading
---

By David Drudge (CALIFORNIA NETWORK)
A senior Iranian military adviser has said that Israel can be destroyed within eight minutes, if the order is given. The estimate is based on the amount of time it will take for a missile to reach Israel. LOS ANGELES, CA (California Network) - Ahmad Karimpour, an ... continue reading
---

By Kenya Sinclair (CALIFORNIA NETWORK)
An ISIS militant confined to a wheelchair has made headlines once again for executing an innocent. LOS ANGELES, CA (Catholic Online) - According to <a ... continue reading
---

By Kenya Sinclair (CALIFORNIA NETWORK)
In a newly released video, an ISIS militant, supporting himself on crutches, stood beside the remains of a destroyed Christian headstone. LOS ANGELES, CA (Catholic Online) - The video, shown on <a ... continue reading
---

By Kenya Sinclair (CALIFORNIA NETWORK)
The latest issue of Al-Qaeda's propaganda magazine 'Inspire' claims the assassination of several American business leaders can be of use in the Prophet's holy war. LOS ANGELES, CA (Catholic Online) - According to Daily Mail, a hit list was released for lone wolf jihads ... continue reading
---

By Kenya Sinclair (CALIFORNIA NETWORK)
Barbed wire, 5,000 landmines and danger signs written in Arabic, English and Hebrew surround the site believed to be the area Jesus was baptized in the Jordan River. LOS ANGELES, CA (Catholic Online) - Though the Israeli and Jordanian armies concluded their war in ... continue reading
---
All Middle East News