Ayuntamiento de Madrid quiere retirar imagen de la Virgen de parque publico
---
El Ayuntamiento de Madrid quiere retirar la talla de la Virgen del Abrazo que se encuentra en el parque de Valdebebas de Madrid (Espana).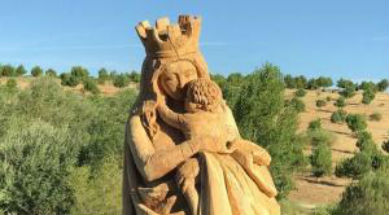 MADRID (ACI Prensa) - Fue en el pleno de la Junta Municipal del  pasado 18 de septiembre cuando se aprobo retirar la talla, con el voto del PSOE y de Ahora Madrid, partido afin a Podemos y al que pertenece la alcaldesa de Madrid, Manuela Carmena.
Alegan que les preocupa que "desde el area de Medio ambiente no se hayan tenido en cuenta el impacto ambiental que la instalacion de esta talla religiosa en el Parque Forestal de Valdebebas y sus posteriores romerias puedan significar para el Parque, por los posibles danos y destrozos que se producen en aglomeraciones tumultuosas, asi como la suciedad generada".
Sin embargo, los vecinos de la zona se han movilizado recogiendo firmas para evitar que esta imagen de la Virgen se retire. Actualmente cuentan con el apoyo de mas de 21 mil personas.
En la recogida de firmas se precisa que esta escultura de la Virgen es "una verdadera obra de arte que suma valor artistico, popular y sentimental al Parque, recordando las antiguas romerias que se hacian antano". "Esta Virgen representa muchas cosas para muchos. Es un grito de libertad", precisan.
La talla de la Virgen del Abrazo, que representa a Maria abrazada a su hijo Jesus, se realizo con los permisos correspondientes y aprovechando el tronco de un arbol ya talado.
Si finalmente se retirara la talla, se llevaria a la parroquia de Carcavas, y aunque el parroco asegura que la recibiria con mucha ilusion, también declaro que prefiere que se quede donde esta actualmente.
Puede unirse a la peticion AQUi.
---
Copyright 2018 - Distributed by THE CALIFORNIA NETWORK
Pope Francis Prayer Intentions for July 2018
Priests and their Pastoral Ministry.
That priests, who experience fatigue and loneliness in their pastoral work, may find help and comfort in their intimacy with the Lord and in their friendship with their brother priests.
---
---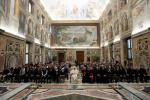 Pope Francis told a Catholic media group Thursday to be avenues of God's peace, sharing the stories of the poor, the least, and the ... continue reading
---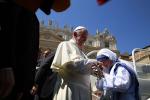 The Vatican announced Thursday that Pope Francis will travel to Bulgaria and Macedonia May 5-7, 2019, with a stop in Mother Teresa's ... continue reading
---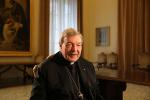 Cardinal George Pell has been convicted by an Australian court on charges of sexual abuse of minors, according to media reports and CNA ... continue reading
---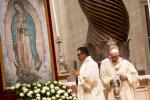 Pope Francis celebrated the Mass of Our Lady of Guadalupe Wednesday, reflecting on how Mary continues to evangelize Latin America through ... continue reading
---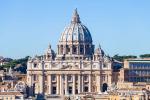 The Vatican said Wednesday that while there are no immediate plans to add new members to the C9, Pope Francis has released the three eldest ... continue reading
---