Our drug habit, infatuation with guns, and general human indifference is killing our neighbors.
Mexico has been embroiled in a major civil war which has left entire states controlled by drug cartels. Although the conflict is unrecognized as a civil war, it has still produced hundreds of thousands of refugees which often seek asylum in the United States and are held in legal limbo as authorities decide how best to handle the problem.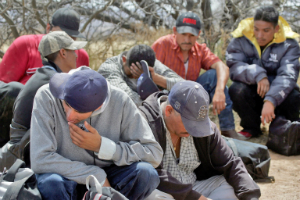 Asylum seekers such as these stand a good chance of being killed if they are caught back at home by the cartels.
LOS ANGELES, CA (Catholic Online) - Fueled by insatiable demand for drugs from the United States, Mexican drug cartels have flourished and literally taken over entire sections of Mexico, controlling everything and terrorizing the people into submission. Anyone who refuses or resists, or who simply can't participate, is brutally murdered as an example to others.


This reality has resulted in some nearly 30,000 refugees stuck in detention centers in the United States, all seeking asylum and fearing for their lives if they are turned back.
It's an ironic twist for a problem uniquely caused by the U.S. If there were no USA, or more specifically, no demand for illicit drugs in the U.S., the cartels wouldn't exist. This reality makes the purchase and consumption of illegal narcotics from Mexico a much more serious offense than many assume. Private drug use is not a victimless crime when the supply chain is taken into account.
Add to this the fact that some cartel bosses are (allegedly) trained by the CIA, equipped with U.S. arms, and
somehow manage to smuggle astounding quantities of drugs into the U.S. through otherwise vigilantly protected borders
, and it makes one wonder how involved the U.S. is in creating the problem.
The problem is among the worst crises the world has ever seen given the sheer brutality and number of the murders in that country and the powerlessness of the government to stop them.
Mexico is overrun by the cartels who act as regional warlords controlling everything that happens in their territories. Government officials answer to the drug lords, or soon find themselves dead. The federal government does little because it too is beset by corruption and intimidation.
This leaves the ordinary Mexican citizen on his own for protection, which comes only in the form of pleasing his cartel overlords. Punishment in that country is swift and violent. People are routinely hanged from bridges and signs, decapitations and shootings are daily events across Mexico. More fortunate victims are only maimed as a living example of what happens when one falls short of expectations.
Somewhere between 70,000 and 100,000 people have been slaughtered by cartel violence since 2006.
Many communities are entirely run by the cartels. However, in some cases locals have formed militias to protect themselves from the roving cartels. If the cartels cannot break the militias by force, they simply blockade the communities leaving people without gasoline, food, and other essentials which are delivered from the outside.
The typical response of most people is to flee at their first opportunity. Thousands reach the U.S. each year and announce they are seeking asylum. They are then ushered into detention centers, jails really, and detained until their cases are heard. About 90 percent of them are turned back where they face punishment if they reappear in their hometowns.
Many are denied their asylum requests on a technicality -they are not being persecuted by their government. Yet activists say the threat is very real and a change must be made to save many of these people from a life of brutality and the likelihood of a horrific fate.
For now, there seems no hope on the horizon, but we must appreciate that we, in the United States have the power to save these people. By stopping the mass consumption of drugs, by ending the corruption on our side of the border that lets drugs in and send guns and cash back, and by granting asylum to those whose lives are in danger, we can pluck the beam from our own eye to better see the splinter in Mexico's.
---
Copyright 2016 - Distributed by THE CALIFORNIA NETWORK
Pope Francis Prayer Intentions for May 2016
Universal:
Respect for Women: That in every country of the world, women may be honored and respected and that their essential contribution to society may be highly esteemed.
Evangelization:
Holy Rosary: That families, communities, and groups may pray the Holy Rosary for evangelization and peace.

By Abigail James (CALIFORNIA NETWORK)
Images of a Virgin Mary statue with a single red 'tear' streaming down her face has spread rampant through social media prompting hundreds of pilgrims to visit the statue in Columbia. LOS ANGELES, CA (Catholic Online) - The statue located in Floridablanca, Columbia is ... continue reading
---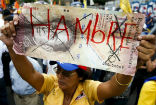 By Marshall Connolly (CALIFORNIA NETWORK)
The world is hardly paying attention, but the nation of Venezuela is in full-collapse. Its economy has imploded, and its politics are in turmoil. The nation is beset with shortages of critical goods, and the beer supply has run out. Soldiers patrol the streets, tasked ... continue reading
---

By Kenya Sinclair (CALIFORNIA NETWORK)
In a shocking move, Olympic organizers have decided to distribute 450,000 condoms to athletes participating in the Rio de Janeiro Olympics this year. LOS ANGELES, CA (Catholic Online) - Under the ruse of "equality," the International Olympic Committee (IOC) has decided ... continue reading
---

By Walter SŠnchez Silva (CNA)
In what's been labeled an "absurd" move, a judge in Colombia has banned prayer and "fraternal hugs" at the start of Cartagena city council sessions as well as local educational institutions. Cartagena, Colombia (CNA) - The ban on civic prayer - as well as the baffling ... continue reading
---

By Marshall Connolly (CALIFORNIA NETWORK)
The story of a teen who found a lost Maya city may not be so remarkable after all, as experts studying the claim find that it doesn't hold up under scrutiny. While the teen certainly had good intentions, his lost city may be nothing more than fallow fields. LOS ... continue reading
---

By Kenya Sinclair (CALIFORNIA NETWORK)
Notorious drug lord Joaquín "El Chapo" Guzmán has been transferred from Altiplano, a maximum-security prison in Central Mexico, to a prison in Ciudad Juarez. LOS ANGELES, CA (Catholic Online) - According to CNN, a senior Mexican law enforcement source stated, "Due to ... continue reading
---

By Abigail James (CALIFORNIA NETWORK)
Cinco de Mayo is upon us, and while many believe it is Mexico's Independence Day, it actually is not. So, what is Cinco de Mayo and why has it become so biculturally popular? LOS ANGELES, CA (California Network) - "The significance of Cinco de Mayo is that it ... continue reading
---

By Kenya Sinclair (CALIFORNIA NETWORK)
A 7.8 magnitude earthquake devastated sections of Ecuador and left the death count at over 300 people. Over 2,000 destroyed buildings and ruined roads have been reported - and now survivors are sharing their harrowing experiences. LOS ANGELES, CA (Catholic Online) - As ... continue reading
---

By Kenya Sinclair (CALIFORNIA NETWORK)
After serving her country for eight years, former Argentina President Cristina Fern√°ndez de Kirchner has been accused of laundering hundreds of millions of dollars into oversea accounts. LOS ANGELES, CA (Catholic Online) - Former president Fern√°ndez de Kirchner has ... continue reading
---

By Kenya Sinclair (CALIFORNIA NETWORK)
Uruguay is considered a secular country and is known for its refusal to condone religious beliefs of any kind - yet there exists a debate concerning the erection of a Virgin Mary statue. LOS ANGELES, CA (Catholic Online) - Many in Uruguay stand on the country's ... continue reading
---
All Americas News