By Catholic Online (NEWS CONSORTIUM)
6/18/2013 (2 years ago)
Catholic Online (www.catholic.org)
Massive protests are taking place just prior to the visit of Pope Francis.
Demonstrations have erupted across Brazil, and curiously, they have gone largely unreported across the media. On Monday, an estimated 100,000 people took to the streets to protest the government, poor quality services, corruption, taxes, and police brutality.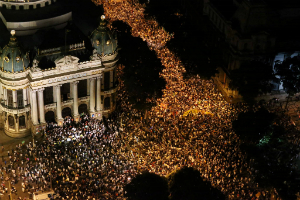 Protestors converged on the Congressional building to oppose taxes, poor services, corruption, and police tactics.
SAO PAULO, BRAZIL (Catholic Online) - Brazil is one of the world largest countries and will soon be the host of the World Cup, the Pope, and in three years, the Olympics. However, for now the country is beset by the greatest civil unrest since the 1980s, giving some security officials pause.

Protesters have gathered to oppose a number of issues, including government corruption, taxes, poor quality services, and now police brutality. Protesters said they originally gathered to protest a ten-cent hike in mass transit fares, however since last week the movement has grown dramatically.

More than 100,000 people took to the streets on Monday after reports of police brutality against protesters went viral.

Last week, police fired tear gas and rubber bullets into a largely peaceful demonstration of less than 5,000 people. Police were also filmed attacking reporters on at least one occasion, even allegedly beating one of them. Several films show protesters standing peacefully as police deployed aggressive tactics to disperse them. In another video, shot from the seventh floor of a building, police were filmed shooting tear gas at the camera despite its height.

Sao Paulo is the financial capital of the nation and has witnessed the largest demonstrations. In the capital of Brasilia, protesters marched on Congress and while some windows in the government building were broken the protest remained peaceful. Police did not use force on that occasion, possibly because they were concerned about world scrutiny.

Almost as amazing as the protests themselves has been their abject lack of coverage in world media. The protests in Turkey, which were finally cleared out last week, have received more notice. The protests in Brazil have gone largely unmentioned.

Yet the protests there are some of the largest since the end of that country's dictatorship in 1985.

World attention is coming regardless. The Confederations Cup is being hosted in the country, and next month Pope Francis is slated to visit. Next year, the World Cup will be hosted in Brazil and the Olympics come to Rio De Janeiro in 2016.

However, if security cannot be maintained, then these events may have to be postponed, rescheduled,  cancelled, or even located elsewhere.

So far, the protests have been peaceful with the bulk of violence coming from aggressive policing.

If the government is capable of adopting reforms that will appease the people, then all can proceed as planned. If not, then who knows what's next for South America's largest and most influential country.

Meanwhile, the question stands: where is the news coverage?


---
Copyright 2015 - Distributed by THE CALIFORNIA NETWORK
Pope Francis Prayer Intentions for April 2016
Universal:
Small Farmers: That small farmers may receive a just reward for their precious labor.
Evangelization:
African Christians: That Christians in Africa may give witness to love and faith in Jesus Christ amid political-religious conflicts.
---
---
---

By Kenya Sinclair (CALIFORNIA NETWORK)
A 7.8 magnitude earthquake devastated sections of Ecuador and left the death count at over 300 people. Over 2,000 destroyed buildings and ruined roads have been reported - and now survivors are sharing their harrowing experiences. LOS ANGELES, CA (Catholic Online) - As ... continue reading
---

By Kenya Sinclair (CALIFORNIA NETWORK)
After serving her country for eight years, former Argentina President Cristina Fernández de Kirchner has been accused of laundering hundreds of millions of dollars into oversea accounts. LOS ANGELES, CA (Catholic Online) - Former president Fernández de Kirchner has ... continue reading
---

By Kenya Sinclair (CALIFORNIA NETWORK)
Uruguay is considered a secular country and is known for its refusal to condone religious beliefs of any kind - yet there exists a debate concerning the erection of a Virgin Mary statue. LOS ANGELES, CA (Catholic Online) - Many in Uruguay stand on the country's ... continue reading
---

By Kenya Sinclair (CALIFORNIA NETWORK)
Sarah Parcak and her team set off on a journey to North America, where they expected to uncover Viking relics beneath over 1,000 years' of soil. LOS ANGELES, CA (Catholic Online) - Parcak used satellite images to search Northern America for irregularities in soil, each ... continue reading
---

By David Drudge (CALIFORNIA NETWORK)
Cuban state media has criticized Obama, calling him a "negro" and accusing him of attempting to incite rebellion and disorder in the communist state. LOS ANGELES, CA (California Network) - The Cuban paper, Havana Tribune, has published a scathing article criticizing ... continue reading
---

By David Drudge (CALIFORNIA NETWORK)
President Obama has made a downright dumb and embarrassing statement to Argentine youth during his visit to that country last week. The President claimed there was no difference between communism and capitalism. LOS ANGELES, CA (California Network) - In a bizarre ... continue reading
---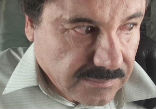 By Marshall Connolly (CALIFORNIA NETWORK)
Mexican drug lord, "El Chapo" visited the USA twice following his escape from a Mexican prison last July. According to his daughter, Rosa Guzman Ortiz, the cartel leader used the opportunity to visit family members living in the United States. LOS ANGELES, CA ... continue reading
---

By Kenya Sinclair (CALIFORNIA NETWORK)
While the United States fights to keep migrants from entering its borders illegally, the Obama administration has pledged $1 million to provide Cubans trapped in Costa Rica with water, food, sanitation kits and temporary housing. LOS ANGELES, CA (Catholic Online) - One ... continue reading
---

By Abigail James (CALIFORNIA NETWORK)
A 15-year-old Honduran girl is being referred to as "possessed by the Devil" by her family and friends after she threatened to kill her mother and suffered from severely violent convulsions in church. LOS ANGELES, CA (Catholic Online) - The unnamed girl was filmed on ... continue reading
---

By Catholic Online (CALIFORNIA NETWORK)
United States President Barack Obama will visit the Caribbean nation of Cuba as early as next month. This follows declarations of closer diplomatic ties between the U.S. and Cuba announced in December of 2014. In doing so, Obama will become the first U.S. ... continue reading
---
All Americas News