1,000 CHURCHES DESTROYED! Fear of more Muslim attacks on Christianity escalate during Nigerian election
---
The upcoming presidential election in Nigeria brings fear of postelection violence.
Muslim persecution of Christians is unfortunately not something new for those in Nigeria, a population made up of half Muslim and half Christian people. Their upcoming presidential election awakens more fear in Nigerian Christians; the outcome of the election can put them in danger of more Muslim attacks.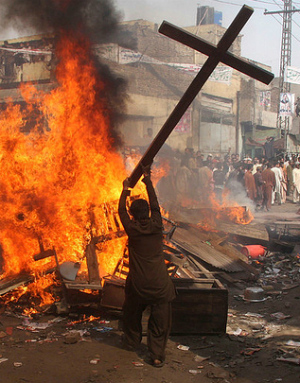 Christians often have to face brutal violence from Muslims, just because they're Christians.
LOS ANGELES, CA (Catholic Online) - Muslim-on-Muslim attacks, like Boko Haram's brutal kidnapping of 230 Nigerian schoolgirls, are broadcasted throughout the mainstream media and receive a lot of coverage. However, attacks on Christians are rarely covered, even though they are common and happen "all around the Islamic world," according to Raymond Ibrahim, author of the monthly report "Muslim Persecution of Christians."
"[I] once thought [I] wouldn't be able to continue the 'Muslim Persecution of Christians' report because surely, a month will come when there would be only one or two stories to write about," explained Ibrahim to Washington Times. "But lo and behold, every month that's gone by has produced even more atrocities, making the report much longer."
Help save Christians from genocide!
From August 2014 to October 2014, Boko Haram and other radical Islamists obliterated 200 Christian churches as they destroyed towns and villages in northeastern Nigeria, according to Ibrahim.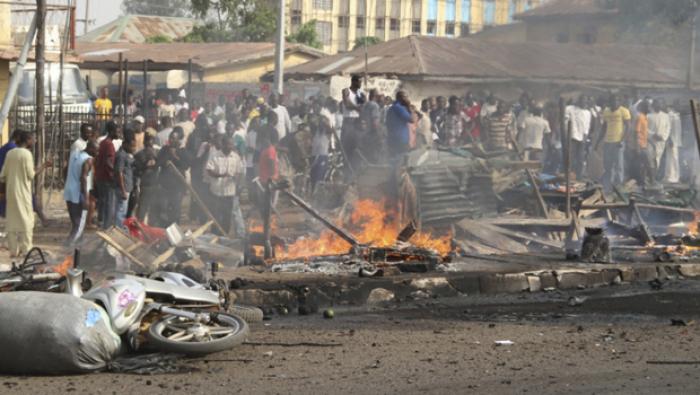 Churches are burned down in Nigeria while Christians are congregating inside.
Over the last four years, 1,000 churches have been destroyed.
According to Ibrahim, "Muslim attacks on Christians are not isolated incidents" over geography or some other local complaint but they are "attacks of Christianity itself."
"A primary target for Muslim violence is a Christian church, which may be firebombed or destroyed while people are congregating inside for worship services," Ibrahim said. "The sheer volume of the attacks on Christians in Nigeria makes it one of the worst places for them."
Nigerians are due to vote for a new president in February; among the several cadidates is Christian incumbent Goodluck Jonathan and Muslim challenger Mohammadu Buhari.
Jonathan's win over Buhari in 2011 started a series of massive sectarian violence; "More than 700 churches were burned, hundreds of Christians were targeted and killed, and thousands of Christian businesses and homes were torched," stated Washington Times.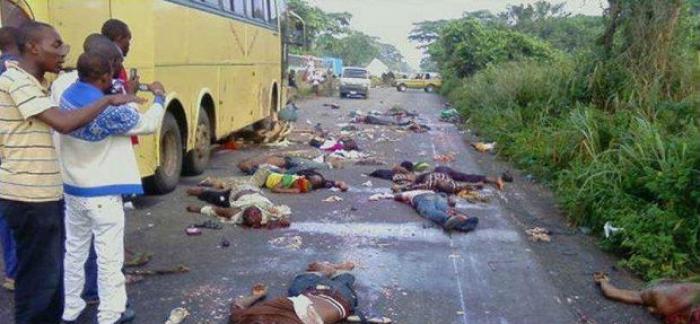 After a Christian president was elected in 2011, Muslims slaughtered thousands of Christians.
As Boko Haram's reign of terror increased largely in recent months, the fear of another election result massacre is prominent in northern Nigeria.
Take care of your health with out Health Month Collection--
Both Jonathan and Buhari are to urge their supporters to refrain from any postelection violence.
"A peaceful and smooth transition is equally essential, so that whoever is elected can quickly turn his focus to confronting and defeating Boko Haram," Ambassador Robert P. Jackson, acting assistant secretary of state for African affairs, told the House hearing. "We are appalled by the accelerated pace and brutality of Boko Haram's attacks. This unchecked killing must stop."
---
Copyright 2018 - Distributed by THE CALIFORNIA NETWORK
Pope Francis Prayer Intentions for July 2018
Priests and their Pastoral Ministry.
That priests, who experience fatigue and loneliness in their pastoral work, may find help and comfort in their intimacy with the Lord and in their friendship with their brother priests.
---
---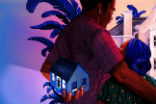 Polygamy has long been practiced in Zimbabwe's rural areas, but it's becoming more common in urban areas, too. In this story, women and men ... continue reading
---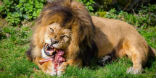 Lions have killed and devoured three poachers in the Sibuya Game Reserve in South Africa. The poachers were believed to be in search ... continue reading
---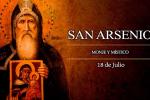 Des champs de mais emplissent une large vallee dans la grande partie de l' ouest de ce pays riche en terres agricoles fertiles. Des bords ... continue reading
---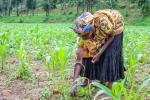 There's a wide valley filled with maize fields in the western swath of this agriculturally fertile country. Water-filled ditches run along ... continue reading
---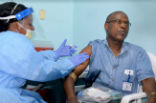 The World Health Organization is on alert following the outbreak of Ebola from a village in the Democratic Republic of Congo. The disease ... continue reading
---