By Catholic Online (NEWS CONSORTIUM)
9/27/2013 (2 years ago)
Catholic Online (www.catholic.org)
Organizations would exploit victims even further
In Tanzania, a crisis is coming to world attention as schools rigidly expel pregnant teens from the educational system. These teens subsequently face forced marriages, poverty and homelessness. With the situation ripe, abortion advocates are moving in for the kill.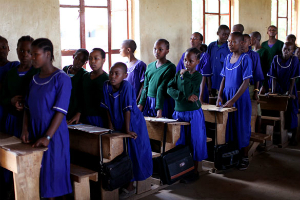 These girls are currently subject to rape, and institutionalized molestation. Allowing abortionists to touch them would add, not diminish the culture of exploitation.
DODOMA, TANZANIA  (Catholic Online) - In Tanzania girls who become pregnant are expelled from school. In a country where teenage sexual activity is common, this policy is creating a generation of young women who not only lack education but have children to support.

According to national statistics, 44 percent of Tanzanian girls become pregnant by age 19. Many of these pregnancies occur before they have finished school. This is an issue because official policy is that pregnant girls must be expelled.

The Center for Reproductive Rights (CRR), an anti-life, abortion advocacy group, reports that over 55,000 schoolgirls have been expelled over the last decade for becoming pregnant.

Expulsion can result in poverty, because, without an education, most girls end up on the streets, or working in low-wage jobs with children to support.

Complicating the matter is that sexual violence is rampant in the country. About one third of all girls say they are victims of unwanted sexual contact by the age of 18. Some of that contact occurs at schools. Teachers have been found exchanging sex for grades or using other means to coerce girls into sex. Forty percent of the victims of sexual violence say they were assaulted at school, or while on their way to or from school.

Within the schools, methods for detecting pregnancy equate to molestation. To avoid the higher cost of using urine samples to test for pregnancy, girls are subjected to monthly rituals where they must remove their tops and can have their bare breasts pinched, their bellies poked and prodded. These monthly examinations can occur at random, but not less than monthly, which terrorizes the girls.

Doctors and international experts say that neither of these methods are effective in detecting pregnancy in the first trimester and are harmful.

In short, thousands of teenage girls are being subjected to institutionalized molestation, coerced sexual exploitation, and sometimes rape. Although consensual activity is also common, the consequences for sexual activity outside of marriage is resulting in social problems which are multiplying. 

Now enter the anti-life, abortion advocates, such as the CRR, who say that the only way to solve the problem is to provide drugs, including abortifacients, to girls as well - as to offer surgical abortions. Their "magic bullet" solution is supposed to save girls from facing a life of poverty and exploitation.

Yet the reality is that these "advocates" are actually advocating for a procedure which often takes the life of children in the womb. Every procured abortion takes innocent human life, chemical or surgical. In addition, the young women become the second victim and not beneficiaries at all.
 
In effect, what these groups are advocating for is further exploitation of these young women in a crisis situation. When abortifacient drugs are administered or procured surgical abortions provided, it also entails the taking of innocent human life in the womb. 

When these "services" are offered, they have the additional effect of perpetuating a climate of coercion. Young girls are forced to expose themselves to abortionists and then undergo invasive procedures that not only kill the unborn children they carry but often endanger the mothers physically and emotionally.

Such 'choices' are not genuine choices at all, meaning decisions made with clarity of conscience and free of coercion. They literally ensnare and enslave the girls they purport to protect.

Girls are forced to "choose" between routine chemical molestation by drug manufacturers and exploitations by abortion. Nor do these 'solutions' stop sexual exploitation and molestation in schools or in communities. On the contrary, immoral teachers and other predators can often increase their exploitation, thinking they can act with greater impunity since pregnancy would be prevented or aborted.

Evil is never the solution to evil. Yet, that's the offer being pitched by various organizations such as the Center for Reproductive Rights. The organization is doing all it can to expose some of the horrors young women face in Tanzania. Their reports are praiseworthy in so far as they shed light on a great evil, but their solution is wholly wrong. 

The correct solution is compassion, care, education and, when a pregnancy is involved, assistance in caring for the child and his or her mother. Policymakers must find non-punitive ways to deal with pregnant teenagers who sometimes become pregnant by force. They must hunt down and punish those who exploit these teens, especially teachers who have sex with students as well as other rapists and predators.

The process of ritualized molestation of girls by teachers and other school officials must be ended.

Boys and girls both should be taught from a young age the value of abstinence, the importance of refraining from sexual activity until marriage, and the dignity and sanctity of all human life.

Such change is truly empowering, allowing girls and women to make genuine coercion-free choices about their sexual activity and health. Instead of promoting dependence on chemicals, procedures, and stigmatic cultural practices which purport to detect pregnancy, the Tanzanian government and rights advocates must demand this kind of truly humane reform.

But make no mistake. Allowing contraception merchants abortion advocates into the country to push their "services" will bury women, girls, and unborn children under an even greater heap of evil. Anyone who genuinely cares about women and women's rights should be justifiably outraged.

Click here to learn about our Saint Michael the Archangel conference this Nov 1-3!


---
Copyright 2015 - Distributed by THE CALIFORNIA NETWORK
Pope Francis Prayer Intentions for April 2016
Universal:
Small Farmers: That small farmers may receive a just reward for their precious labor.
Evangelization:
African Christians: That Christians in Africa may give witness to love and faith in Jesus Christ amid political-religious conflicts.
---
---
---

By Loredana Vuoto (CNA/EWTN News)
Two years ago, radical Islamists with the militant group Boko Haram stormed a school in Chibok, Nigeria, kidnapping 276 teen girls. The event initially sparked global outrage, with high-profile personalities taking pictures on Facebook and Twitter with the hashtag, ... continue reading
---

By Kenya Sinclair (CALIFORNIA NETWORK)
Boko Haram has reportedly initiated a child training camp to prepare kids as young as eight-years-old to kill as many innocents as possible - including themselves. LOS ANGELES, CA (Catholic Online) - Humanitarian group UNICEF recently reported an increase in children ... continue reading
---

By Kenya Sinclair (CALIFORNIA NETWORK)
When Boko Haram abducted over 200 school girls at gunpoint from a government school in Chibok, Nigeria, they made headlines across the globe. Since their abduction, there has been next to no word of their fate - until now. LOS ANGELES, CA (Catholic Online) - Boko Haram ... continue reading
---

By Kenya Sinclair (CALIFORNIA NETWORK)
Women and girls are kidnapped by Boko Haram militants every day - then are forced to marry the terrorists. They are then raped by numerous men each day. After a time of slowly dying from starvation, the weary girls plead to be suicide bombers to escape the agonizingly ... continue reading
---

By Kenya Sinclair (CALIFORNIA NETWORK)
Two women, 15-year-old Halima and 25-year-old Hamsatu, speak of their captivity and forced marriages to Boko Haram men. LOS ANGELES, CA (Catholic Online) - The women and girls used as sex slaves were as young as only 8-years-old and were forced to live in small ... continue reading
---

By Kenya Sinclair (CALIFORNIA NETWORK)
A new image from European Space Agency's (ESA) Sentinel-3A satellite reveals a blood-red River Nile, reminiscent of the Biblical plague of Moses' time. LOS ANGELES, CA (Catholic Online) - According to Exodus 7:20, "Moses and Aaron did as the Lord ordered. He raised his ... continue reading
---

By Monique Crawford (CALIFORNIA NETWORK)
On March 15, the Nigerian Senate voted against a bill that would have made violence against women and girls a criminal act - for the third time. LOS ANGELES, CA (Catholic Online) - The Gender Parity and Prohibition of Violence Against Women bill was thrown out ... continue reading
---

By Marshall Connolly (CALIFORNIA NETWORK)
In 1922, Howard Carter discovered the tomb of the young Egyptian King Tutankhamen. The discovery turned out to be the find of the century as it was the most intact tomb of a pharaoh ever discovered. Now, new research suggests the site could hold a whole new host of ... continue reading
---

By David Drudge (CALIFORNIA NETWORK)
Al Qaeda terrorists have slaughtered Christians in their latest attack in the Ivory Coast, killing 16 people, mostly vacationers, at a tranquil African resort. One child was spared only because he was able to recite an Islamic prayer. LOS ANGELES, CA (California ... continue reading
---

By David Drudge (CALIFORNIA NETWORK)
The U.S. military is ready to strike ISIS in Libya, very hard. According to Pentagon insiders, the military has prepared detailed plans for President Obama to bomb between 30 and 40 targets in Libya on his orders. LOS ANGELES, CA (California Network) - Allied forces ... continue reading
---
All Africa News