Six great meatless soup recipes for Lent
---
CATHOLIC ONLINE - Lent is upon us already... but are you ready for the days of fast and abstinence? Here are six wonderful recipes for meatless soups ranging from the exotic to the simple. Tested by time and appetite, these make delicious Lenten Friday entrees or side dishes any time of the year.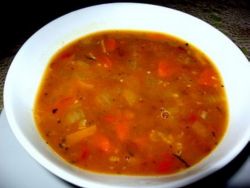 LENTEN CUISINE - My Big Fat Greek Lentil Soup makes a wonderful dish for Fridays in Lent or any time of the year.
Morocco's Best Lentil Soup
Like spicy? Want protein and fiber but no cholesterol? This sumptuous soup is just right for you. Requiring less than a half-hour to prepare and two hours to cook, this recipe is a smorgasbord of flavors that is sure to satisfy... You might even feel guilty that it doesn't seem sacrificial enough! And it's authentic... just ask any Morrocan-American!

INGREDIENTS:
2 onions, chopped
2 cloves garlic, minced
1 teaspoon grated fresh ginger
6 cups water
1 cup red lentils
1 (15 ounce) can garbanzo
beans, drained
1 (19 ounce) can cannellini
beans
1 (14.5 ounce) can diced tomatoes
1/2 cup diced carrots
1/2 cup chopped celery
1 teaspoon garam masala
1 1/2 teaspoons ground
cardamom
1/2 teaspoon ground cayenne
pepper
1/2 teaspoon ground cumin
1 tablespoon olive oil
DIRECTIONS:
1) In large pot, saute the onions, garlic, and ginger in a little olive oil for about 5 minutes.
2) Add water, lentils, chick peas, white kidney beans, diced tomatoes, carrots, celery, garam masala, cardamom, cayenne pepper and cumin. Bring to a boil for a few minutes then simmer for 1 to 1 1/2 hours or longer, until the lentils are soft.
3) Puree half the soup in a food processor or blender. Return the pureed soup to the pot, stir and enjoy. Yield of six servings.
Spicy Indian Cauliflower Soup
Another good and flavor-filled choice! Who knew that cauliflower could taste so good? Goes well with a good Bollywood film.... We recommend "Bride and Prejudice," or "Kethaa Hai Dil Baar Baar," an Indian musical version of "Meet the Parents"!
INGREDIENTS:
1 large potato, chopped into cubes
1 small cauliflower, chopped
1 onion, chopped
3 T water
1 T sunflower oil
1 garlic clove
1 T fresh ginger grated
2 tsp ground tumeric
1 tsp cumin seeds
1 tsp black mustard seeds
2 tsp ground coriander
4 cups vegetable stock
1 Ľ cup natural yogurt
salt and ground black pepper
fresh coriander or parsley, to garnish
DIRECTIONS:
1) Put the potato, cauliflower and onion into a large pot with the oil and 3 T of water.
2) Heat until hot and bubbling, then cover and turn the heat down.
3) Continue cooking the mixture for about 10 minutes.
Add the garlic, ginger, and spices.
4) Stir well and cook for another 2 minutes, stirring occasionally. Pour in the stock and season well.
5) Bring to a boil, then cover and simmer for about 20 minutes.
6) Stir in the yogurt, season well and garnish with coriander or parsley. Yield of six servings.
Bean Soup Escarole
Don't compare this to any canned bean soup! You will find that this recipe takes a cross-section of common kitchen spices and flavors to make a distinctive-tasting and hearty soup. Imagine yourself enjoying this at a sidewalk cafe in Paris or Milan.... a real treat!
INGREDIENTS:
1 lb. bean soup mix
1 tbs. olive oil
1 large onion roughly chopped
3 large cloves garlic, minced
2 small bunch escarole
2 quarts vegetable stock
1 tsp. each of such favorite herbs as thyme, rosemary, tarragon, oregano and basil
1 tbs. balsamic vinegar
salt and pepper to taste
DIRECTIONS:
1) Prepare the beans according to package directions by soaking them in water overnight or simmering them in water for an hour. Drain the water, but reserve two cups of it. Set beans aside.
2) In a large skillet, saute the chopped onions in the oil until the onions are soft and translucent.
3) Add the garlic, escarole and all of the herbs and heat through for about five minutes.
4) Add vinegar and stir, then add beans, cooking water and stock and simmer for about 90 minutes or until the beans are tender. Yield of six servings.
Pizzeria Soup
Mama mia! They can't make a soup-flavored pizza.... but here's a pizza-flavored soup! Those kids and teens in the family who turn up their nose at most soups will find a winner in this recipe. Make 'em take off their iPod earjacks and concentrate on the luscious flavors in this delectable offering!
INGREDIENTS:
1 Tb. olive or vegetable oil
1 medium onion, sliced
1 large green bell pepper, cut into 1-inch pieces
1 large red bell pepper, cut into 1-inch pieces
2 cloves garlic, finely chopped
2 cups water
2 cans (14˝ oz. each) diced tomatoes in olive oil, garlic and spices, undrained
1 can (6 oz.) tomato paste
1 cup sliced mushrooms (3 oz)
1˝ ts. Italian seasoning
1 can (15 to 16 oz) kidney beans, rinsed and drained
1 can (15 to 16 oz) white beans, rinsed and drained
DIRECTIONS:
1) Heat oil in pan over medium heat. Cook onion, bell peppers and garlic in oil, stirring occasionally, until onion is tender.
2) Stir in water, tomatoes, and tomato paste until blended. Stir in remaining ingredients except bread and cheese.
3) Heat to boiling; reduce heat. Cover and simmer 10 minutes, stirring occasionally. Serve. Yield of six servings.
My Big Fat Greek Lentil Soup
Back to lentils, this time Greek-style. These smooth, delicate flavors will tickle your tonsils with pleasure. This could well be what Aristotle Onassis used to enjoy on his yacht!
INGREDIENTS:
2 cups of small, brown lentil, rinsed
1/2 cup of olive oil
2 medium onions, diced
1 large carrot, peeled, halved and cut into 1/2 inch pieces
1 red pepper, seeded and diced
3 bay leaves
3/4 cup of pommodoro sauce (passata)
1 Tbsp. smoked paprika
8 cups of water
3 cloves of garlic, smashed + 5 cloves of garlic, minced for the end
2 Tbsp. dried oregano
salt to taste
DIRECTIONS:
1) Into a large pressure cooker, add your lentils, olive oil, onions, carrot, pepper, tomatoes, paprika, bay leaves, smashed garlic and water.
2) Close the lid; bring to a whistling boil on high heat.
3) As soon as your pressure cooker is whistling, turn the heat down to medium and simmer for 45 minutes.
4) Take off the heat, release the pressure from your pressure cooker and safely open the lid.
5) Add your 5 cloves of minced garlic, your oregano and adjust seasoning with salt or Vegeta seasoning.
6) Serve with good bread, black olives and pickled sweet peppers. Yield of six servings.
N'awlins Creole Fish Soup
Katrina may have temporarily wiped out the city, but this New Orleans recipe survived unscathed. Let the distinctive Creole flavorings bathe your tongue as you consume this marvelous meal. Creole cuisine is generally not hot-spicy on its own, but the cayenne pepper cranks this up a notch. If you can't find red snapper at your local store or deli, feel free to substitute tilapia, perch or even catfish. This is a recipe you can literally "throw together" and cook.
INGREDIENTS:
1 lb Red snapper,boned/shredded
1 cup Minced onion
1 cup Cooked strained tomatoes
1 Bay leaf
Cayenne pepper to taste
2 tb Lemon juice
1 lb Shelled shrimp,diced
1 cup Diced potatoes
1 tb Butter or margarine
Salt to taste
6 cups water
DIRECTIONS:
1) Combine all ingredients except lemon juice in large saucepan.
2) Simmer 40 minutes, or until vegetables are tender.
3) Add lemon juice; stir and serve. Yield of six servings.
---
Copyright 2019 - Distributed by THE CALIFORNIA NETWORK
---
---