Little Miracle: Young boy dubbed 'super-human' after receiving life-saving operation
---
Seven-year-old boy receives major transplant surgery
A young mother's world fell completely apart when her six-week-old baby boy started vomiting bile and suddenly became lifeless.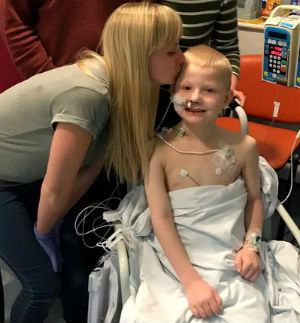 Jay Crouch has been fighting to survive his entire life. [Photo by: NHS Birmingham / SWNS.com]
LOS ANGELES, CA (Catholic Online) - After being rushed to the hospital, Katie Freestone was informed her baby, Jay Crouch, was dying. 
Doctors tested for meningitis but didn't do tests for any bowel problems. According to Freestone, after a few hours of tests, Jay experienced cardiac arrest. The infant fought for his life, and after a few hours, he was finally stabilized enough to be transferred to the Leicester Royal Infirmary.
"They still didn't know what was wrong with him, so they did some exploratory surgery and discovered the small intestine had died," expressed Freestone to the Daily Mirror. 
Since his digestive system was no longer working properly and he was unable to eat or drink, Baby Jay was placed on parenteral nutrition where he was fed directly into his veins. The PN feeding led to further complications. He had progressive kidney failure and his liver was destroyed. 
According to his mother, in the summer of 2016, Jay was able to be put on a transplant list. After 15 long months, they got the good news. 
"You can't express your gratitude enough towards them. There are not enough words. Without the organs, Jay would not have survived. Saying thank you really doesn't cover it. We don't know much about the donor at all. All we know is it was a child smaller than Jay."
Freestone went on to explain she would love to meet the donor's parents to let them know their child saved a life, but for now, she will let them grieve the loss of their own child. Something that was so real to her just months earlier. 
Jay received two kidneys, a liver, a pancreas and a small intestine. These five organs were removed in what is called "one block." Which means there were only six connections needing to be attached to Jay's arteries during his 10-hour operation.
He became one of the youngest patients ever to receive this "incredibly rare" procedure. The surgeons at Birmingham Children's Hospital expressed it had been at least 20 years since a transplant like Jay's was carried out. 
Doctors told Freestone Jay would be in for a long and gruelling recovery, but after just one month he was discharged from the hospital. For the next six months, Jay must stay home to recover and minimise any risk of infection. 
"He's off [school] for six months because he's immunosuppressed," said his mother. "We are in isolation to make sure he doesn't pick up anything."
The little miracle is now learning how to eat and swallow on his own.
---
Copyright 2018 - Distributed by THE CALIFORNIA NETWORK
Pope Francis Prayer Intentions for July 2018
Priests and their Pastoral Ministry.
That priests, who experience fatigue and loneliness in their pastoral work, may find help and comfort in their intimacy with the Lord and in their friendship with their brother priests.
---
---