'Boy without brain' born to parents who refused to give up
---
'We were offered termination five times.'
Shelly and Rob Wall went to an ultrasound appointment to hear their unborn child's heart beat; what they got instead was devastating news and doctors encouraging them to abort their precious baby.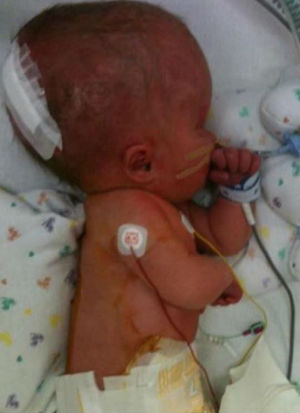 Noah's parents refused to deny him a chance at life (Noah Wall Model/Facebook).
LOS ANGELES, CA (Catholic Online) - According to Life Site, at three-months pregnant, Shelly and Rob learned their son was diagnosed with severe spina bifida, chromosome abnormalities and hydrocephalus, also called "water on the brain."
Noah only had two percent of his brain tissue and doctors believed he would die at or before birth.
The Walls refused to take advice from any of the several doctors who pressured them to abort their son.
In a documentary called "The Boy Without a Brain," Rob Wall explained: "We were offered termination five times. It was never an option for us. To me, we wanted to give Noah that change of life."
Hugs for Noah reported his doctors were so certain Noah would die at or before birth that the couple planned a funeral for their son before he was born.
When Shelly went into labor, they were prepared for the worst but on that day, March 6, 2012, Noah was born breathing and crying.
He was delivered via C-section and he shocked everyone in the room.
"The first thing we heard when he was born was him taking a breath and then crying, which was unbelievable," Shelly said.
Noah was paralyzed from the waist down and was born with a large hold in his back. He received surgery for his back and had a drain placed in his head to clear the cerbrospinal fluid pressing against his brain.
The tiny baby was sent home and returned to the hospital several times due to medical complications.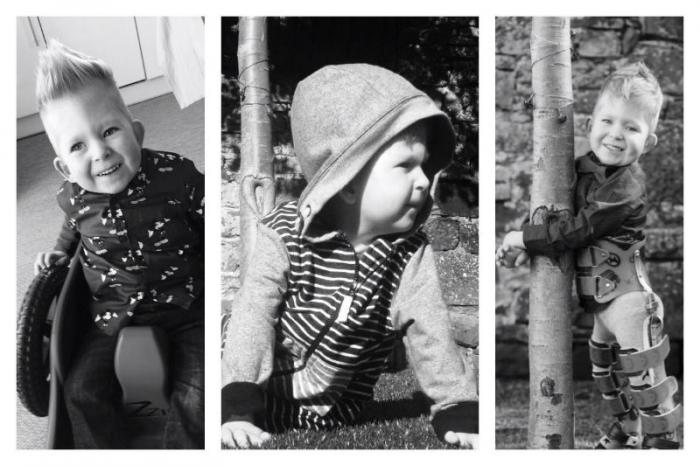 Noah has prospered and is even modeling (Noah Wall Model/Facebook).
Today, Noah is a 4-year-old model with his own
Facebook
page.
His brain grew to 80 percent and he sings,talks and smiles as he gets around with a wheelchair and leg braces.
"...to hear his brain's almost back to normal is beyond belief," Shelley said. "Rob and I broke down when we heard the news. It was like a dream. I've never known anything like it.
"Even the consultants were in tears. Every time we see the doctors, they just shake their head. They're just amazed at what he can do."
In fact, Noah's progress is so unbelievable doctors are using his brain scans to help develop a treatment for spina bifida.
The Walls help raise awareness of spina bifida and have donated two wheelchairs to Great North Children's Hospital in Newcastle.
Doctors believe Noah's progress is a miracle. His brain is almost fully-functional and there remains hope for more brain matter growth and functionality.
Had his loving parents given in to the pressure from doctors, the world would never have been blessed with Noah's presence - and medical techniques may have remained unknown.
Abortion may be the easier decision but true love gives life a change, as proven by the Walls, who now get to enjoy life with a son who might otherwise have never been.
---
Copyright 2018 - Distributed by THE CALIFORNIA NETWORK
Pope Francis Prayer Intentions for July 2018
Priests and their Pastoral Ministry.
That priests, who experience fatigue and loneliness in their pastoral work, may find help and comfort in their intimacy with the Lord and in their friendship with their brother priests.
---
---