Michael Proposed With A Video
---
Laura was tired of the dating scene or at the very least the relationship scene. By the time the 24-year-old from Maryland got to CatholicMatch, all she wanted was to go on some dates with nice guys, but to keep it casual, just have dinner, and maybe hear that she was pretty, without worrying about whether this was the one.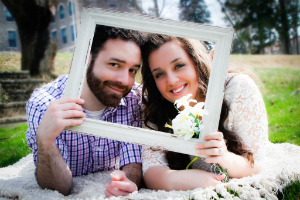 Michael and Laura.
Michael was five years older, living a little bit up the East Coast in New Jersey. He joined CatholicMatch because he wanted a solid Catholic woman to spend the rest of his life with. He and Laura would each find what they were looking for.
When Michael looked at Laura's profile, he liked her sense of humor. Laura enjoys re-enacting Saturday Night Live skits and comedy films, and she appreciated that Michael got her jokes. When she clicked on his profile in return, she was no less impressed.

Meet your CatholicMatch today - sign up for a FREE account!
He loves to travel, Laura said, regarding what jumped out at her regarding Michael. I am the youngest of ten kids and two of my brothers are priests and have been stationed all over the world, so I have traveled since I was very young. It also impressed Laura that Michael was close to his parents and was open to having more than three kids. The idea of going to New Jersey might not have thrilled her, but Michael had her attention.
It was almost a year ago, last June that Michael and Laura went to a movie and then out for dessert. Michael said later that it was love at first sight for him as Laura, adorned in her green dress went sprinting through the rain in her heels into the theatre, he recalled thinking she was more beautiful than her pictures. To paraphrase Gene Kelly, Michael was truly Singin In The Rain.
After a date full of laughter, Michael confidently went to work the next day and told his co-workers I'm gonna marry that girl. It was something he had never thought before with anyone.
There was one problem Laura wasn't at the same place, at least not yet, and she was still thinking about meeting a lot of guys and going on a lot of dates. A few weeks later, Michael ruined Laura's plans by asking her not to see anyone else. She had to make a choice.
In truth, the choice wasn't hard. Not only was Michael a solid Catholic, but he and Laura shared a wide range of interests. She is in a graduate program studying music therapy, and he is an avid music lover that enjoys going to concerts with her. They both love movies, being with their families and spending time at the shore. For Laura, being in a relationship with a man like this was well worth giving up her original dating plans.
It was one special moment, early in their relationship, that convinced Laura she was with the right guy.
When we started dating, I was working at a pediatric hospital, Laura recalled. One of patients died from cancer, a little three-year old girl. I had never lost a patient before, let alone such a young, beautiful child. I played and sang music as her family members were around her saying goodbye. As you can imagine, I was an emotional wreck.
At dinner that night, Michael just held me as I cried, Laura continued. He didn't try to fix the situation, but supported me as I processed. The next morning I got a delivery of flowers at work from Michael telling me how he hoped I was having a better day it doesn't get much better than that.
This past January, Michael and Laura were planning on going to Atlantic City to meet with some friends of his. They were running late and Laura was getting annoyed. Michael told her he had found a video she had asked about from YouTube. I told him I asked for no such video and we should get going, Laura said. Michael had to force me to sit down in front of his TV to watch this video.
The video started with the song Just Say Yes, by the group Snow Patrol. It was a favorite song of Laura, but not many people knew it, so she was surprised it was in the movie. Then the words came across the screen Seven months ago, a Jersey boy met the girl of his dreams. Laura knew instantly what was happening and started to cry. The video included words of Michaels love, a montage of pictures and ended with him pulling out a beautiful diamond ring and asking for her hand in marriage.
Laura said yes, and as she was calling her family and friends with the news, a limo driver arrived to take them on the ride to Atlantic City.
It might have taken Laura longer than Michael to fully realize what they had, but in retrospect, she could see it there from the beginning. I don't rely on him for everything, but I feel able to get through tough situations because of his love she said. I could not imagine anyone else ever making me as happy as he does. He treats me like a princess and has put up with so much from me. I realized I couldn't imagine life without him.
Michael and Laura will be married this coming October.

Meet your CatholicMatch today - sign up for a FREE account!
---
Copyright 2018 - Distributed by THE CALIFORNIA NETWORK
Pope Francis Prayer Intentions for FEBRUARY 2018
Say 'No' to Corruption.
That those who have material, political or spiritual power may resist any lure of corruption.
---
---