How One Couple Met, Fell in Love, and Met the Pope
---
Deanna, 24, and Michael, 28, had never dated before they meet each other on CatholicMatch. Michael had been discerning the priesthood for four years, and it seems God had placed a bubble around lovely Deann a saving her just for Michael.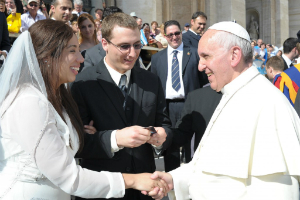 Deanna and Michael with Pope Francis.
They were married on October 5, 2013, in her home parish in Memphis, TN. CatholicMatch talked with Deanna about her initial reservations about joining an online dating site, about her online dating experience, having her marriage blessed by Pope Francis, and more.
Why did you join CatholicMatch?
In 2010, I was 24 and had never dated. This was not by my own choice, and it was frustrating. Sure there had been the creepy guys at gas stations who would occasionally offer their best: Hey baby, whats your name? But no one expressed any serious sort of interest in me. Where were the good Catholic men? Was there something wrong with me? What I didn't realize at the time was that God was writing a better story than I ever could have imagined. And it happened in a way that I least expected it.
"Meet your CatholicMatch today - sign up for a FREE account!"
Online dating was something I said I would never do. Meet someone on the internet? I think I had my hopes set on running into The One at Mass, or my local Starbucks, or whatever the latest romantic comedy portrayed as a great way to meet your spouse. My perception of online dating changed in part because a friend, who I really admired, met her spouse on a Catholic dating site. They weren't weird or crazy. So maybe it wasn't that bad after all, but I still I held out hope that I would meet my husband in a more traditional way.
My decision to join CatholicMatch was a slow one, but I think the ball really got rolling when I attended the 2010 National Catholic Singles Conference in San Antonio. Brian Barcaro gave a talk about online dating and why he started CatholicMatch. Alright, I thought, maybe this wasn't such a crazy idea, but I still needed more time.
A few weeks after the Singles Conference, I finally hit my frustration point. OK, God, if youre not going to send me anyone, Im going to take matters into my own hands! (As if I was the one arranging all of this) So at the beginning of March, I made my account and paid for a two-month membership.
How long were you a member before you met Michael?
I had been a member for about four or five weeks when I first saw Michael's picture. My subscription was running out in a few weeks anyway, so I figured I would cast the net wide one last time before I threw in the towel. Around the middle of April, I saw the New Members feature and there was a picture of a guy with a nice smile holding what looked like a baby leopard (extra points for a unique profile picture!). After glancing through his profile, I decided I would send him a message with a nice smiley face at the end , but I didn't really expect a reply.
Never underestimate the power of a smile!
This would be the first of many messages we would exchange over the next few weeks. By the end of April, we were emailing one another once or twice a day with questions and answers on everything under the sun. By July 2, we officially started dating.
There's no doubt in my mind that Gods hand was part of all of this. His timing is perfect and Michael was definitely worth the wait!
What drew you to Michael?
I think the first thing that caught my attention about Michael, even before we started emailing each other, was his sense of humor. His profile expressed his deep love for chocolate milk and Haribo gummy bears, and the quiz he wrote showed his creative and quirky imagination.
I could also tell that this man really loved Jesus and his Catholic faith. He had spent four years in seminary before discerning that the priesthood was not his vocation, and he was ready to discern the vocation to marriage. I appreciated the fact that he had never been in a relationship either, and that we were essentially stepping into the unknown world of dating and relationships together.
This also meant that Michael and I agreed about the seriousness of dating. This wasn't a game. He wasnt just looking for a fling; we were really discerning marriage. Michael has always kept Christ at the center of our relationship, and that definitely made him a keeper!
Any interesting or funny stories about your online dating experience?
One of the memories that still makes me smile are those initial emails that we exchanged. After sending a few back and forth, Michael thought he would answer my questions in an audio recording, and I recorded my voice to answer his questions. So we sent MP3s back and forth. I think we did this a few times before Michael finally just asked for my phone number.
Our first two and a half years of dating were pretty much long distance, but I think this actually made our relationship stronger because we talked so often, so communication became a key part of our relationship. That's a benefit of online dating really, especially at the beginning of the relationship. You're forced to talk to the other person and the physical doesn't get in the way of getting to know the other person.
I think its really interesting to see how Gods hand has been part of our entire relationship, and everything happened in His perfect timing. A year after we started dating, we enrolled in a Graduate Theology program through Newman University in Wichita, which meant we got to see one another every few months or so for class. God really did make a way for us to continue this courtship despite the distance.
How did Michael propose?
Right after the Easter Vigil Mass on March 30, 2013, Michael and I were taking pictures with a friend of ours who had just joined the Church. A crowd of people were gathering around the altar, and I assumed they were waiting for us to get out of the way so they could take some Easter photos. I nudged Michael that we needed to hurry and take a picture of the two of us.
We posed for the picture, but right before the photo was taken Michael said, Deanna? I turned towards him and said yes? right as he was getting down on one knee. I was shocked and teary eyed, but once Michael asked the question I said, yes! That is when I realized that the people standing around the altar were taking pictures and video of the proposal.
One of the things I love about the pictures from our engagement is that Michael proposed at the foot of the altar, and in the picture you can see the tabernacle right in between us. Our prayer is that the Eucharist always remains at the center of our family.
What was like having your marriage blessed by Pope Francis?
On October 16, my husband and I attended the papal audience in St. Peters Square. We were able to obtain Sposi Novelli (Newlywed) tickets, which meant that we were invited to wear our wedding attire to the audience and sit in a special section that was a little bit closer to the Holy Father.
After the Holy Fathers address, the Vatican security guards instructed us to file out of the section. I assumed that meant everything was over now and it was time to go home. Then we realized they are taking us to Pope Francis! They looked at each couple, making sure the men had their jackets buttoned up appropriately, and that the women had the proper attire. Before we knew it, we were standing at the center of the platform waiting for the Holy Father to come and greet us.
It is hard to put into words the thoughts and emotions we experienced when we saw the Successor of Peter was standing right in front of us.
As the Holy Father shook Michael's hand, I said in Spanish, Holy Father, we are from the United States. We are praying for you. Pope Francis shook my hand, and then Michael handed him a holy card that we had given to our wedding guests, which has a picture of the Divine Mercy. I told the Holy Father, This is a gift from our wedding. We were married on October 5, the feast of St. Faustina. Pope Francis looked at both sides of the card, smiled, and then he made his way to the next couple in line. Michael and I stood there for a moment a bit awestruck at what had just happened.
Theres one thing that struck me more than anything else about our brief moment with the Holy Father: He knows the gift of being present.
When I think about our wedding reception and brief moments I was able to spend personally greeting our guests, I have to admit that I probably was not as focused on each person as I should have been. Sometimes all I could do is blurt out a quick Thanks for coming! Its great to see you! before running back to the floor for another favorite song.
And then I think about our moment with Pope Francis. The Pope had to have greeted hundreds of people before he came to us. He wasn't just shaking hands and kissing babies because of some kind of obligatory Papal Duty. Rather, he greeted each person, and he looked at each one of us like a father lovingly looks at his children. Even though he didn't say a word, he listened to us. He looked at us. He smiled at us. In that moment, he was present to each person, sharing the love and joy of Christ even if it was only with a smile.
Looking back at the pictures that were taken of us with Pope Francis, I still find it hard to believe that we were able to experience something so special. The Holy Father gave us just a few seconds of his time, but he taught us that sharing the joy of our faith can be as simple as being joyful and fully present to each person we encounter. This is one of the best wedding presents we could have ever received.

"Meet your CatholicMatch today - sign up for a FREE account!"
---
Copyright 2018 - Distributed by THE CALIFORNIA NETWORK
Pope Francis Prayer Intentions for FEBRUARY 2018
Say 'No' to Corruption.
That those who have material, political or spiritual power may resist any lure of corruption.
---
---