Woman sends 100 tweets in an hour about her abortion
---
Irish woman electrified her country tweeting about her abortion experience.
An Irish woman, given a special Twitter account for a week, used it to tweet her entire abortion story, in over 100 tweets sent during the course of an hour. The episode has drawn major media attention to the abortion issue in Ireland.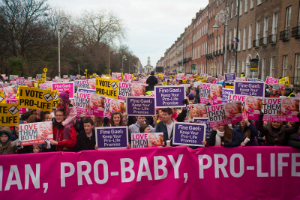 Janet Ni Shuilleabhain had an abortion 20 years ago. Last week, she tweeted about her experience. In the words of one commenter, it read like a Planned Parenthood ad.
LOS ANGELES, CA (Catholic Online) - When Janet Ni Shuilleabhain  was given the @ireland Twitter account for a week, she had no particular plans for what to tweet. Reflecting on a number of messages she had previously received, she finally decided to share the story of an abortion she had performed 20 years ago.
Janet Ni Shuilleabhain is a little infamous in Ireland after traveling to England 20 years ago to get an abortion. Ni Shuilleabhain was 18 at the time and scared. She journeyed with her boyfriend to England to have the abortion performed because at that time, abortion was entirely outlawed in Ireland.
Take pro-life action that's proven to work.
She didn't even tell her parents at the time out of fear and shame.
Last Thursday, now 20 years past, Ni Shuilleabhain made a gut-wrenching decision. She decided to tweet her experience on a special Twitter account followed by about 20,000 people.
The account is a "rotation curation" account which means a different person gets the account for a week and may tweet whatever is of interest to them.
Ni Shuilleabhain decided to tweet her story because she has not been treated kindly after what she did at 18. She tweeted rapidly, telling her entire story in about an hour, using over 100 tweets. Her story was decidedly "pro-abortion" and she is no friend of pro-life activists who have been sending her nasty letters for some time.
Ni Shuilleabhain tweeted about her gut wrenching flight to England, the other women on the flight who appeared to be traveling to do the same, and the upset she felt when the procedure was over.
Indeed, the story is heart wrenching, not just because a child died on account of a distraught teenager's decision, but because Ni Shuilleabhain herself was clearly traumatized by the incident.
The story's slant was ultimately to encourage others to consider legalizing abortion in Ireland and removing the stigma attached to it.
Anti-life activists reason that if abortion were commonplace and routine, then social stugma would disappear and women could "choose" abortion without fear or anxiety and everything could return to normal following the procedure.
Yet, this is one of the most seductive lies of the industry which profits by processing women and their babies through grisly mills of death.
It is true that anything accepted as routine and normal can lose its stigma, but this does not make that practice desirable in a civilized society.
Moreover, the story, which one commenter said "reads like a Planned Parenthood advertisement" was disturbing to many Irish and pro-life readers. Of course, that was its intent, to provoke thought and discussion.
In Ireland abortion is legal only in cases where the life of the mother is in jeopardy. Fear persist that such legalization will lead to further liberalization of the practice and abortion will become common. Presently, women who desire abortions must still travel abroad to find them.
Ni Shuilleabhain said that her goal was to make the story and the decision easier for other women. She was praised by many who complimented her courage and her openness. Yet, we cannot help but feel saddened for her experience and that tragic fact that few people appear able to see past the façade and into the deep despair that abortion creates.
Ni Shuilleabhain has been labeled as a "pagan feminist" and it is obvious that something has gone wrong for her, although we doubt she would agree. Yet the evidence speaks for itself.
It is important for us to have compassion for all women, both the pregnant ones who see their blessing as a crisis and those who have chosen abortion. While it is easy to revile their choices, we must recognize that the women who make such decisions have often been traumatized or led astray into making the mistake of abortion.
These women need prayer and compassion too.
As importantly, we need moral education and a counter-balance to Planned Parenthood and its gang-pressed conscripts who are tweeting anti-life falsehoods because they don't know better or don't care.
What Ni Shuilleabhain did in tweeting was very brave, but it was very misdirected. This is what happens when we make decisions uninformed by Natural Law and the moral guidance of our mother Church. We cannot praise her tweets, we can only shake our heads in shame and pray that Ni Shuilleabhain awakens to the truth of her deeds, repents, and uses her experience to influence others to make right decisions for themselves and their unborn children.
Support a growing and successful pro-life movement.
Pope Francis calls for your 'prayer and action'...
---
Copyright 2018 - Distributed by THE CALIFORNIA NETWORK
Pope Francis Prayer Intentions for APRIL 2018
For those who have Responsibility in Economic Matters.
That economists may have the courage to reject any economy of exclusion and know how to open new paths.
---
---