Body, Soul and Spirit: Love and the Integral Unity of Human Nature
---
We must understand that the Catholic Church emphasizes the integral unity of human nature.
Blessed Pope John Paul II gave the reason why it is no minor matter whether a person is loved or not loved: "Man cannot live without love. He remains a being incomprehensible to himself. His life is senseless if love is not revealed to him, if he does not encounter love, if he does not experience it and make it his own, if he does not participate intimately in it"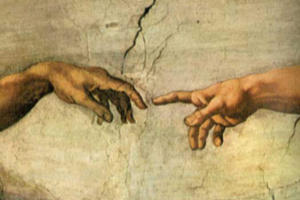 HOOKSET, NH (Catholic Online) - This is a repeat worth reflecting upon again. Some time ago, on a visit to the United States, Blessed Mother Teresa of Calcutta spoke of the glutted bellies and emaciated hearts of the people living in the United States: "In the Third World, there is often a famine of the stomach due to the lack of food, but the people are rich in love. They share what little they have with one another. In developed nations like yours (America) there is an abundance of food. But there is often a famine of the heart due to a lack of love. The victims of this famine of love are the new poor. And who are these poor people? They are the people sitting next to you."
Blessed Pope John Paul II gave the reason why it is no minor matter whether a person is loved or not loved: "Man cannot live without love. He remains a being incomprehensible to himself. His life is senseless if love is not revealed to him, if he does not encounter love, if he does not experience it and make it his own, if he does not participate intimately in it"
There is, then, an integral connection between a love-being and his or her becoming loved or loveable: "Love, then, seems to be both a state of being and [a condition] of becoming. In fact, love poems and love songs continue to attest always to the inner urge of the human heart for a love that lasts, longing for an everlasting love, a hunger for eternal love. Love is . . . a journey, an ongoing exodus out of the closed, inward-looking self towards its liberation through self-giving, and, thus, towards authentic self-discovery and, indeed, the discovery of God" (Pope Benedict XVI)
In 1965, the Fathers of Vatican Council II addressed the lamentable condition of the closed, loveless, inward-looking self: "Many, it is true, fail to see the dramatic nature of this state of affairs in all its clarity for their vision is in fact blurred by materialism, or they are prevented from even thinking about it by the wretchedness of their plight. Others delude themselves that they have found peace in a world-view now fashionable.
There are still others whose hopes are set on a genuine and total emancipation of humankind through human effort alone and look forward to some future earthly paradise where all the desires of their hearts will be fulfilled.
Nor is it unusual to find people who, having lost faith in life, extol the kind of foolhardiness which would empty life of all significance in itself and invest it with a meaning of their own devising.
Nonetheless, in the face of modem developments there is a growing body of people who are asking the most fundamental of all questions or are raising them with greater clarity: What is humanity? What is the meaning of suffering, evil, death, which have not been eliminated by all this progress? What is the purpose of these achievements, purchased at so high a price? What can people contribute to society? What can they expect from it? What happens after this earthly life is ended?" (Pastoral Constitution on the Church, no. 10).
As mentioned, CONSCIOUS SPIRITUAL EXISTENCE emerges from a COMPOSITE WHOLE BEING comprised of BODY, SOUL, AND SPIRIT. Human nature, then, is a spirit-filled organic entity. This is true because human beings are an image of God: "Man is the summit of the Creator's work, as the inspired account [in the Book of Genesis] expresses by clearly distinguishing the creation of man from that of the other creatures: "God created man in his own image, in the image of God he created him; male and female he created them." Man occupies a unique place in creation: (1) he is "in the image of God"; (2) in his own nature he unites the spiritual and material worlds; (3) he is created "male and female"; (4) God established him in his friendship" (Catechism, no. 343).
Reality? This is reality! The Catholic Church expounds on this truth of human existence:  "Of all visible creatures only man is "able to know and love his Creator." He is "the only creature on earth that God has willed for its own sake," and he alone is called to share, by knowledge and love, in God's own life. It was for this end that he was created, and this is the fundamental reason for his dignity" (Catechism, no. 356).
Thus, the Catholic Church emphasizes the integral unity of human nature: The human person, created in the image of God, is a being at once corporeal and spiritual. The biblical account expresses this reality. It affirms that "then the Lord God formed man of dust from the ground, and breathed into his nostrils the breath of life; and man became a living being." Man, WHOLE AND ENTIRE, is therefore willed by God"     (Catechism, no. 362).
Again, the Catholic Church stresses that HUMAN NATURE is CONSCIOUS SPIRITUAL EXISTENCE: :In sacred scripture, the term "soul" often refers to human life or the entire human person. But "soul" also refers to the innermost aspect of man, that which is of greatest value in him, that by which he is most especially in God's image: "soul" signifies the spiritual principle in man (Catechism, no. 363).
Lest it be ignored or misunderstood, the human body is an integral element of CONSCIOUS SPIRITUAL EXISTENCE. The body is a SPIRITUALIZED MATERIAL ENTITY precisely because it is animated by a spiritual soul: "Man, though made of body and soul, is [an integrated] unity. Through his very bodily condition he sums up in himself the elements of the material world. Through him, they are thus brought to their highest perfection and can raise their voice in praise given freely to the Creator. For this reason man may not despise his bodily life. Rather he is obliged to regard his body as good and to hold it in honor since God has created it and will raise it up on the last day"     (Catechism, no. 364).
Since it is an "out-looking" physical structure, the body demonstrates that human beings exist for the Other (God) and for others: neighbors and the natural order of things. Indeed, the most intrinsic meaning of the human body is discovered in lived love-relationships. Practically speaking, then, the vocation of love begins with and through the human body.
At the same time, the human body is a "fence," as it were, separating one person from another. No one, for example, can look inside another person. The materiality of the human body hides everyone's inner self and his or her interior life. Better said, except for God, no person can look into the inmost being of another person: "Man judges by appearances, but God looks into the heart" (1 Sm 16:7).
In other words, the human body is a defined "boundary," so to speak, that sets each person apart and aside from every other person. The body, then, prevents anyone from seeing or touching the loves found in another person's heart. Furthermore, in a curious way, the human body causes every person to be a stranger to every other person.
Nevertheless, there is still a third dimension to the physicality of human nature. The human body serves as a "connector" between one person and another person. Everyone first meets another person through the human body. In fact, it is only through the body that a person can see and communicate with another person. Moreover, it is through the body that every person sees his or her "outer self" and, thereby, can approach other outward-looking persons.
FREE Catholic Classes Pick a class, you can learn anything
In the postures and gestures expressed by the human body, every person can be seen in a somewhat visible way. Stated differently, one person can see another person in the way his or her body acts or reacts. Through the external movements of the human body, it is possible, on occasion for one person to see what the interior life of the other person might be like.
Nonetheless, the human body is still a solid "fence," a definite "boundary," yet a "connector" for relationships and communication. Unlike animals, however, the physicality of human nature is not lived by the bodily senses alone. The human person, a spirit-filled being, can rise above and go beyond the limitations of the sensory life. Thus, everyone seeks to be conscious of and, thus, deepen their lived love-relationships with God, others, self, and the world - even if it is at a distance.
"As defined in sacred scripture, the Catholic Church adheres to the COMPOSITE WHOLE of  human nature: "BODY, SOUL, AND SPIRIT" (2Th 5:23): The unity of soul and body is so profound that one has to consider the soul to be the "form" of the body, that is, it is because of its spiritual soul that the body, made of matter, becomes a living, human body; spirit and matter. In man, there are not two natures united, but rather the union of spirit, soul, and body forms a single nature"
(Catechism, no. 365).
"When speaking of the integration and completeness of human nature, the Catholic Church returns always to the Creator-Spirit, God: "The Church teaches that every spiritual soul is created immediately by God - it is not "produced" by the parents - and, also, that the spiritual soul is immortal. The spiritual soul does not perish when it separates from the body at death, and it will be reunited with the body at the final Resurrection" (Catechism, no. 366).
Given the fantasies and fallacies bandied about by the modern media, to secure the integrity of human nature and, thus, the identity of the human person, the Catholic Church imparts this instruction: "Sometimes, the soul is distinguished from the spirit. Saint Paul, for instance, prays that God may sanctify his people "wholly," with "body, soul, and spirit," kept sound and blameless at the Lord's coming. The Church teaches that this distinction does not introduce a duality into the soul. "Spirit" signifies that, from Creation, man is ordered to a supernatural end and that his soul can gratuitously be raised beyond all it deserves to communion with God" (Catechism, no. 367). 
Hi readers, it seems you use Catholic Online a lot; that's great! It's a little awkward to ask, but we need your help. If you have already donated, we sincerely thank you. We're not salespeople, but we depend on donations averaging $14.76 and fewer than 1% of readers give.
If you donate just $5.00, the price of your coffee, Catholic Online School could keep thriving.
Thank you.
Help Now >
Now, the "Who am I?" question, can be answered - with two words: being and becoming! BEING is who I am: a spirit-filled, composite entity created by God. BECOMING is how I choose freely to mature in the vocation of love given at the very moment of conception in my mother's womb. Therefore, the following presentations will continue to explain the vocation of love in terms that pertain directly to: the subjective order. "Male and female he created them."
-----
John D. Meehan has been involved in the lay apostolate of the Catholic Church since the close of the Second Vatican Council.  He resides in New Hampshire with his lovely wife Elizabeth. 
---
Copyright 2019 - Distributed by THE CALIFORNIA NETWORK
Pope Francis Prayer Intentions for January 2019
Young People and the Example of Mary.
That young people, especially in Latin America, follow the example of Mary and respond to the call of the Lord to communicate the joy of the Gospel to the world.
---
---

Copyright 2019 Catholic Online. All materials contained on this site, whether written, audible or visual are the exclusive property of Catholic Online and are protected under U.S. and International copyright laws, © Copyright 2019 Catholic Online. Any unauthorized use, without prior written consent of Catholic Online is strictly forbidden and prohibited.
Catholic Online is a Project of Your Catholic Voice Foundation, a Not-for-Profit Corporation. Your Catholic Voice Foundation has been granted a recognition of tax exemption under Section 501(c)(3) of the Internal Revenue Code. Federal Tax Identification Number: 81-0596847. Your gift is tax-deductible as allowed by law.