Teens, younger students walk Stations of the Cross
---
FREMONT, Neb. (The Catholic Voice) - They might be young, but kindergartners and first graders at Archbishop Bergan Elementary are becoming familiar with Catholic traditions and devotions.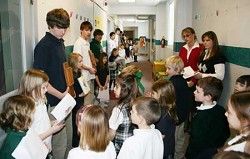 STATION TO STATION - Sophomore theology students from Archbishop Bergan Catholic High School hold the Stations of the Cross while kindergartners and first graders at Archbishop Bergan Elementary move from station to station Feb. 22. Reading the station is Lauren Glowacki. (Lisa Maxson/Staff)
Since Lent began this year, they are spending time each Friday learning the Stations of the Cross.
Danielle Paulsen, first grade teacher, said learning the Stations of the Cross is important for the children because they need to know that God sent his only son, Jesus, to save them.
"In a way it's difficult because they don't understand why God would do that because it was hurtful to Jesus, but yet it's a learning process for them to know that it was a good thing Jesus was sent here to save all of us," she said. "I think it's important for them to know that God represents love and that we're images of him."
Paulsen has explained the details of each station to her students and they have talked about how Jesus felt. She also has used the Stations of the Cross as a way to discuss sin and forgiveness with her students.
"It was very eye-opening the first time we went over the Stations of the Cross to see the kids and their reactions of knowing what was happening to Jesus and how they felt about it," she said. "They couldn't believe people would do that."
The children read the stations out loud in class, colored pictures of each station and practiced doing the stations in the school hallway.
Learning experience
Before this year, 7-year-old Mikayla Paulsen, daughter of Danielle Paulsen, didn't know much about the Stations of the Cross. Even though she had seen them hung on the wall in her school's chapel, she didn't know what they were.
Now Mikayla not only knows the stations, but she looks forward to doing them on Fridays.
"It helps us learn about Jesus and how he died," she said. "And it makes me sad because that's what Jesus really went through."
The Stations of the Cross, also known as the Way of the Cross, are used to meditate on different scenes from Christ's Passion to help one enter into the mystery of his suffering and death.
The 14 stations are represented by a series of pictures or statues that, in most Catholic churches, line the walls of the worship space. People pray the stations, moving from one to the next.
Building solid Catholic traditions
Principal Katherine Griffen said it's important the young children learn the Stations of the Cross because she wants to build tradition within them now.
"I think we're establishing a norm," she said. "What we see is when that's natural and comfortable, it's routine and it's part of who they are."
She said she hopes that with all the students, things like praying before and after meals, genuflecting at church, going to reconciliation, participating in adoration and doing the Stations of the Cross become so routine that if they don't do them, they will feel like they left God waiting.
"I think for our kids to understand their faith and to understand God, they have to see themselves in a relationship, like a friendship," she said. "If we can kind of start to establish that with them here, then they know they're being counted on by God to do this."
---
This story was made available to Catholic Online by permission of The Catholic Voice (www.catholicvoiceomaha.com), official newspaper of the Archdiocese of Omaha, Neb.
---
---