Catholic priest sings praises of Irish group U2
---
ST. PAUL, Minn. - As a college student in the 1980s, Father Erich Rutten first associated the Irish rock band U2 with "great political rock."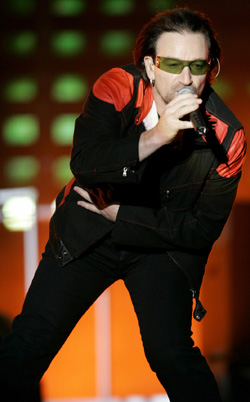 U2'S BONO PERFORMS – U2's Bono performs to a sell-out crowd of 90,000 at Azteca Stadium in Mexico City in early February. Father Erich Rutten, associate pastor at the Cathedral of St. Paul in St. Paul, Minn. And a U2 fan, has come to believe the group was a Christian rock band, without its members calling it one. (CNS/Reuters)
Then he discovered one of the band's early albums from 1981, "October." Listening to songs such as "Gloria" and "Rejoice," with references to Jerusalem and the themes of death and resurrection, he realized that "virtually every song on the album is explicitly Christian," he said. Interested in things spiritual, he started to learn more about U2 and pay attention to the lyrics - even in songs that seemed more like political songs or love ballads. "They're a Christian rock band" without calling themselves one, he told The Catholic Spirit, newspaper of the Archdiocese of St. Paul and Minneapolis. "They steered a very interesting course. They didn't go with the explicitly Christian band label. They developed their artistry - their music - in such a way that they did an excellent job of bringing in common, everyday symbols and stories to amplify the Christian message." Father Rutten, who was ordained for the archdiocese last year and is an associate pastor at the Cathedral of St. Paul, is still a U2 fan, and he's become more well-known for it. At the invitation of the young adult series Theology on Tap, he developed a PowerPoint presentation last year on the Irish band to share at one of the local gatherings. He pointed out that Bono was born in 1960 in Dublin, Ireland, to an Anglican mother and Catholic father. His real name is Paul Hewson and his nickname is short for Bono Vox, which means "good voice" in Latin. It also was the name of a hearing aid shop in Dublin. Bono has said he grew up with a strong religious faith, mostly attending his mother's church, but did not become attached to one particular denomination. "From his household, he was very sensitive to the ways in which people of faith hurt each other, just across denominational divides," Father Rutten said. In fact, in a song on the 1987 album "The Joshua Tree," Bono sings of a place "Where the Streets Have No Name." It's an image of heaven, free of tension and division, "not divided by what side of the street you live on," the priest said. Father Rutten said band members have commented that whenever they play the song live, they "feel the power of God." The priest said some might expect the band to rant against U.S. foreign policy and war, but instead it presents a Christian view of hope. The 2004 song "Vertigo" carries a sense of being off-balance, as if there's nothing firm to stand on, Father Rutten noted. "That's how they describe the modern world." Later in the song, Bono sings: "Your love is teaching me how to kneel." It's the idea that "in the midst of the chaos or the confusion or the vertigo, you can find some stability through faith," Father Rutten said. But U2 makes no pretense of having all the answers. The priest said the band's spirituality is one of questioning and attempts to be comfortable with mystery or apparent contradictions. Some people see that questioning as a lack of faith. But Father Rutten sees it as a mature faith. "Even in the midst of questioning," he said, "there's that implicit trust and faith that the love of God is beneath it all."
---
Copyright (c) 2007 Catholic News Service/U.S. Conference of Catholic Bishops
---
---