Violencia en Nicaragua: Representante del Papa alienta tregua ante grave crisis
---
El Nuncio Apostolico en Nicaragua, Mons. Waldemar Stanislaw Sommertag, hizo un llamado a las "conciencias de todos para lograr una tregua" ante la grave crisis social y politica que se vive en el pais.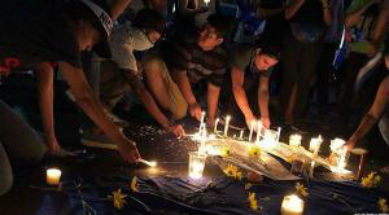 MANAGUA (ACI Prensa) - En un mensaje difundido por la Arquidiocesis de Managua este 17 de julio, el representante del Papa Francisco en Nicaragua dijo que "en este tragico momento deseo expresar en nombre del Santo Padre y de la Santa Sede, mi profunda preocupacion por la grave situacion que se esta viviendo en el pais".
"Logicamente no es aceptable pensar que los muertos y las victimas de la violencia pueden solucionar una crisis politica y garantizar un futuro de paz y prosperidad en Nicaragua", continuo.

Por eso, dijo el Nuncio, "llorando por todos los muertos y rezando por sus familias, hago con todas mis fuerzas, humanas y espirituales, un llamado a las conciencias de todos para lograr una tregua y permitir un rapido regreso a las mesas del dialogo nacional para buscar juntos una solucion adecuada y resolver asi la crisis".
"Nos ponemos todos humildemente bajo el amparo de la Santisima Virgen Maria, pidiendo su ayuda para que guie siempre a nuestra querida Nicaragua", concluyo.
El mensaje del Nuncio Apostolico aparece luego que este mañana Mons. Silvio Jose Baez, Obispo Auxiliar de Managua en Nicaragua, denunciara un nuevo ataque de grupos paramilitares afines al regimen de Daniel Ortega, y pidio que el mandatario "detenga la masacre".
A traves de su cuenta de Twitter, Mons. Baez denuncio un ataque contra, un barrio ubicado en el sur de la ciudad de Masaya.
"Las balas estan llegando hasta la parroquia Maria Magdalena, en donde esta refugiado el sacerdote. ¡Que Daniel Ortega detenga la masacre! ¡A la gente de Monimbo les ruego, salven sus vidas!", dijo el prelado.
De acuerdo a la Comision Interamericana de Derechos Humanos, ya son cerca de 300 los muertos en los Ăşltimos tres meses a causa de la violenta represion del gobierno de Nicaragua y los grupos paramilitares afines contra manifestantes en el pais.
Recientemente, los grupos paramilitares atacaron al Arzobispo de Managua, Cardenal Leopoldo Jose Brenes; el Obispo Auxiliar de Managua, Mons. Silvio Jose Baez; y el Nuncio Apostolico, Mons. Somertag.
El domingo 15 de julio, paramilitares dispararon contra el vehiculo en que viajaba el Obispo de Esteli, Mons. Abelardo Mata, cuando regresaba de celebrar una Misa.
---
Copyright 2018 - Distributed by THE CALIFORNIA NETWORK
Pope Francis Prayer Intentions for July 2018
Priests and their Pastoral Ministry.
That priests, who experience fatigue and loneliness in their pastoral work, may find help and comfort in their intimacy with the Lord and in their friendship with their brother priests.
---
---