Why is this statue of the Virgin Mary weeping in New Mexico?
---
Statue appears to be weeping rose-scented tears.
A statue of the Virgin Mary in Hobbs, New Mexico is weeping rose-scented tears. The Church is investigating the phenomenon.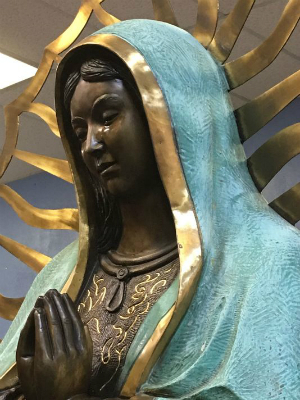 Experts are baffled why this statue of the Virgin Mary is weeping. Could it be a hoax or a miracle?
LOS ANGELES, CA (California Network) - Experts are investigating a statue of the Virgin Mary which appears to be weeping rose-scented tears. 
The church is Our Lady of Guadalupe Catholic Church in Hobbs, New Mexico. 
The incident began sometime last month when parishioners reported the tears. Bishop Oscar Cantu requested an investigation. 
An evaluation of the statue reveals no obvious cause of the tears. The statue is bronze-cast and hollow. Inside the statue, experts only found cobwebs. They photographed the inside to verify their report. 
Analysis of the tears reveals they are rose-scented olive oil. Still, there appears to be no known cause for those tears. 
Experts do not know if the case is an elaborate hoax or a genuine miracle. Bishop Cantu says he is required to look into the statue to determine if it is a hoax. Naturally, the Church does not want parishioners to be tricked. However, there appears to be neither a motive or a culprit. 
Instead, the alleged miracle is attracting people from across the area who now pack into the church to view the phenomenon. According to Bishop Cantu, that response has been positive with many people renewing their faith. 
Cantu told Sun News: "I've read most of those written testimonies, and they are stories of tremendous faith, people who have been dealing with terrible suffering in their lives and have felt a tremendous spiritual consolation that Mary walks with us in our tears... I can't help but think of my own shedding of tears for the poor people who come to our border, fleeing life-threatening situations. The tears of those children who are separated from their parents. There are many reasons we would shed tears, and God stands with us in those moments."
Cantu has not seen the miracle himself and is preparing to relocate to California where he has been recently reassigned. That assignment is unrelated to the current phenomenon. He is hoping to see it before he relocates in late September. 
In the meantime, it is up to each person to decide for themselves if they are witnessing a miracle or a hoax. 
---
Copyright 2018 - Distributed by THE CALIFORNIA NETWORK
Pope Francis Prayer Intentions for July 2018
Priests and their Pastoral Ministry.
That priests, who experience fatigue and loneliness in their pastoral work, may find help and comfort in their intimacy with the Lord and in their friendship with their brother priests.
---
---