Pope Francis: avoid these two false paths to holiness
---
We must take care to avoid these false paths.
Pope Francis has warned about two false paths to holiness.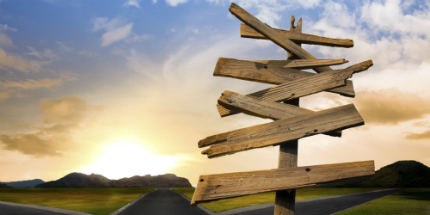 We must avoid false paths to salvation.
LOS ANGELES, CA (California Network) - Pope Francis has warned that Christian sometimes take two tempting, false paths toward salvation. 
In his apostolic exhortation, Gaudete et Exsultate, Pope Francis warned about Gnosticism and Pelagianism. Both share names with ancient heresies, but these are not exactly those heresies. Instead, they are redesigned for our modern era. 
Gnosticism has to do with what can be known. According to Pope Francis, this modern folly has some people believing they can know everything there is to know about God. That knowledge is gained by study or experience, and the follower has an answer for everything. 
The problem with this attitude is that it is impossible for our minds to fully understand or comprehend God. We know and understand what we need to know, but nobody understands everything. 
Pope Francis explained, "Gnostics think that their explanations can make the entirety of the faith and the Gospel perfectly comprehensible. They absolutize their own theories and force others to submit to their way of thinking... [and] reduce Jesus' teaching to a cold and harsh logic that seeks to dominate everything."
A sure sign of a Gnostic, the Pope added was that they have an answer for everything. 
Gnosticism presumes that the individual can use logic to "domesticate mystery" and they can presume to know and understand God. It is a form of hubris. Unfortunately, it often prompts them to attempt to control other's lives as well. Those who refuse to follow them are often labeled as "ignorant." 
Clearly, this is not the path to salvation. 
Another false path is Pelagianism.
In the modern day, Pelagianism is the notion that we can achieve our own salvation through force of will alone. Pope Francis explained, "When some of them tell the weak that all things can be accomplished with God's grace, deep down they tend to give the idea that all things are possible by the human will, as if it were something pure, perfect, all-powerful, to which grace is then added... in this life human weaknesses are not healed completely and once for all by grace. Grace, precisely because it builds on nature, does not make us superhuman all at once."
We do not achieve salvation through our own works alone, but also by accepting God's gift of grace through which we gain eternal life. 
"We cannot buy God's friendship with our works," Pope Francis wrote. 
---
Copyright 2018 - Distributed by THE CALIFORNIA NETWORK
Pope Francis Prayer Intentions for July 2018
Priests and their Pastoral Ministry.
That priests, who experience fatigue and loneliness in their pastoral work, may find help and comfort in their intimacy with the Lord and in their friendship with their brother priests.
---
---