7 Famous Men You Probably Didn't Realize Were Knights
---
When Fr. Michael J. McGivney founded the Knights of Columbus on March 29,1882, he established a Catholic fraternal benefit society that would focus on the principles of charity, unity, and fraternity. Over 135 years later, his vision of generosity has impacted countless lives throughout the world. Over the years, many prominent men have heard the call to join the Knights of Columbus.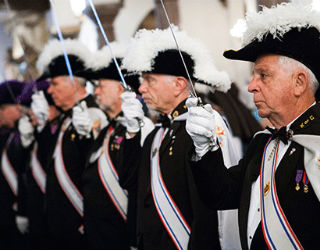 Nearly two million men are a part of the Knights of Columbus.
Did you know that these 7 men were/are all members of the Knights of Columbus?

President John F. Kennedy 
Venerable Fulton J. Sheen 
In addition to these well-known men, currently, there are seven saints and four blesseds who were also members of the Knights of Columbus.
Today, nearly 2 million men are a part of the Knights, and though their names may not appear on the news, they are considered to be heroes by those who know them. Inspiring military personnel, a Special Olympic athlete, and a group of Notre Dame University students are just a few of the men involved in this great ministry whose stories should be shared with the world. 
The Knights of Columbus are sharing the stories of these "Everyday Heroes" through a multi-part video series that will be made available online. Each motivational video will showcase a Knights of Columbus hero and the charitable work he does in the community. "Everyday Heroes" will give viewers a glimpse of the vast array of charities that the Knights of Columbus support, including by donating more than 75 million hours of hands-on service each year.
To find out more about "Everyday Heroes" and to register to receive access to this inspiring collection of videos, visit kofceverydayheroes.org. 
---
Copyright 2019 - Distributed by THE CALIFORNIA NETWORK
---
---