Annual National Prayer Service Unites Christians
---
Interdenominational clergy to gather at Constitution Hall on Jan. 19 in D.C.
The 24th annual National  Memorial for the Pre-born and Their Mothers and Fathers will include a special memorial for Norma (Jane Roe) McCorvey and the presentation of the Pro-Life Recognition Award for Alliance Defending Freedom Founder Alan Sears.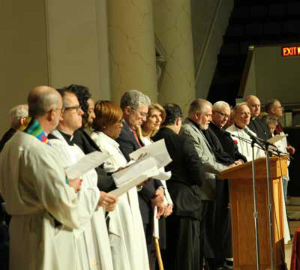 Father Frank Pavone, president of the National Pro-Life Religious Council and national director of Priests for Life, preaches the sermon at the National Memorial for the Pre-born last year.
The annual March for Life, which protests the infamous Supreme Court decision that legalized abortion, has grown to the tune of about  half a million marchers who flock to D.C. each year. Not surprisingly, the event has spilled over to quite a few pre and posts March for Life events like masses, concerts, and rallies to fire people up for the march. 
All the events are wonderful but there's something special about the annual National Prayer Service hosted by Priests for Life and National Pro Life Religious Council. For the last 24 years, the early morning interdenominational prayer service, held in Constitutional Hall, is generously attended by clergy and laity of different Christian denominations from every letter of the alphabet! The attraction to the event is that it is both an exciting and unitive event. It shows that the march is not just a response to Roe v. Wade but is response to Jesus Christ, who seeks to unite all his followers. Christians all affirm, "Jesus is Lord!" Abortion, however, denies Christ's lordship over our lives. As long as this nation allows abortion it is denying the Lordship of Jesus Christ over our nation and over humanity. 
By proclaiming that Jesus is Lord, Christians are proclaiming that nobody else is Lord of life -- not the government, not the medical professionals, not family, but only Jesus Christ. The National Annual Prayer Service bonds people together in worship to make that affirmation again. Jesus is Lord! We are set afire by this proclamation.  We claim that lordship in the lives of the unborn. We are committed that together we will to translate that lordship into public policy to protect the unborn. 
Where else can you find a gathering of laity and clergy of all backgrounds like this? It is so inspiring and so educational to see the diversity of the Body of Christ; it is a unique, spiritual worship experience.
Providentially, the service falls in the midst of The Week of Prayer for Christian Unity (January 18-25). 
This year, Alan Sears will be the recipient of the Pro Life Recognition Award which acknowledges the work and example of people who make it their priority to defend the unborn. This year has seen significant victories in the battle over religious freedom. Alan has vehemently defended that freedom through his work with Alliance Defending Freedom. The award will be accepted on his behalf by Rebecca, his daughter.
Let's unite, therefore, across denominational lines, as we approach this anniversary of Roe vs. Wade and renew our determination to overturn it.
The National Prayer Service will take place from 8:30 to 10:30 a.m. Jan. 19 at DAR Constitution Hall. Everyone is invited.
---
---